Dynafit Broad Peak Skis quick overview:
Usual full price: around $600.00 USD
Weight: 1280 g at 176 cm (reviewed), 1120 g / 167 cm, 1005 g / 158 cm, 990 g / 149 cm
Side-cut: 112-74-96 mm (reviewed)
Cost per gram: $0.47 / gram (for 176 cm)
Pros: Despite its narrow width it skis very well in all conditions. Holds direction and edge very well.
Cons: Durability could become an issue after lots of use.
Suitability: Steep skiing, Expeditions, For any snow but deep powder
How we go it: Bought through a pro-deal (disclosure notices)
Bottom line:
I skied the Broad Peaks from powders of Rogers Pass to 7000 m summits in China and Kyrgyzstan and can say the overall performance of the Broad Peaks is fantastic. Durability is starting to be an issue (read below) but I have skied them for over 100 days now.
Photos:
Product description and How we tested it:
Just for reference: I am 186 cm (6′ 1″) and about 72 kg (159 lbs) without any gear.
Dynafit Broad Peak skis could be classified by today's standards as narrow – with 74 mm under foot – which obviously makes them suitable for certain type of conditions, terrain and type of skiing. To me they are a perfect ski mountaineering ski that performs surprisingly well even in deep powder provided you got steep enough terrain.
I can honestly say that I have used my 176 cm Broad Peaks in all conditions, skied them in all terrain, any time of year, at any altitude, and with as much as 30 kg (66 lbs) on my back:
My skiing on these began with about 30 days spread out over the last winter that mostly brought Rogers Pass and Revelstoke powder.
Then another 10 or so in the Canadian Coast Mountains in spring conditions.
Then one month of high altitude expedition style skiing in China and Kyzgyzstan.
And finally about 30 days on them throughout this season, and counting.
From my experience, the Broad Peaks are one of the best and most fun skis I have ever owned. I pretty much didn't have a single run on them where I wished for some other pair. For sure, on some of those powder days it was quite deep and much wider skis would have been much more appropriate but even then the Broad Peaks were lots of fun.
I have skied them 99% with the TLT 5 Performance boots and did only couple of days on them with TLT 6 without any noticeable difference.
Obviously, with their geometry and stiffness/dampness combo they performed the best outside of deep powder season – early season, from April on, spring conditions, crusts, wind slab, icy, steep… you get the picture.
Overall, they have a nice pop out of a turn, are easy to turn, and hold direction and edge very well. The only thing I would change on them for me would be less side-cut to make them ski a slightly longer radius. Or it seems like Dynafit has already done this with their specialty C One skis which are slightly wider, with less side-cut, yet what appears to be very similar dampness and torsional stiffness. However, I don't think the C One is or will be available in North America.
For skinning, I used the pre-cut Dynafit Broad Peak skins that worked well in all conditions and with like any other Dynafit skins they are easy to rip without taking the skis off.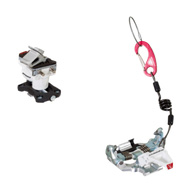 I also used Dynafit ski crampons (blue color) with these skis a lot during my expedition to Central Asia. In fact, I used the crampons for all skinning while over there. They worked very well. (I managed to summit and ski Muztagh Ata 7546m and had to turn around at 6600m on Lenin Peak 7134m)
The bindings I have on my Broad Peaks are Dynafit TLT Speed Radical and so far they worked without any problems, except an occasional (once in couple of days) heel spin to downhill position during a kick turn on harder and steeper snow.
Currently, I started to ski Dynafit Nanga Parbat skis in 179 cm (117-81-104 and 1100 grams) so I can compare them to the Broad Peaks. I like the Nanga Parbats with their unconventional shape in powder, softer or consistent snow conditions more than the Broad Peaks. But in wind slab or quickly changing conditions they seem not as good as the Broad Peaks. On the other hand, they are a lot lighter even at wider width, so pick a toy as it suits you.


Also, it would be very interesting to compare the Broad Peaks to Hagan Cirrus skis since they have very similar side-cut (113 – 75 – 98) but are about 200 g lighter at 177 cm.
Pros:
Great performance in all conditions and on any terrain.
Easy to turn.
Great dampness and torsional stiffness.
Holds edge and direction very well.
Cons / What can be improved about this product:
As stated above, I would perhaps alter their side-cut to provide for a bigger radius and make them slightly wider (around 80 mm).
Durability issue:
Few weeks ago, while waxing, I have noticed what looked like the bases slightly rising above the edges at couple of locations along the length of the skis. You can see it in a photo above. It is true that I have used these a lot but I still would not expect this to happen. At no point I skied them "on rocks" or left them out in frigid cold after the skis were wet. So I have no other explanation than glue/bases durability or something like that.
Product Specs:
Weight & size tested: 1280 grams for 176 cm
Materials:
Core: Isocore Paulownia ultra-light wood with beech stringers
Laminate/top sheet: Glass and carbon lower layer, biaxial prepreg in upper layer with fiberglass and carbon reinforcement
Bases: Sintered graphite coatings
Online stores that carry Dynafit Broad Peak, TLT Speed Radical, or Nanga Parbat:
To my surprise, it seems that actually no North American online stores carry the Broad Peaks at the moment!
Let's take a look at the other gear then and I will add links once stores have them back in stock.
Nanga Parbat skis:
TLT Speed Radical bindings: