Bottom line: Highly recommend to try Skout Trailbars for various activities. Value them for what they really offer and let your priorities decide.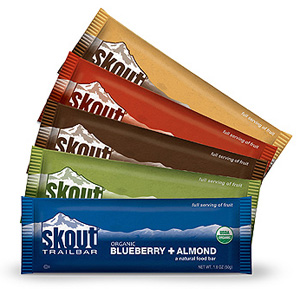 There are plenty of trail, sport, energy and protein bars to choose from these days. In fact, there might be too many.
To me, there is no problem with the amount of choice but with the quality, and so it is nice to see a fresh player bring a natural product to a crowded market.
Surely, to each of us 'quality' means different things but to me it represents:
ingredient sources – how healthy it is
flavors, taste & texture – the variety a brand offers, and whether I like it enough
nutritional values – what it gives me (not only energy)
price & comparison – how they compare to other ones I like
What do I think about Skout Natural Trailbars
This is a summary from multiple experiences with Skout Natural Trailbars during various sporting and outdoor activities throughout couple of months.
First bars for this review were provided by Jason Pastega of Skout Natural, however, more were purchased on free will. And so you can consider this review as objective or as biased as you like.
Ingredients – nature's simplicity
What I like about Skout Trailbars is about what they do not contain rather than what they do.
They do not contain any added sugars or fillers such as corn syrup. No artificial flavours or colour.
They are 100% organic, made only from basic natures ingredients. All five flavors of Skout Trailbars contain these two main ingredients – organic dates and whole grain organic oats. Four of them contain the two plus almonds.
Skout bars are made in Portland, Oregon and the ingredients are sourced from the Pacific Northwest region.
Flavors, taste & texture – too much simplicity gets in the way
Skout Trailbars come in these different flavors: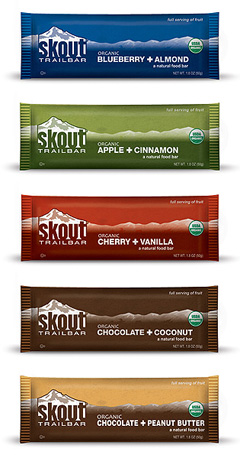 All of the bars taste great (Apple Cinnamon being my favorite), however, to be honest I have to say that they all taste similarly.
It could be my palate but maybe if you have two ingredients creating the bulk of each bar it shouldn't be a surprise. This doesn't really bother me since I am sold on the quality of all ingredients.
Texture left a good feeling but was a bit on a drier side, I prefer little juicier. But since most of us drink while/after eating a sports bar anyways this shouldn't be a problem.
Nutritional values – comparable to other bars but a more natural mix
Again for me, nutritional values come second to the ingredient sources. If those are really natural (doesn't have to be labeled organic) and chosen wisely then I believe nature does the rest – it provides the right mix of what we need.
Skout Trailbars are totally comparable to other trail bars (or sports, energy bars) in terms of their nutritional values – at 50g provide around 170-200 calories.
The added bonus with Skout is that the nutrients come in more natural combinations than in most other bars. Because once you start pumping a bar with fructose syrup or maltodextrin to raise its energy/carbs values such concentration (or ratios) do not occur naturally.



Price & comparison – quality costs a bit more
Some people like to justify a price of a bar based on grams-to-cents ration. If a sports bar is 60g at $2.10 then you are paying 3.5 cents per gram. Basically, they reason the heavier and cheaper the better.
This thinking forgets to appreciate quality. If something is of higher nutrient quality (not just the amount of calories) it will give your body more than something that is a highly processed 20g heavier "filler".
Skout Trailbars are more expensive than let's say Cliff Bars (not 100% organic) but are the same as Hammer Bars and Larabars (both 100% organic) which too use lots of natural, organic and raw ingredients. I would not solely buy Skout bars as it can get pricey but to widen your range of tastes I definitely recommend them.
You can buy your supply online at SkoutNatural.com in boxes of 12 or choose individual bars, or a great sampler box. You can also get them online at REI.com (in person too).
Have you tasted these? Or want to know more?
Feel free to comment below if you had tasted these Skout's bars. Or if you have more questions about them, ask below.