Although the ski season is not fully finished yet, we are all thinking about summer activities more and more with every sunrise. A year ago we published a post discussing a couple of general points for Transitioning from Skimo to Summer Training, however, we haven't talked about specific things related to running, which tends to be the bread-and-butter activity for skimo athletes in summer.


We would like to provide you with more in depth advice with how to safely get back into running after spending the previous 4-6 months doing very low-impact sports compared to trail or road running.
The biggest issue for most people is to actually follow a conservative approach because they are super fit coming off a ski season, thus, think that if they can do 5-7h ski sessions then why it should be a big deal to run only 2-3h.
Create a simple plan
If you don't plan doing any running races this summer, or only very low key, then you can skip to the next sub-heading. But if you would like to compete in a couple of events more seriously then it's very helpful to decide on this by end of April. With that, also try to pin down what distances, which exact races and their dates.
Unless you kept running a little bit during the winter, or started already in March, then I would recommend to pick your big goals past mid-June or so. This is not only for maximizing your potential, by giving yourself time to peak again, but rather to minimize the chances of injury. Running is a much more strenuous activity on our joints and tendons than ski touring so giving your body enough time to get used to it is never a bad idea.
It's also wise to pick such races that fit your strengths as a ski mountaineer – with lots of vertical gain, preferably long climbs, and very little flat sections.
Example: If your goal race will be in early August then spend from mid-April to end of May just easing into things (see below). In June and July, there will be plenty of time to ramp up your volume and intensity – remember, you will be carrying lots of fitness from the ski season so it's mostly about getting used to different mechanics in the most efficient and safe way.
Easing into it: the first 4-6 weeks
The transition period from skis to running is best done while you are still skiing a bit or taking your 2-4 week rest period after a demanding season.
For first two weeks, I would advise against running more than twice a week and spacing the sessions at least 2-3 days apart. Keep each session under an hour, choose softer trails on rolling terrain and keep your pace very relaxed.
Between weeks 3 and 6, you can bump up to 3 runs per week but still keep the pace fairly easy. One of those sessions can be up to two hours if you are a seasoned runner, however, still stick to soft trails. Another session can involve a long climb and a descent for a total of 1.25-1.5h but keep it easy on the descent. Third session can be less than an hour.
During this "easing in" period you could also introduce some running technique exercises such as in the video below and also have fun with running backwards or sideways. All of these will improve your efficiency, agility and joint/muscle strength.

Strength training and stretching as injury prevention
If you rush or skip the above adaptation period then it's quite possible you will develop injuries that will stop you from running in a couple of weeks. On top of easing into running, you should really consider doing specific exercises that will strengthen and stretch some key areas that might be imbalanced after a ski season.
Next, I am going to point a couple of the most usual problems skimo people face after a long ski season.
Important note:
Most people and even many long-time runners are always trying to fix pains or tightness in various joints or tendons by heavily focusing on stretching. While this seems logical – "let's stretch it out because it's tight" – in many cases you should be focusing more on strengthening than stretching. Most of body muscles are balanced by opposite or different muscle groups and a weakness in those groups will cause the balancing group to constantly overload and get tighter.
Stretching your hip flexors
By dragging the weight of our boots and skis, with uphill skinning motion, the whole winter causes many skimo racers and backcountry skiers to develop tight hip flexors. And as if skinning alone wasn't enough, we often add to developing this problem by jumping right into the car after a day of touring instead of spending a couple of minutes to stretch. Lots of office sitting further exacerbates this issue even more.
So if you haven't done much maintenance in the winter then it's a great time to get that hip flexor extension back. Here is a video that shows an effective exercise and easy to do exercise as well as explains the correct form.

Knee pain, IT band syndrome and weak glutes
It is not uncommon for skiers to develop IT band syndrome in a couple of weeks by getting back to running after few months off. Here is a good definition of what IT band syndrome is and how it could be felt:
Iliotibial band syndrome occurs when the connective tissue (ligament) extending from the pelvic bone to the shinbone becomes so tight that it rubs against the thighbone. Distance runners are especially susceptible to it. The main symptom is pain between the hip and knees that worsens with activity.
Many people get diagnosed with ITB syndrome after they visit a physio to help them remedy knee pain. But the vast majority never visit a physio and often just rely on "friendly" advice so the only things they start to do is rolling their ITBs on a foam roller and stretching it. This does not solve the root of the problem but just temporary relieves symptoms. Further more, there is plenty of evidence that it's pretty much impossible to stretch the IT band, however, it is possible to stretch or relax other areas that will feed "slack" into the ITB.
The proper way of dealing with knee pain due to ITB syndrome is strengthen a couple of key muscle groups that have developed weakness over time, thus, are throwing the whole system out of balance, and to stretch or "untighten" others.
This video shows a couple of great exercises to strengthen those key muscles. In most cases, myself included, weak glutes will be responsible for producing knee pain and ITB syndrome. Lots of times, IT band syndrome develops as result of abnormal, out of "alignment", femur (the big thigh bone) movement which is caused by weak hips that cause our pelvis to drop. This whole chain of reactions is controlled by our "gluteus maximus and medius muscles that are the two major muscles that control the position of our pelvis and overall stability of the leg during the running stride". Here you can read a lot more about specifics of the IT band issues.

Calf and hamstring muscles strengthening, and Achilles tightness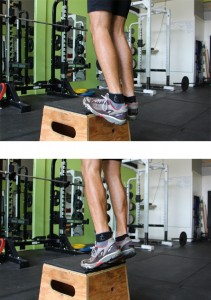 The fact is, and this is something very specific to ski touring, that due to equipment used for skimo and mechanics of the sport we engage our calf muscles very little the whole winter (up to 5-6 months at times!), unless of course if you kept on running during the ski season. Because of that it's why I like to slowly easy into running and really pay attention to my body in the first couple of weeks.
The shorter runs on soft trails with varying terrain/gradient will start activating those calf muscles and Achilles tendon in a gentle way. Supplement these short runs with a simple, full range of motion exercise like calf raises on stairs and you are setting up a good foundation for the whole season.
We talked about the importance of strengthening the gluteal muscles (glutes) already but another muscle group to pay attention to are your hamstrings. By strengthening them you will balance out the tightness that develops in your quads from skiing.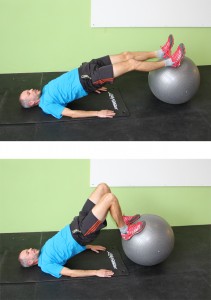 On top of that, glutes and hamstrings have been shown to be the most important muscles in generating the most force for sprinting for running, and I suspect this is also the case for skimo racing sprints. This is due to the fact that for fast sprinting, or shorter distance running, your strides will need to become longer and to sustain a longer stride you will need strong glutes and hamstrings.
Now that you are strengthening the whole back of your leg it is also wise to stretch those muscle groups to make sure they remain fluid and allow for full range of motion. You can find many good stretches for these groups online.
Running beyond those first 6 weeks
Continuing running beyond the adaptation period should be fairly straight-forward as you probably already know from previous years what your body can handle. If you don't then a general advice would be:
To increase your running training load (mileage, time, speed) very conservatively.

Not to run more than 4 times a week, unless you absolutely cannot do any other sports or you are very experienced runner.
Vary your terrain – from long hills and descents, to rolling, to flat.
To watch out for any small pains and aches as these can lead to more serious problems but are easily preventable by proper strength exercises and stretches.
Take time off, even up to a week without running, if you feel like your body is getting beat up too much.
As for more intense training and intervals, make sure you are properly warmed up and don't have any pains – this is more important with running than skimo. Besides that just proceed with intensity workouts based on the same principles like for skimo and other endurance sports such a cycling or xc skiing.
If you are serious about your training and want to learn more how to maximize your time then we highly recommend you check out our Manual for Ski Mountaineering Racing. It dives into endurance training a lot more than a single article can.