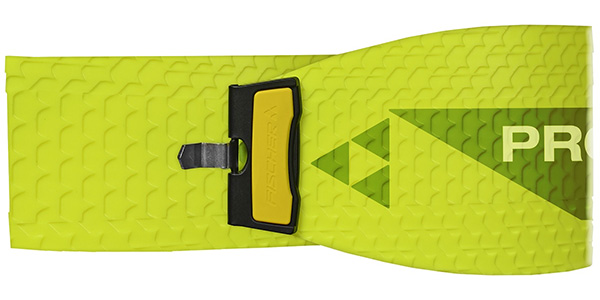 Overview:
Usual full price: $225 USD – (Skimo.co)
Weight: 230g/pair (for Fischer TransAlp 80 skis at 170cm)
Compatibility: Fischer TransAlp, Hannibal, and Ranger models
Pros: Light, flat, good grip/glide, pre-cut
Cons: Slightly slower transition, not trimmable
Suitability: ski touring, ski mountaineering
Bottom Line:
An innovative take on ski touring skins that works surprisingly well!
Product description and How we tested it:
To be honest, I have to admit to being a bit skeptical about the Fischer's Profoil skins when I first saw them at the Pierra Menta expo last year. But now that I actually got them under my feet I have no more concerns.
The idea is a climbing skin-alternative that uses the technology of a classic crown (fish-scale) nordic ski to provide grip on the way up, rather than using hair like with traditional mohair or modern synthetic skins.

The Profoil skins are pre-cut for the exact dimensions of the skis (currently available for only Fischer skis – I tested them on the TransAlp 80) and they cannot be trimmed. This is because the pattern has scales that prevent both backward slipping and sideways movement (like traversing on a steep slope). If you trim these scales off, you lose significant grip. Similarly, like with any traditional skins, if you use them on a wider ski then the material may not be in contact with the snow where needed, thus, grip might be compromised.
The skin uses a special tip-clip system that works best with Fischer skis. This is similar to pre-cut Dynafit skins which also uses a unique tip attachment that is design to work well specifically with its skins.
During my recent trip to the French Alps, I had the chance to test them out in a variety of conditions from deep winter powder to firm spring melt-freeze. I expected good performance in powder but occasional slipping in firm or icy conditions. At the end, I was blown away! Profoils delivered great grip in all situations where I know traditional skins would grip as well.
Glide performance in most snow types was great as well, especially, where traditional skins lacking – on ice and refrozen snow. In good conditions – with a smooth track through fresh snow – glide is equivalent to a mohair skin.


Skin balling (ice and snow accumulation) seemed to be less of an issue with the Profoil skins than traditional synthetic ones. Occasionally, a ball formed when I lifted up my ski during a stride but it immediately released when I stepped-glide onto it. I had no big ice chunks stuck permanently to the bottom of my skins. I discovered that the balling can be reduced easily with some spray-on liquid wax.
The skin uses a special glue that is significantly stronger than standard glue. For this reason, you can't fold the skin like usual, glue-to-glue. Instead, you need to carry a small piece of skin-saver plastic that you put on the skin before folding it onto itself (glue to scales). This adds a few seconds to transitions and requires some care so a bit of inconvenience here.
To sum things up, if you have a pair of Fisher skis (like the TransAlp), definitely consider using the ProFoil skin instead of a traditional skin.
Pros:
Light, no set-up, great grip and glide.
An interesting twist on traditional skins.
What can be improved about this product:
The strong glue requires the use of skin saver plastic at all times. This means a slightly slower transition, however, I this could be improved with future versions. And we are talking about only seconds here.
Hopefully, a trim-able version will be developed so more backcountry skiers can benefit than only those with Fischer skis.