On the European skimo racing scene 24-years old racers are not considered youngsters anymore but in North American skimo terms that's almost as young as they get.
Travis Brown and Peter Knight are two Canadian skimo racers with good potential – both of them have good engines and they are quick learners. On the interesting side, both of them are from prairies of Alberta and both of them came into skimo from different sports – one from running, the other from mountain biking.
Warning: In case some answers seem a bit weird then know that both of these guys have good sense of humour 😉

Enter Travis and Peter
Q: What is your athletic background? What are (or were) your main sports?

Travis: I ran track and cross-country for 5 years at the University of Calgary (1500m, 3000m and 10km XC). Then in need of something new, I picked up trail ultra-running when I graduated last spring.
Peter: I've been mountain bike racing more seriously since I was 16. I do some cyclocross races in the fall as well. I used to race on the road, but I got tired of playing silly mind games for 4 hours on a Sunday, so I got out of that before I got taken out in a big crash.
Q: What are your biggest (racing) accomplishments in those sports?
Travis: Won the Stampede Road Race 5km in 2012, Calgary; Mother's Day race 5km; 3rd place CIS Academic All Canadian 2012; and most importantly I am a 3 time BSD Beer Mile champion (I have yet to attempt the Beer Skin, but I think my skills should transfer over well).
Peter: I've squeaked onto the provincial team a couple of times and I've battled for a couple of top 5's in Alberta Cup races. The local mid-week mountain bike world championships win has thus far eluded me.
[Stano's note: Beer Skin was a race I organized a week ago – involved drinking 4 beers over a 500m skin climb.]
Q: When did you start skiing and ski touring?
Travis: I started cross country skiing with my family when I was 2, and didn't downhill ski until about 6 years ago. I dabbled in touring (read: slogging in alpine boots and Marker Dukes) during my first few years of University, but hadn't done a ton until the last couple of years.
Peter: I think I was on skis when I was 4 and I started ski touring when I was 18.
Q: When did you discover skimo racing?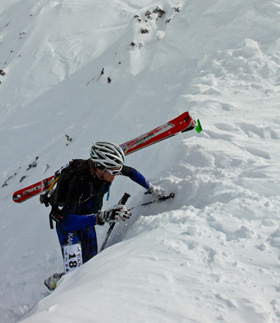 Travis: I first heard about skimo because some of the top trail runners use it as winter training (Killian Jornet, Luke Nelson, Max King etc.).  Being an injury prone runner always looking for low impact ways to boost my fitness I decided it was a perfect thing for me to try in the winter. My first race was the 2014 Castle Mountain Skimo Race and involved a lot of crashing and botched transitions.
Peter: My first race was the 2010 Dogtooth Dash. I was meaning to race the Sunshine 5000 in 2009 and 2010, but I had to do homework those weekends.
Q: Looks like both of you got hooked on skimo racing quite easily. What are the main reasons?
Travis: I love spending time in the mountains and skimo lets me get into all the areas I frequent in the summertime in a completely different way. When you can go touring and have fun with your friends for the day and call it training you know you've hit gold. I also love the mix between aerobic fitness, technical skills (transitions etc.), and finesse (downhill skiing).
Peter: Skiing up and down mountains as fast as possible and having races to keep me motivated is a much better way to stay fit through the winter than riding an indoor trainer, or struggling biking through the snow. I enjoy racing and I've met some interesting people, so I'm definitely hooked on the scene! That and "National Team member" will sound really good when I'm trying to launch my motivational speaking career.
Q: Which aspects of skimo racing were the most challenging to you? How did (or still do) you tackle them?
Travis: The technical side of the sport such as skinning technique, kick-turns, downhill skiing and transitions are still my weaknesses. Training at Canada Olympic Park in Calgary definitely helped my transitions because it's only a 125m lap, so you end up doing lots. But the other stuff you can't work on there, so I try and get out to the mountains as much as possible on weekends. I've also spent lots of time watching videos on sites like SkinTrack picking apart transitions .
Peter: I am certainly not fearless on the descents in either mountain biking or skimo and speed there will come with more skiing and leg strength. I sometimes have a bit of trouble skinning fast and opening up my stride on flatter sections, so I think I have to spend some more time on the classic XC skis.

Q: How do you think skimo training and racing is beneficial for your other sports?
Travis: Because skimo very closely mimics the bio-mechanics of running without the impact, I've noticed a big boost in my running strength and endurance so far this spring because I can maintain high volume of training all winter. I also find the change in sport helps to keep my motivation levels high, and by the end of ski season I am ready and excited to jump back into running.
Peter: The race length is about the same. On steeper climbs the motions are fairly similar. I'm getting some racing in while others are riding indoor bikes! The beating the legs take on the descents must be good for the bones!
Q: How do you train during the months without snow? Only running and biking or other activities as well?
Travis: In the summer, I stick to mostly trail running, with some time on the road bike and in the gym. I also spend some time out with friends climbing, hiking etc.
Peter: Only biking for me. Or sometimes I'll hike up a mountain and ride my bike down and call it "training". Not much running for me, I think the furthest that I have run is 8km! I keep telling myself to do more running to work on my stride but never get around to it.


Q: What do other athletes from your previous sports say about you racing skimo? Were they even aware of it before you exposed them to it?
Travis: I spend a lot of time explaining what skimo is, or they say "ohhh that's that thing Killian does in the winter isn't it?". A lot of them think I'm a little crazy, but I try my best to convince them to give it a try.
Peter: I think everyone that I've talked to is intrigued by the sport, but I don't think that they had heard about it before. Some have seen the videos. Maybe they'll give it a more serious look if I could throw down an impressive early season result.
Q: Where do you guys live, work and train these days?

Travis: I'm currently living in Calgary, working as a personal trainer and during the week I trained at Canada Olympic Park (125 vertical meters of groomed ice) and got out to the mountains to ski in Banff and Kananaskis almost every weekend.
Peter: Edmonton. I do my skiing based out of Canmore on the weekends when I decide to make the drive.
Q: Ideally, where would you want to live, work and train in the future?
Travis: I would love to live out in the mountains, but will be going back to school soon, so that probably won't happen. Calgary isn't too bad because it's about an hour and a half to get to the closest good skiing.
Peter: Anyone know of a ski town with mechanical engineering jobs?
Q: Do you have a coach? If not, where do you look for guidance and information?
Travis: I'm self-coached. I have a pretty good grasp on training concepts from training for track, getting a Kinesiology Degree and being a Certified Personal Trainer. I've also done a bit of reading on what others are doing for their skimo training (aka blog creeping) but for the most part I just adapt my typical running workouts to the skis.
Peter: Mountain bike racer Matt Hadley has been coaching me since the fall.
Q: From your point of view, is there anything specific skimo in Canada lacks to attract more new people? And is there anything specific that skimo in Canada has better over other sports?
Travis:
I think the biggest area for improvement is access to information about races, and race registration. Coming from running, where the racing scene is well established and race details and registration are available months in advance finding info on skimo was quite difficult. I'm used to planning my race season 6-8 months before, being able to easily look up previous results etc. and had to work very hard to find out information about skimo when I was first starting.
The best thing about this skimo community is how friendly and genuinely nice everyone is. I felt very welcome, even at my first race when I knew nobody, and have met a ton of great people from all over North America at every race since (Even the legendary Stano!). These friendships have led to some epic ski days, with more to come.
Peter:
Judging by what is popular these days, I think skimo is missing mud, barbed wire, electric cables, chasing zombies, coloured flour, standardized distances, mass marketing email lists, and $200 races. On a more serious note, a "grand" course or stage race and mid-week races might attract more people.
What does skimo have over other sports? In Skimo, you can race along alpine ridge lines, bomb down descents and it's all over in couple of hours, so you still have time to do a couple of laps off the lift after. And not many sports in Canada have Stano!
Stano:
Thank you boys very much, but don't get too friendly as I might have one more good season in me 🙂
Q: What would you advise to young trail runners and mountain bikers if they want to try skimo so they have a good experience right the first time?
Travis:
You don't need the lightest gear to have lots of fun, but it definitely helps if you want to be competitive.
Practice with your gear to get it dialed in before you get to the start line. You can save a lot of time with efficient transitions.
Don't forget to practice skiing downhill on your race skis too! I've always considered myself to be a good downhill skier, but felt like a 4 year old getting off the magic carpet my first time using race skis off-piste.
Peter:
Try a race. It doesn't matter what you have for gear; if you are fast, you will pass people on lighter gear.
Find a good group to go skiing ("training") with.
Understand that there are technical elements that make skimo unique: transitions, descents, steep skinning, kick-turns. Don't get discouraged if you don't have these dialed right away, they will come with practice.
Q: You guys recently did a one day assault on Mt. Joffre in Kananaskis country, Alberta. You did in less than 11 hours, tell me about the adventure.
Peter
:
Mt. Joffre (3450m) is located in Peter Lougheed Provincial Park in Kananaskis country. It is the highest mountain in K-country and one of the 11,000 footers of the Canadian Rockies. It is usually done over 3 days and the guidebook claims a round trip distance of 28km, but our GPS's were reading closer to 40km and 2150m of vertical when we got back to the car just under 11 hours after starting.
I have been fascinated with this mountain ever since I read a trip report from a day trip 2 years ago. I made an attempt but bailed just 250m from the summit as we didn't have the
cojones
to continue up the face. And I realized that having a good and fast partner would be crucial for a fast and successful attempt.
It seemed that Travis was keen on going for a long tour but it had snowed the day before so the
Wapta traverse
 probably wouldn't be very fast and there was the potential of getting shut down by clouds on the Balfour Col. He suggested going for Joffre, so we headed out from Canmore in the other direction!
Q: Compared to trail running gear, skimo gear is expensive, but compared to mountain biking or cycling it is fairly cheap. Can you provide brief summaries for both sports of what you need to enter with a total price at the end?
The below prices are for new gear.
Travis – trail running gear
:
Trail Running Shoes $130-180
Hydration system: $30 (Handheld) $90-180 (pack)
Some longer and more remote races have required gear (Toque $20, lightweight windbreaker $70, gloves $20, survival blanket $10, headlamp $40-180)
Other than that, you can wear any regular running clothing you already have (shorts T-shirt) or spend up to $150 on each of those for fancier compression gear
Total: $400-450
Basic: $160
Top of the line everything: around $1000
Peter – mountain biking:
Bike: Hardtail – $2000+, Full suspension – $3000+. Add another $1000 each for Carbon frame/wheels.
Kit (shorts/jersey/socks): Usually ~$200, but you might want to have a couple of sets, unless you really like doing laundry!
Jacket: if you want to stay warm while training or racing when it is cold or wet: $100-200.
Shoes: $200. Some people have separate shoes for their road bike so double that.
Helmet: $100, does the trick.
Sunglasses: $75
Gloves: $40
Tube/pump/multitool: $40
Total: $2750+
And all of the parts you will break!
Stano – competitive skimo racing gear:
Race skis: $650 and up
Skimo boots: $750 and up
Bindings: $500 and up
Skins, 2 pairs: $250 and up
Skimo race suit: $300 and up
Pair of XC ski poles: depending on quality but as low as $40
Avalanche gear (beacon, probe, shovel): $350 and up
Helmet: $150, but cycling or climbing helmet is OK too
Wind breaker jacket and pants: $150 and up
Total: around $3000
And you probably own all the other things already (base layers, ski clothing, goggles, sun glasses…)
Q: What skimo gear are you currently racing on? Any plans to change or upgrade? If yes, then to what?
Travis:
I had some older gear for my first race but upgraded pretty quickly when I realized its limitations. I've really enjoyed my current setup, but might look into some Alien 1.0's in the future when I win the lottery.
Peter:
Dynafit DyNa World Cup skis, Low Tech bindings, and Pierre Gignoux XP444 boots. If I was able to ski more, I'd think about getting a second pair of the entry level race boots for training, etc… Oh and 140 cm poles and I am 187 cm tall. You forgot to ask that!
Stano – just for comparison:
Wanna try skimo too?
Are you in a similar position as Travis and Peter were only few years ago? If yes, don't hesitate to reach out via email or simply leave your question below and we will answer ASAP.