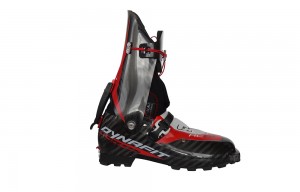 Quick overview:
Usual full price: $2150 USD
Weight: 507 g (size 27)
Cuff Rotation: 75 degrees
Forward Lean: 12/18 deg
Material: Carbon Fibre
Liner Type: Palu Race 400
Pros: lightweight, stiff
Cons: fragile, binding compatibility, liner quality
Suitability: high level skimo racing
Bottom Line:
The lightest boot on the market, they race well but are somewhat fragile. A big investment with big weight savings!
Photos:
Product description and How we tested it:
Departing from the tradition of developing their own lightweight boots in-house, Dynafit has begin licensing the work of renowned boot maker Pierre Gignoux (PG). The RC-1 is Dynafit's lightest offering coming in at a svelte 507 grams per boot in size 27 – well below the options offered by competitors such as La Sportiva and Scarpa. The low weight of the all-carbon boot is immediately apparent when you slip it on.
One of the most noticeable features is the liner which only goes as high as to cover the ankle bones. Above, foam padding on the outer shell clamps onto the athlete's shin, making an upper liner unnecessary. The liner is incredibly lightweight but this comes at a cost to durability. Several wear points exist at the heel and near the cuff pivots. It would be interesting to try the bikini-style liner available from PG or something similar to sock liner (but cut to ankle height) used in the Scarpa Alien 1.0. A tighter fitting sock liner might improve the fit as well as reduce wear.
The boot uses a simple vertical throw lever for locking the cuff into ski mode (similar to the Scarpa Alien lever). This is different from the 'Ultra-Lock' lever on previous Dynafit Dy.N.A. and PDG boots but requires less cutting of the skimo race suit bottoms and results in less snow making its way into the boot. The lever is easy to flick down and it accurately snaps into ski position without a need to guide it. Placing of the lever's lock post (the bottom piece), skimo suit or pants don't cover it, unlike with the Ultra-Lock system, making for a slightly faster/easier transition.
The foot-locking mechanism is a ratchet strap on the instep and a cord tightened by the throw lever to tighten the upper cuff. The 2016 version of the boot, called DNA now, features ratchet straps on around the upper cuff as well, to provide easier fit fine tuning (though, likely at a small weight penalty). Lower tightening is also accomplished with a quick lace system similar to that seen on many Salomon running shoes.
Early (black and white) versions of the RC-1 were sold with a relatively thin sole. This sole was poorly glued to the boot and was prone to damage. Inline changes (both to black/white and green/pink) brought a new, higher quality sole with better glue. Luckily, PG is friendly with warranty requests and will replace the old sole with a new one.
It is worth noting that no version of the RC-1 uses Dynafit's proprietary toe tech fittings (which is odd but understandable given an independent manufacturer), but rather a custom fitting designed to be used with the RC-1 bindings (also engineered by Pierre Gignoux). I decided against mounting the RC-1 bindings on my race skis and instead went with the traditional Low-Tech Race. To make a good fit, this required a small amount of surgery to remove a few mm of sole on the bottom of the toe. Stepping into a Low-Tech, the binding snaps and locks but not quite as tight as it does with Dy.N.A. boots. Interestingly, when paired with Plum Race bindings, the binding does shut completely. Despite this being a bit disconcerting, I've never had a binding release and I am comfortable skiing them on steep terrain in a race.
The boot fits slightly wider and longer than traditional Dynafit boots. The sole is also perfectly flat and quite hard. I immediately put a custom insole into the liner to get the support my, generally not very picky, feet needed.
I used a variety of crampons with the RC-1. The only compatibility issue was with the front welt. Unlike most plastic boots with a well defined edge on the front welt, the RC-1 welt is very smooth and rounded (and made of carbon). This made any crampon with a toe bail feel less secure. Most commonly, I used the CAMP Race-290 crampons.  Strap-on crampons work fine as expected. While racing the Trofeo Mezzalama last spring, steel crampons were required for sections of exposed ice. I had only a pair of BD Sabretooth Pro crampons (clip-on version) which generally stayed attached despite the minimal welt. While I am suspect of any crampons on race boots, these boots are particularly insecure unless using a strap system – be careful.
My boots have seen about 70 days of use, mostly racing. My main durability issue has been the liner but my lower shell also developed a crack in the carbon that propagated out from the cuff pivot. PG was quick to replace the shell when I stopped in their tent at the Pierra Menta!
It is worthwhile to note that PG makes a slightly heavier version – called Black – that appears to be much more robust for training and mountain adventures (it has a covered tongue rather than being open) but is also plenty light for racing (600 grams).
Overall thoughts: If you want to race on the same boot as the best racers in the world (Laetitia Roux, Anton Palzer, Kilian Jornet, Emelie Forsberg, etc…) these are the right pick. They are the lightest available, ski well, and are fast in transitions. Just take good care of them!
Pros:
Lightest on the market.
They ski well.
I like the rear throw lever.
Excellent customer service/warranty service at PG.
Moderate crampon fit.
Things to be improved:
Fragile (but that comes with the territory).
Does not use the Dynafit Quick-Step toe fitting.
Warranty issues must go through PG in France.
Liner is quick to wear.