Since I am currently shopping for new light skimo boots I am developing a severe case of PSC (price sensitivity condition) so today I set out to evaluate how bad it really is.
Now and then
It's only about five years since there was only one ski mountaineering boot on the market weighing under 900 grams. Pierre Gignoux's XP500 was about 600g with a liner and almost a pound lighter than its nearest competitor.
By 2010, the big three – La Sportiva, Scarpa and Dynafit – had couple of the top world's racers testing their prototypes with the hopes of closing the market share gap Pierre Gignoux created.
However, what majority of the racing field hoped for at the time was that this competition would bring prices for the lightest skimo boots down.
Today, on the verge of a new ski season, we have 9 boots from 4 brands that are under 900 grams yet the prices for the 700g models never went down.



The lightest boot 4 years ago, the PG XP500, was about 1200 Euros which was about $1650 US then (and is also now) and you had to order it a couple of months in advance. Today, we can have the boots at our door steps in 2-3 weeks in most cases but the prices are the same or even higher.
Here are the usual price tags for four super lightweight models right now:
$1700 for the white Dynafit Dyna Evo (695g at size 27)

$1800 for the green Scarpa Alien 1.0 (700g at 27)
$1900 for the minimalist Pierre Gignoux Morpho 400 (500g at 26)
$3000 for the very innovative La Sportiva Stratos Cube (545g at 27)
» For all models, see this comparison table with a complete list of lightest skimo boots currently on the market.
Price is not everything
With only few in North America willing to cough up top buck for the lightest boot couple of years ago most of us dreamed of affordability. While that didn't come something did change – quality and performance.
Seeing the performance evolution of these boots over the years made me realize that ski mountaineers got it better than climbers, mountaineers or cross-country skiers. These things are literally feather weight, climb by themselves thanks to amazing ankle articulation and rockered soles, and can drive much bigger skis than just the specialized skimo race tooth picks.
Durability also improved as well as did the quality of closing mechanisms. And what I see as the greatest benefit is that you can now choose from the different models the one that fits your foot and preferences the most.
The "lesser" models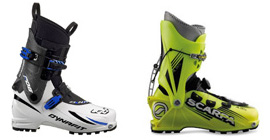 Another benefit brought to the skimo community as a side effect of more innovation and competition are cheaper models from Dynafit and Scarpa.
Both, the PDG (795g) and Alien (850g) boots weigh still under 850g yet you can buy them at around $800, which is lighter and way cheaper than top models from the two brands 3-4 years back – Dynafit Dyna and Scarpa F1 Carbon boots.
Their walk-ability is on par with the top models if we omit the 100g or so "penalty". They are softer in downhills than their carbon versions but something has to give if they are to be half-price.
Pay or not to pay?
In line with our human habit of looking for ever cheaper options I am not inspired with prices of most of the light boots. But I have to admit that things aren't as dark as they may seem.
What do you think, are these light boots too expensive or their prices are justified?