Here is part two from our ski expedition to Muztagh Ata and Lenin Peak we went on last month. To read part one see here – Skiing thin air at Muztagh Ata + Kashgar culture adventures.
More info: Being an information junkie, throughout these posts you will see lots of links to Wikipedia articles. I wanted to make it easy for you to find more info about places we visited and things we saw, in case you want to go.
From Kashgar to Lenin Peak base camp
Pamir Expeditions arranged transport for Peter and I from Kashgar to the Achik Tash base camp under Lenin Peak. As we needed to cross the Chinese-Kyrgyzstan border again we knew this was going to be a long day. And 200km on dirt roads segmented between 400km on paved ones was going to make it one hell of a sitting marathon.
Chinese borders
Through the two different borders we went to and from China (Torugart Pass in and Irkeshtam Pass out) we observed a novelty – the Chinese border is simply closed over the weekends! You get there Friday night and you will need to wait until Monday morning.
I don't know whether this is the case with borders with other countries as well (Tajikistan, Pakistan, Pakistan…) but it was at these two crossings.

Chinese building the roads
On both sides (for about 150km) of both crossings we witnessed what this powerful country can do. It is in Chinese business interests to renew the old Silk Road and so they are paying for building new roads through borders with Kyrgyzstan, even outside of their country. The condition is – their workers will get the work.
Drivers
As soon as Europe, Peter and I realized that professional drivers (taxi, bus…) are quite the characters. And our arranged pick up connection on Kyrgyzstan's side was no worse.
Genadiy, a Russian long living in Kyrgyzstan, was 74 and thoroughly enjoyed taking his 1992 Isuzu Trooper close to speeds almost twice his age. To keep the car on the road he needed its whole width, so half the time we were in the opposite lane. But he was one funny friendly fella thus all was quickly forgiven. 😉
Women and Lenin Peak base camps
Now I got you thinking with that heading, eh?
There are essentially two base camps at Lenin Peak (they call the higher one Camp 1). First one – Achik Tash base camp – is where you get off the car, at 3700m, and the second one is a 5h hike away at 4450m, on a foot of a glacier.
Each agency (about six of them) have one camp at both places, however, at both Pamir Expeditions has the best location in terms of saving you some walking.

Ladies are running the show
At both locations, the bosses at Pamir's camps are women – Mariya and Nikka – both strict yet very, very friendly.
At Camp 1 (the higher BC), where we spent couple of days, Mariya must have amazed every client with how she managed unique demands of about 40 people while non-stop smiling each and every day. We felt that she alone created half of our great experience at Lenin Peak. Thank You!
Food
Food at both base camps was truly amazing. Lunches and dinners usually started with two different kinds of salads followed by a bowl of rice or noodles with meat. Later, either fresh fruit or some cake followed. And with everyone losing appetite I was in heaven. I don't hesitate to finish other's meals when hungry. 😉

Dethroning Lenin
The Lenin Peak (7134m) is named after arguably the biggest communist the world has ever seen – Vladimir Ilyich Lenin. I really hoped that after summiting Muztagh Ata I could take on this revolutionary leftist with ease.

Since Peter and I felt pretty good after two days of low altitude travelling and city strolling we decided to go straight to the summit without further acclimatization. Unfortunately, at Camp 2 (5300m), Peter started to feel not so great and was losing appetite quickly. So the next morning I was on my own again.
With about a heavy back-pack three days in a row I climbed to Camp 3 at 6200m which is located at an amazing spot, on top of Razdelnaya Peak. The name essentially means a "divider" as this is the point where three ridges meet.
As soon as I put up my tent a head popped out of a neighbouring one and a Tajikistan guide invited me in for some tea. We talked for couple of hours and I still remember his answer to my question whether he ever goes to Himalayas. He said: "Did you see over the ridge to the other side? That is Tajikistan. Why would I need to go to Himalayas?" And he was right, on the other side of the ridge was a sea of snowy mountains, just like in Canada. 🙂
Summit day
Once again, I slept pretty well at this altitude, however, not for very long. Most of the people trying for the summit that day were leaving around 3.00am and were walking with crampons on right by my tent. I couldn't figure out how they are doing it since still at 10pm I heard half the them coughing and choking due to not being used to such altitude yet.
I left just after 5am with the plan to skin the 1000m to the summit. Then ski back to Camp 3, rest some, pack up and ski down to Camp 2 to Peter.
All was going pretty well until I reached a big platoe at around 6400m. This is where one pops out from a somewhat sheltered slope onto an exposed ridge. It was probably around 7.30am and I spent the next two or three hours battling the wind, hiding behind the rocks, battling the wind, hiding…

At about 6600m I calculated that it would still take me about 4h to the summit along this long ridge. By then, I was long without skis as I realized earlier that it would be impossible to ski down this route with so many rocks being exposed. It wasn't impossible in terms of skill but rather impractical as I would still have to walk some parts on foot, thus, would have to transition from skis to crampons and back for couple of times.
Also, by then, I was getting tired. My breathing was well (thanks to Muztagh Ata) but I was already five or so hours walking and could feel the previous three days of big back-pack on my shoulders. The wind made things worse… or easier as it made the decision of turning around less painful.
And so I went down walking some, skiing some, going slow and really enjoying the views around me.
By Camp 3 I have decided to pack up and not try again. By then I was honestly tired of the whole expedition thing and could not see how I would motivate myself to go back up the same trail. So I skied back to Camp 2 and the next morning Peter and I had some superb turns over crevasses down to Camp 1 (the higher BC).
Skiing lower peaks
Peter welcomed my decision to not try again as we could finally hook up to ski together.
The day after skiing down to Camp 1 we tried to climb about 5300m peak which we later named Mariya in honour of our fabulous host. We didn't summit as we got to its final 300m steep wall about an hour too late. Everything was rapidly melting and sloughing, instead, we tried to make it to the lunch table on time.

The next day we walked down to the official base camp enjoying stunning views all day long. Both of us commented on how much more we liked the environment here than at Muztagh Ata.
Both places are beautiful but here in the Pamir Mountains the surroundings have tremendous variety – colours, shapes, some kind of freshness. Muztagh Ata is beautiful as well… when you are 10km from it. Because once you are on it everything you see in the distance is dry and is pretty much a desert.

Schooling at Peak Petrovsky
Once back at Achik Tash base camp we had two more days to kill. The next morning we went up a ridge that leads to Peak Petrovsky at about 4750m. This beautiful, long, progressively gaining ridge is popular for acclimatization.
We were strolling out the BC before 6am and made the fake top by 10.15. It looked like the true summit was maybe 10 metres higher but about 20min away on an up-and-down non-technical ridge. From there we would have to return the same way before we could ski down, so we opted to ski before the heat melted the snow too much.

Our plan was to ski down the broad ridge we ascended for about 150m, then directly down a steep face. Once on top of it I went side slipping into the face and instantly we could see it was very hard. I traversed out and we decided to wait half an hour.
During our wait we observed that we needed to cross the hard slope to what looked like a snow band running all the way down the icy 400m face, all 45 degree skiing.
Once we carefully traversed/side-slipped (with an ice axe in one hand) onto the promised snow I realized it was 10cm of totally wet on top of ice. The snow was just sliding away from my bottom ski.
After some trying to get lower in hopes of it getting better it truly did… for about 5m, then back to wet slush. By this point Peter back-tracked out but I was too far in it to easily decide. At the end, I spent about 2h of trying to side-step lower to where I hoped better snow would be. All this time chopping away little holds for my upper hand to hold on to the face.
Then a blessing idea crossed my mind that perhaps I should do what Peter yelled at me an hour earlier: "Put crampons on and climb out of there!" And so in sequence of super slow-motion movements I managed to put on both crampons and get out of there, all along thinking how the hell did I get so much into it.
Once back on the ridge and happily lying in the snow I realized that this was the most dangerous thing in the whole month of traveling… apart from some crazy driving.
Lessons learned (or repeated)
If you suspect the snow will be hard, climb the slope before you ski it. 😉
When steep skiing always wear a harness, so you can anchor yourself if you need to put crampons on. 😉
To carry a rope is never a bad idea. 🙂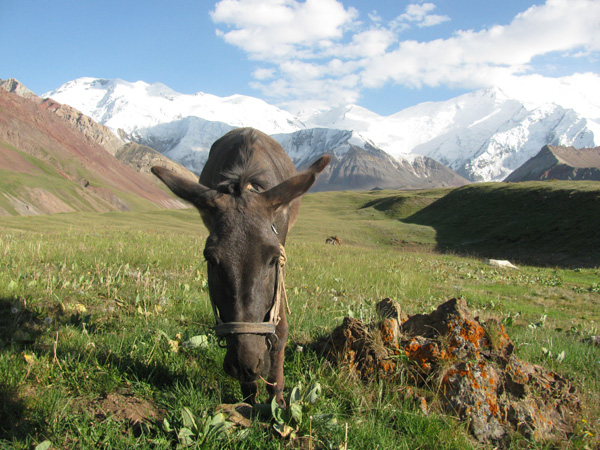 Bishkek – the capital
As with Kashgar, I want to introduce you to a city that is very important to the region. Bishkek is the capital of Kyrgyzstan and is pretty much The gate into the country for westerners.
Since Kyrgyzstan used to belong to the former Soviet Union signs of communism are everywhere. It is a Muslim country, thus, the two architectures clash sometimes.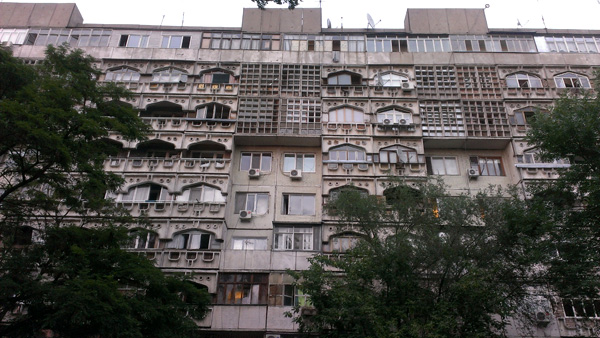 Osh Bazaar
As in Kashgar, we visited a big goods market. Products sold were pretty much the same but the market was smaller than on the other side of the border. However, there were many stands selling traditional Kyrgyz hats over which I marveled for hours and bought a couple at the end.
Food and drinks

The Kyrgyz cuisine is the pretty much the same as throughout the whole Central Asia region, with lamb being included in many dishes. On top of langman and shashlik (tasting very similar to Uyghur style) people here also like manty – steamed dumplings filled with ground meat and onions.
We once again enjoyed an amazing langman (noodles with meat) when we were escorted by a local boy to a hidden eatery inside the Osh Bazaar. When we entered the room the 50 or so Kyrgyz looked very surprised how two white westerners managed to sneak this hidden gem out.
On another occasion I opted for lamb ribs while Peter went for some more Russian style dish. I am not a big ribs eater but these were hands down the best ribs I ever ate. The fat melting on them tasted very different to any other fat I tried before. We both suspected this was due to the fact that these ribs were likely from a free ranging animal as opposed to western-world confined live stock.
Then there is Kumis, the most famous national beverage, made from mare's milk. It's fermented and has some alcohol content. Unfortunately, we forgot to try it. First, the two times we were offered kumis we were just about to go up the mountains and we didn't want to risk it. Also, neither of us is a milk lover. Then at the end we forgot to try some in Bishkek.
On the other hand, the last two days, we tried plenty of Kyrgyz beer Arpa. 🙂 But beer and alcohol in general is not very common in Kyrgyzstan as majority of its population are Muslims. Still you can find lots of big drinkers in Bishkek which is a lasting mark the Soviet Russians left here.
USSR hostel
The most bizarre accommodation experience came at the very end. The last two nights we stayed in a flat in an old apartment building. It was furnished in style of flats built in USSR during the communist times.
Trying to avoid high prices we found this absolute gem on the internet. Nothing fancy, very lovely host, USSR style, interesting people showing up and leaving… simply a great experience.

If you happen to look for it as a stand-alone hostel then do not. It's on a fourth floor of an apartment building in the north-east corner of Gogol Street and Chuy Avenue. And it's a walking distance from the main Ala-Too Square and many historic buildings.
Going (back) to Kyrgyzstan and Xinjiang
I really hope you enjoyed my ramblings about this trip and that they will kick you in the ass to get you out of the western world. Ski mountaineering is about exploration after all, and exploration is not only about mountains 😉
If you want to go ski (or bike, hike) to Kyrgyzstan or Xinjiang feel free to ask for more info. I would gladly share my contacts with you, so you can get a jump start on your planning/searching.
Personally, I fell in love with Kyrgyzstan and a return in couple of years might be in order.
» To read part 1 of my report see this page – Skiing thin air at Muztagh Ata + Kashgar culture adventures
Gallery