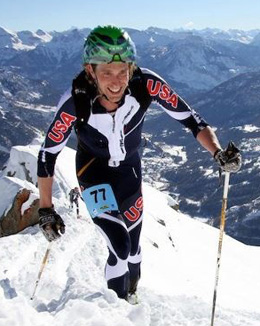 Few weeks ago, I was trying to figure out who to approach for the next SkinTrack's interview when I thought of Tom Goth.
I thought of him because I didn't think our North American skimo community knew much about him – he seems to keep more private than others – yet he was quietly collecting podium placings over the last two seasons.
Fast-forward few weeks and, what a coincidence, Tom became the US National Ski Mountaineering Champion in individual race on March 15th at Crested Butte.
He is 28, is a member of the US National SkiMo Team and La Sportiva athlete living in Salt Lake City, UT.
Tom Goth on his background and inspiration
Q: When did you start ski touring and skimo racing?
Before discovering skimo racing, I was a resort skier who dabbled in ski touring for a while. Despite its appeal to me, it never really took hold until 2010/11. That's when I had a parking lot run-in with skimo evangelist, 
Andy Dorais
.
After the seed was planted it has been a progression in gear acquisition, increasing training and racing. It's become my main sporting focus during the year.
Q: What inspired you to start racing in this sport? What do you like the most about it?
Skimo shares the attributes of other endurance sports, something which has always appealed to me. As a lifelong skier, it was a natural decision to pick up the sport as I became aware of it.
Often skimo is referred to as a complete sport – aerobic capacity on the climbs, strength and power on the descent and technical ability with transitions. I think this is true, but for me the real gravy is that training is so much fun. Squeezing in few thousand vertical after work, something which would have seemed like half-day tour a few years ago, feels like freedom.
Q: What is your athletic background? What other sports do you race or do now?
I did some competitive running in high school and college, but didn't take training very seriously. One obstacle to consistent training was my passion for skiing.  After college, I picked up triathlon during the summers. I learned some discipline and put together improved results, including a top ten Ironman finish and two trips to Kona.
To focus on skimo, I've taken a break from long course triathlons. I've moved the cycling and running off-road to get more vertical in the summer.
On training and becoming faster
Q: I would say that you had a pretty fast rise up the US skimo ranks, by the way, congrats on becoming the US SkiMo National Champion a month ago! What do you think were the most crucial elements and factors that allowed you to develop so quickly?

Thanks! I was happy to hang on to my fitness after a long season.
I think with any endurance sport, the most important aspect of training  is consistency. I've been lucky enough to put together consistent training this season and over the past couple years. Across all sports, my progression as an endurance athlete has been very linear.
With regards to skimo, my biggest leaps have been with sport specific skills, such as descending and transitions. It may sound obvious, but the best way to get better at descending on race skis is to train on race skis. Many of us have more desirable skis to take out on any given day, but if you embrace the skinny skis it pays off in races.
Q: You raced in Europe and attended the SkiMo World Champs for the first time last year. What was your experience like? What surprised you the most? And what did you find different?
Racing in Europe was awesome. The depth of field, the perfect skin tracks, the long climbs and descents, and the atmosphere in general made for a great experience.
Glide. I was most surprised by the amount of glide some of those guys were getting. Whether it was on the flats or the low angle climbs, their technique and skins allowed them to move really fast!
I think with ISMF sanctioned races in the US our courses are continuing to improve. However, the courses at world champs were impressive. There was no hacking straight up a mogul field. It helped that they had an army (literally) putting in the double track.

Q: How do you structure your training year roughly — what sports, when, and how much time?
This season 2013/14 looks like:
October – December: Uphill running and early season skiing
December – March: Competitive skimo season (20 – 40k vertical ft and 15 – 25 hours / week)
March – May: Spring adventure skiing
April – September: Mountain bike, trail run and some swimming (10 – 20 hrs / week)
Q: Do you do any strength training? If so, is it skimo specific or more general?
No weight training during the competitive season. I may include some during the off season. Downhill running is also something I rely on during the off season.
Q: Do you have a coach?
No, I don't.
Q: What are your future skimo racing and athletic goals?
For next year, it's to race well at the World Championships in Verbier. It would be great to make another trip for one of the Big Three as well.

On nutrition and gear
Q: Do you follow any specific diet? (vegetarian, Paleo, LCHF…)
I find it hard to subscribe to any dietary dogma, but I do like the Paleo and LCHF ideas. I fuel my training and racing with typical sports nutrition, but generally eat whole unprocessed foods for meals.
Q: What race gear have you been using this season?
La Sportiva RSR skis, Stratos Cube boots, RSR bindings and multiple brands of skins. The La Sportiva partnership has worked out great. Going from not racing on their gear to getting my best results has been a huge validation for me. I'm stoked on their products.

Q: When racing, do you use a bottle or camelback?
16 ounce soft flask(s).
Q: If you could ask anyone from the whole world skimo racing community one question, who would it be and what would you ask?
That's a hard question! But right now I'm geeking out on gear, so I'd love to check out the production process of the La Sportiva Cubes. Hopefully soon there are more full carbon race boots than plastic on the market.
Q: For all SkinTrack reader's that ask me whether I am obsessed with skimo racing poles length, here's my signature question: How tall are you and long are your poles? 🙂
6'2" (188 cm) and 140 cm.