After almost 6 weeks of travelling, skiing and exploring in Central Asia I am back in Europe before flying back to Canada. What an amazing trip!
As I wrote before, we picked this part of the world mostly to climb and ski two 7000m peaks, Muztagh Ata and Lenin Peak, but we knew that at least half the experience would come outside of our mountaineering adventures.

As there is so much to tell and show I have decided to split my writings about this trip into two posts. (I will talk about Lenin Peak and Bishkek in the second one.) Also, make sure to checkout the big photo gallery at the bottom of this post.
We arranged the whole trip with Pamir Expeditions but some parts were taken care of by Asia Mountains. Both agencies are very professional and I highly recommend them.
» To read part 2 of my report see this page – Beautiful Kyrgyzstan + Winds on Lenin Peak + Bishkek uncensored

Learn more: Being an information junkie, throughout these posts you will see lots of links to Wikipedia articles to make it easy for you to learn about the places we visited and things we saw and tried.
From Bishkek to Muztagh Ata base camp
Our trip officially began on July 1st in Bishkek, the capital of Kyrgyzstan, where we got picked up, along with another 4 climbers, by our tour guide and a driver.
Ramil (the guide) and Misha (the driver) were going to accompany us only for next two days, until we were going to be handed into "Chinese hands". To us Westerners this is a strange process but Chinese simply don't like cars with foreign plates in their country, except semi-trucks with cargo.
We left from Asia Mountains Hostel at around noon and after a full day aboard of a comfy Mercedes Sprinter we arrived in Naryn – a small town about 400km south of Bishkek.
The next day we headed 200km towards Torugart Pass where at 3700m is the official Chinese border.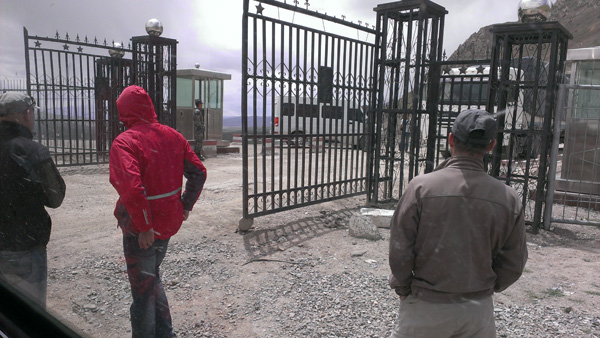 After waiting two hours our "Chinese" guide (Mohammad) finally appeared and we got over the line with the entire luggage in our hands. Strangely enough, all the people (except the customs and police officers) from there on didn't look Chinese at all. Soon we learnt they are Uyghur and their appearance and language is very similar to Turkish. Welcome to Xinjiang!
Check-points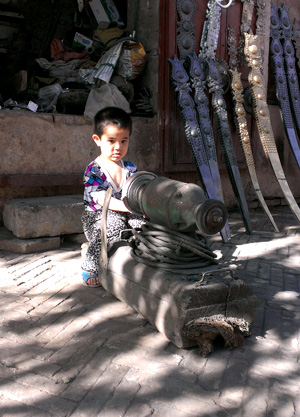 Over the next 200km we were stopped and our luggage was scanned at three check-points. The Chinese officers were somewhat friendly but they don't mess around, bureaucracy is a must. 😉
By 8pm we were in
Kashgar
, a city which lies on the ancient
Northern Silk Road
and one I have been hearing about from my father since I was a teenager. He and a friend always wanted to bike from there to Pakistan along the famed
Karakoram Highway
 – the highest paved road in the world.
The next day included more check-points despite travelling inside the same country. We bused from Kashgar, along the Karakoram Highway, to a small village of
Subashi
at 3700m. The next morning we hiked to the base camp (BC) at 4450m, camels caring most of our load.
15 days on Muztagh Ata
For me, the 5h hike from Subashi to BC was a first big test as every so often I got struck with a sudden burst of diarrhea. Each time I had to go (the 10m I could go) Peter would put on a big smile and say: "Just hold on son, the God is testing you!" 🙂 Fortunately, I got rid of it in the next 2 days.


On the other hand, Peter had a very rough first night at BC and had to go down to Subashi the very next day. From there on we were on a different acclimatization schedule so I paired up with Christopher from Germany for next couple of days.
The most surprising thing of our trip was how tedious the expedition style mountaineering can be. You go up and down the same trail pretty much every day, so by the time you hope to go for the summit most of the motivation can be gone. But there is no way around it as bit-by-bit you have to expose your body to higher altitude to make it adapt.

Unfortunately, Peter never recovered from his altitude sickness and mostly spent his days skiing around Camp 1 (5400m) since he was bored at BC.
My body managed to acclimatize every time we progressed higher and I only had trouble sleeping the very first night at Camp 2 (6200m). The next day I went to 6500m and opted to ski back to Camp 1 for a day of rest. Then I went again to sleep at Camp 2 and on July 18th I reached the summit (7546m) in about 7,5h. It was the longest 1400m I have ever climbed and couple of times I thought I would turn around. But each time when such thoughts arrived I thought to myself "Hold on son, it's only God testing you!" 🙂
The skiing back was really fantastic as 2cms overnight made things much more buttery than I experienced few days before. The first 200m off the top were very wind affected but after that Coast Mountains spring conditions awaited.

I went to the summit solo, actually, I was on the mountain pretty much alone as there was no one above Camp 2 that day. Only two fellow Russian climbers descended to BC from Camp 3 (6800m) that day.
Christopher summited during my rest day at Camp 1. I chose not go with him since I didn't like the idea of sleeping at Camp 3 right after sleeping at Camp 2 for the very first time.
We both gambled but at the end it worked for both us. He summited Aconcagua (6960m) two years before and so knew more about how his body might react. I played the "skimo racer" card – sleep comfortably, then try to summit in one "fast" round trip to avoid staying so high for so long.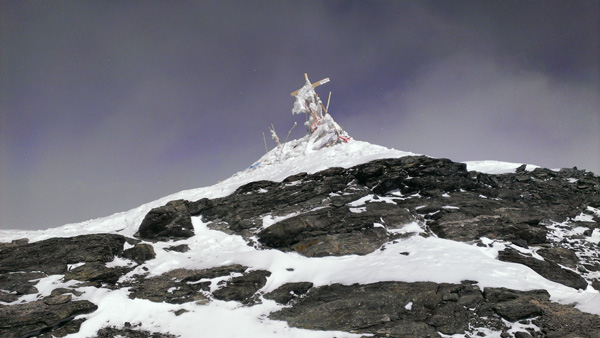 One of major problems I observed people faced even at the BC was loss of appetite. This, I believe, creates a downward spiral as without good nutrition your body has hard time adapting which leads to even less appetite… I was very fortunate to not have this problem but I guess this is no surprise to my family and friends. 🙂
Day by day
In case you want to try Muztagh Ata someday here is how it all went for me in terms of acclimatization and the final push.
The 17 days that is scheduled with majority of agencies is really on the edge. If you lose only two days due to sickness or bad weather you will likely run out of time. That's also why I decided to skip sleeping at Camp 3.

Day 1: hiked from Subashi (3700m) to BC (4450m)
Day 2: hiked from BC to 5100m to stash ski gear
Day 3: hiked/skinned to Camp 1 (5400m) to put in our tent
Day 4: to Camp 1 and slept there
Day 5: skinned up to 5800m, returned to BC
Day 6: rest at BC
Day 7: due to weather rest at BC
Day 8: to Camp 1 and slept there
Day 9: skinned to Camp 2 (6200m) and slept there
Day 10: skinned to 6600m and back to Camp 1, slept there
Day 11: rest day at Camp 1
Day 12: skinned up to Camp 2 and slept there
Day 13: skinned from Camp 2 to the summit (7546m) and skied back, slept there
Day 14: descended to BC
Day 15: hiked from BC to Subashi, bused to Kashgar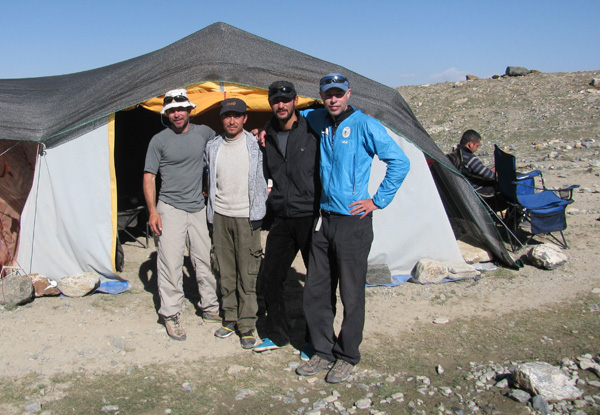 Kashgar – famed city on the Silk Road
After Muztagh Ata we were going to have one full day in Kashgar before travelling back to Kyrgyzstan, to Lenin Peak. And it was a Sunday which is when the biggest markets are on.
Food market
The night when we arrived from Subashi to Kashgar we headed out for what became my favourite dining experience in my life. We went to Kashgar's night food market.
The market is full of stands where food is prepared right in front of your eyes from all kinds of known and unknown ingredients. Everything tasted great.
The best part was that Peter and I were the only foreigners at the market. (Our climbing friends opted for "safety" of a restaurant.) The local people looked surprised to see us there but everyone was friendly.
We were also lucky to find the market super absolutely full. Because Uyghur people are Muslims they were just observing
Ramadan
. This means they cannot eat or drink during the daylight at all but once the sun sets they all meet at such food markets and enjoy freshly prepared meals.
The
Uyghur cuisine
 consists of lots of meat, mainly lamb, and various kinds of noodles and vegetables. We didn't see rice at all. Then there is tofu, nuts and lots of spicy sauces and soups. During the day (apart from Ramadan) they like to snack on naan bread.
Our favourite dish on this trip quickly became
Langman
 – a bowl of thick noodles with meat and vegetables on top, all covered in a spicy sauce. Second favourite was
shaslik
. Kyrgyz cuisine also includes both of these meals.
Kashgar Sunday Bazaar
Growing up in northern part of Slovakia our family would regularly visit some big markets over the border in Poland. However, what I witnessed in Kashgar was at least three times bigger and prices were three times lower.

The goods sold varied from clothing, shoes, watches, carpets, meat, tea, nuts, and regular foods to scorpions, dried snakes, hedgehogs and frogs. All these animals (and products from them) mostly sold as medicine.

I bought a traditional Uyghur hat as a souvenir, two pairs of boxers ($1 each), and a fancy looking fake Omega wrist-watch for a friend ($10).
If you find yourself in Kashgar you have to see this big bazaar!
Chinese soon to be
Do not be fooled by thinking of Kashgar as 2000 years-old city. And do not be surprised if in 10-15 years you won't find many Uyghurs there. The Chinese are coming, and fast. The speed at which they are building high-rises, stores and infrastructure in Kashgar is astounding.
The Communist Party will never let the Xinjiang province break away as there are too many natural resources to fight over. However, despite seeing lots of army in the streets of Kashgar I don't think they will keep the province by force. They will simply assimilate the Uyghurs.

If you think of it, this is an uber-clever strategy by the Chinese government. They build housing like crazy and then give incentives to Chinese people living in crowded cities in the east and south. The people will move in and without knowing it will do the job for politicians.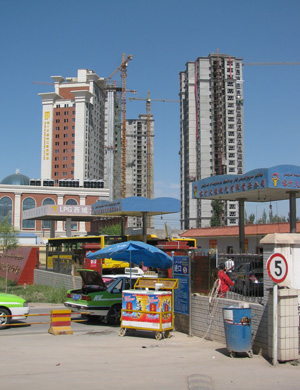 Only electric bikes
On the other hand, you can argue that such improvements (not the assimilation) enhance lives of the Uyghur people. One great example is that by law all motorcycles in Kashgar have to be electric. We can debate whether electric is better but no one can dispute that the level of noise and air pollution on the streets of Kashgar would be through the roof if they kept riding the old bikes.
No traffic, no accidents
We didn't see any traffic jams despite so many cars and motorcycles. All vehicles are always moving. Yes, they are moving even in the wrong lanes and often don't abide the traffic lights yet we have not seen a single accident. But they do honk quite a bit. 🙂
Part 2…
If you enjoyed reading about our adventures in Xinjiang then stay tuned for part 2 where I will talk about Lenin Peak and Bishkek.
» To read part 2 of my report see this page – Beautiful Kyrgyzstan + Winds on Lenin Peak + Bishkek uncensored
To get a note when it's posted follow Skintrack on Twitter or Facebook.
Gallery