Sold out event sees 112 competitors at the start line on Blackcomb Mountain. Canadian champions Nick Elson and Kylee Ohler claim top spots.
Whistler, B.C. – April 6, 2019 — It was a turbulent start to race day with avalanche bombs echoing throughout the Whistler Valley, but inclement weather and fresh snow on the ground was not about to stop the return of ski mountaineering racing to Whistler Blackcomb. The Darkside Ski Mountaineering Race took place over 13.3 kilometres on Blackcomb Mountain with over 1,400 metres of elevation gain. There were 112 racers at the start line from across Canada, the Pacific Northwest and as far away as Spain and Costa Rica.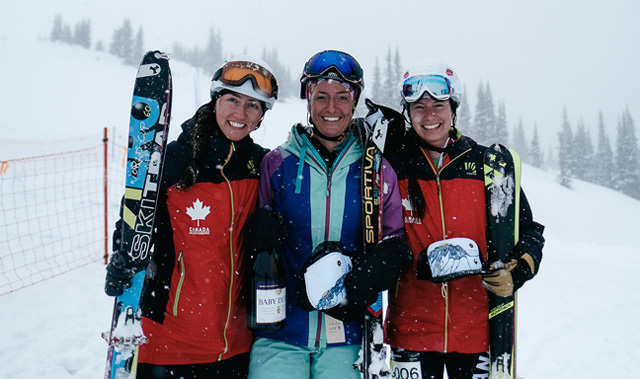 "The big draw of holding a race like this at Whistler Blackcomb (WB) is that the terrain is spectacular, some of the best in the world," said Race Director Eric Carter. "The other advantage is that with the incredible assistance of WB Ski Patrol we could still hold the event in adverse weather conditions in the subalpine. Next year, we'll definitely have our fingers crossed for clear weather and the chance to really showcase what these athletes can do in the formidable alpine terrain of Blackcomb."
Canadian national champions Nick Elson and Kylee Ohler took the victory in the Open category with a time of 1 hour, 30 minutes, 20 seconds (1:30:20) and 1:51:09 respectively. Elson had fellow Squamish local Jessie Mcauley (1:30:36) on his heels, the 18 year-old finishing just 16 seconds behind to take seconds place. Tyson Smith came in third with a time of 1:39:26. Ohler, who travelled from Calgary for the event, was followed by Katerina Kuba (2:05:05) and Courtney Post (2:08:23). In all, nine Canadian National Ski Mountaineering Team members, fresh from the World Championships in Villars, Switzerland, participated in the event.
"The (Whistler Blackcomb) Events staff were incredibly helpful, as were our small army of volunteers," said Carter. "Everything went really smoothly. We definitely fielded lots of questions on the mountain about what this race was, how far the competitors were climbing and how fast they were doing it."
The Darkside Ski Mountaineering Race had its biggest turnout in the Heavy Metal category with 45 racers tackling the course with regular ski touring gear. Christian Veenstra (1:53:06) from Vancouver and Olivia Vihant (2:31:10) from Squamish took the win with all racers completing the course in approximately three hours. One lone splitboard competitor held the rallying flag for snowboarders.
"A large portion of the field were not equipped with race skis and lycra skin suits, but were actually in normal ski touring setups," said Carter. "These are the folks who want to get out and ski the Spearhead Traverse in a push, summit peaks or just ski more powder in a day! Using some of the technology and techniques from 'skimo' racing makes this possible. Having this crew out there skiing hard, cheering on their friends and enjoying the effort is awesome and it forms the backbone of our community."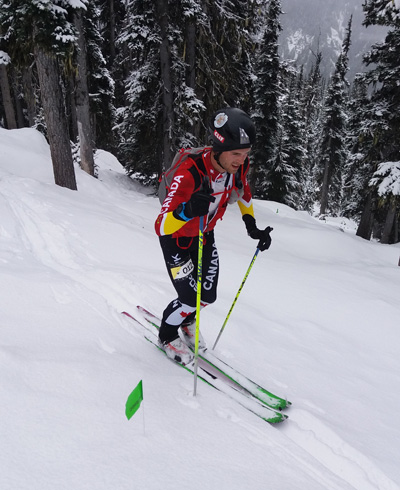 Later in the afternoon, racers filled the floor space of the Escape Route Alpine Demo Centre for the awards with cash prizes for the Open category winners and sponsor prize packs for everyone who made it onto the podium.
Dozens of competitors were treated to more draw prizes from a long list of sponsors:
Escape Route, Arc'teryx, Dynafit and Petzl with additional support from Pomoca, Ultimate Direction, Skintrack.com, Ridgeline Athletics, Skiuphill.ca, Demon Eyewear, OnSight Equipment, Blue Ice, Wiivv and Ullr Maps.