The
Mount Marathon Race
 is one of the most storied of North American mountain running races. It is one of the oldest races in NA (first ran in 1915) and also incredibly dangerous with athletes frequently becoming injured, maimed, or altogether disappearing. Often confused with a race of the marathon
distance
, the
Mount Marathon Race
 in Seward, Alaska is a total of five kilometres in distance featuring a 921m of elevation gain (3022 ft). For a little more about the race and the atmosphere surrounding it, check out the recent documentary
3022
.
Last year on July 4th, La Sportiva athlete Nick Elson (living in Squamish, BC) lined up alongside multi-year winner Erik Strabel (AK), Salomon athlete Rickey Gates (CO), and the man who needs no introduction, Kilian Jornet (ESP). Much debate ensued over weather a non-Alaskan with little course experience could possibly compare to the Alaska hard-man with his intimate mountain knowledge. It seemed that the Alaskans underestimated Kilian, who ran home to a new course record. Meanwhile, the Canadian snuck across the line in 5th position with little fanfare – the announcers didn't even mention Nick's name.
The 2016 race rundown
Fast-forward to July 4th, 2016 and the race is wide open. Kilian opts not to return and no clear favourites emerge. Strabel and Gates aren't quite showing the form they'd had in successful years and newcomers, David Norris and Scott Patterson (nordic skiers from APU) promise to be quick.
A spotlight is shone on the event when Salomon releases their Salomon Running TV episode focusing on the 2015 event.


Meanwhile, Nick has come off a successful season of ski mountaineering, competing both domestically and internationally on the World Cup and finishing the season as the Canadian National Champion and leader of the national ranking list. Spring rolled around and he increased his running after finishing his first year of law school. Nick capped off his pre-MMR training block by showing a glimpse of his form, comfortably winning the Canadian National Mountain Running Championships in Squamish, BC.
Race day arrives and David and Scott set a hard pace off the line with Nick and Ricky right on their heels. Because the race has no defined course aside from the start, top of the mountain, and finish, several decision points exist. At the end of the road, the APU skiers veer left to 'the Cliffs', a steep rocky section, while Nick and Rickey veer right to 'the Roots'. Completely separated, the two groups can't see each other and both probably worry that the other is moving faster. The trails come back together and emerge on the upper flanks of the mountain with the skiers ahead and Nick and Ricky trailing. David is looking strong and has a serious gap over Scott, with Nick not far behind. On the upper mountain, racers paddle up loose rocky scree, alternating between running and a power-hike with hands on their knees.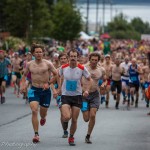 Passing the turn-around point at the summit, each racer takes a slightly different tack to descend the first portion, a large snowfield, remnant from the winter. All of the contenders end up in a nearly out of control butt-slide, jumping up at the last second before plowing into rocks at the bottom. From here it takes just minutes to descend the scree, a creek-bed portion of the mountain called 'the Gut' and then 'the Cliffs'  and a short sprint down the road to the finish line. David holds his lead with a strong finish and a new course record. Nick passes Scott shortly after the snowfield and finishes second (with the third fastest time in history!) while Erik Strabel makes a come from behind attack on the descent to finish third.
For more insight into the race, we asked Nick a few questions. His answers are about as understated as they get. Also, for our American readers, bum is polite Canadian for butt.
The Interview
How was the pace off the line?
Nick: Because the race is so short and intense, everyone including myself seems to be pretty nervous and jumpy off the line. However, after the initial excitement, we settled into a pretty reasonable pace and I was able to cruise along behind Rickey and enjoy all the cheering as we ran to the base of the mountain.
Why did you choose to follow Ricky up the roots vs going with the David & Scott and do you wish you had chosen to go with them in hindsight?
Nick: I don't think there's much difference between the roots and the cliff – in fact I still think the roots are slightly more direct if you don't mind using your hands a bit more. However, I think David and Scott really hammered once they hit the base of the mountain so they had a gap on us by the two routes met up. I followed Ricky because he's a really strong climber and I hoped he'd have a strong race and I'd be able to hang on behind him. I do wonder whether I might have been able to climb a bit faster had I tried to go with Scott and David, but I think there's also a good chance I would have blown up.
Where and how did you pass Scott?
Nick: I passed Scott just before where the descent route crosses the climbing route. I actually passed him by taking a better and more direct trail, but he was descending pretty carefully as I think he had some ankle issues. He had 15 starts on the FIS XC skiing world cup last year so I think his priority was probably not to jeopardize his ski season.

Did you intend to butt-slide the snow? Got any scars?
Nick: Yeah, we checked out the snow before the race. It would have been better style to boot ski it, but bum sliding seemed faster and less tiring. The snow dropped off pretty steeply right before turning to scree so I had to dig in my heels and my fingers pretty hard to slow down. I got some road rash on my bum and my palms were numb and tingling for a few hours after the race.
How important do you think course and previous race experience is?
Nick: I think it's definitely helpful to know the course – certainly it would be a mistake to run it without spending some time figuring out the best way to go in each section. However, I don't think the minute details matter as much as some people think. I think the experience from last year helped me, but mostly to understand the unique demands of the race and how to best prepare for it.
How was your keg stand?
Nick: I was lame and passed out by 3am before the keg stands really got going. However, for some reason some of the guys decided to bring the keg inside the house. The next morning a hungover Rickey Gates was apologetically scrubbing footprints off the ceiling.

How did you prepare leading into the race?
Nick: After the ski season I took a pretty unstructured approach to training for a while. However, in the two months leading up to the race, I tried to make sure that I had a bit of a plan for getting in consistent hard workouts. I also spent a couple weeks in Canmore a month before the race which turned out to be a great place to train with lots of steep terrain right above town. After last year, I realized that running the downhill well would require a bit more specific preparation so I actually did some downhill intervals which was a first for me.
What was your favourite workout?
Nick: I didn't race much this spring or early summer and since most of my workouts are time-based and uphill, it was hard to get a concrete sense of where my fitness was and so I decided to do a time-trial up the first peak of the Chief (a 500m climb near Nick's house) a month and a half out. I wasn't too well rested but I managed to run a solid time for me (17:42) which was a good confidence boost. It's not something I would do very often, but it gave me an idea of what I needed to work on in the lead up to the race.

Will you be back to try for a win?
Nick: It's a pretty awesome race and I feel like I still have some room for improvement so I'd like to go back. I've got a guaranteed spot for next year which is a valuable commodity – the top bid in the auction this year was $4500!
What's next?
Nick: The plan for the next little while is to focus on some more technical objectives in the mountains. I also plan to run an ultra or two later in the year.
Keep your eye on Nick, easily the best mountain runner in Canada.
Congratulations Nick and we can't wait to see you on top of the podium next year!
2016 full race videos
Men's race:

Women's race: