Today saw the first races of the 2017 Ski Mountaineering World Championships in Italy.
Very thin snow-pack forced organizers to get extremely creative which resulted in very technical skin tracks and quite dangerous descents with lots of exposed rocks, even a 200m downhill boot-pack. Absolute whiteout conditions and brief rain showers added to the challenge.
It was encouraging to see both North American men and women do so well on such a technical course and showing that couple of years of hard work and shared knowledge is paying off.

Individual Race – Men
Damiano Lenzi, Italy's current fastest athlete, went out hard seeking redemption – after penalizations, he was bumped off the 1st place twice earlier this season. He arrived about 40sec ahead of Anton Palzer (GER) and Kilian Jornet (SPA) to the top of the first 620m climb. That gap and order repeated on the top of the second climb.

After a downhill boot-pack at the bottom of the second descent Kilian Jornet started to turn on his speed and slowly ate into Lenzi's lead and only loosing by a single second at the finish after a dramatic skating sprint. Anton Palzer, coming in 3rd about 30sec behind, must have been pretty happy to be back to his best after health problems over the last two weeks.
USA and Canadian men:
It was amazing to see John Gaston and Eric Carter (30sec apart), both from the US, just around the 17-25th place at the top of the first climb, with many big names transitioning with them. Gaston continued strongly to finish in 15th overall (13th in men's category), setting a new top North American men's performance in an individual race at World Championships! Carter, feeling good, held his own – loosing few spots on descents but gaining them back on the up-hills. He crossed the finish line in 26th place about 3.5min behind Gaston. Both were very happy about their race.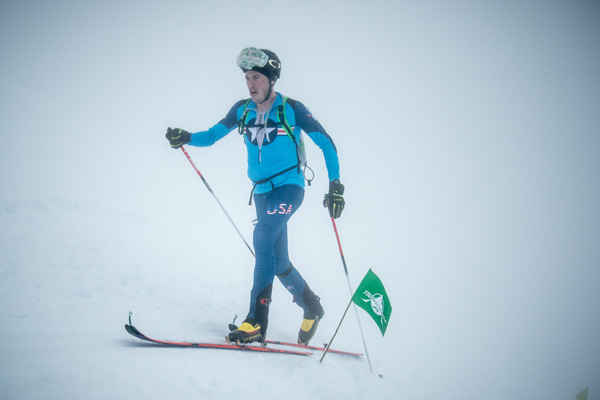 Nick Elson (CAN) was the next North American crossing the line in 35th with Tom Goth (USA) one spot behind, both of them delivering solid performances. Next over the line were two well-know trail runners – Mike Foote (USA) and Rob Krar (CAN) finishing in 46th and 48th respectively – both racing for the first time ever in such high level skimo races.
Canadian duo – Travis Brown and Peter Knight – raced around each other most of the race with Travis claiming 53rd place in the finish and Peter only few minutes behind in 55th.
American espoir Cameron Smith had a solid showing as well, finishing 59th overall, and 12th in his category.
» Full results – individual men
Individual Race – Women
Women's race was similar to the men's in the way that real contenders established themselves early and fought a hard battle throughout. However, arguably the most refreshing news was that 49 athletes took to the start line – probably the most ever at this level.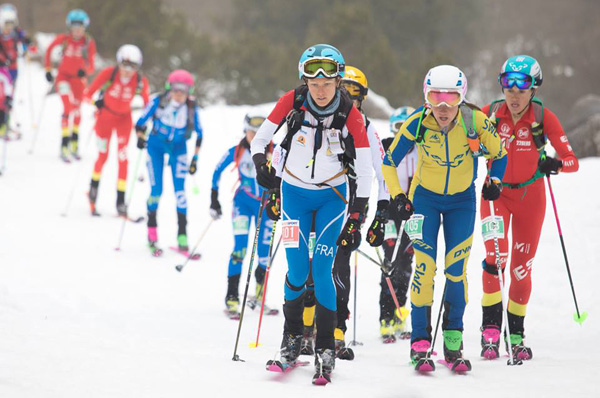 Laetitia Roux (FRA) dug deep on the first climb and gained 90sec on her rivals and controlled that advantage all the way to the finish. But the win likely didn't come as easy as it sounds because she was often looking back where a trio of chasers were – Axelle Mollaret (FRA), Maude Mathys (SWI) and Emelie Forsberg (SWE). At the end, silver medal went to very experienced Mathys and bronze to still young Mollaret.
USA and Canadian women:
Jessie Young (USA) delivered what was arguably her best ever performance, finishing 13th overall (11th in women's category), and showed she is now ready to attack the top ten! Janelle Smiley (USA) was only about 1min behind Jessie on the 2nd descent but lost some time later on, finishing 21st – still a respectful result after overcoming illness over the last two weeks.
Third North American over the line was a mother of two and a Canadian, Kylee Toth. After months of focused training and massive improvements she will be proud to finish in 29th, although, her best at these Worlds is still to come.

Next over the line were Lindsay Plant and Nikki Larochelle (both USA), finishing in 33rd and 37th, after perhaps not having the races they imagined and certainly not the ones they are capable of. The same is true for Michelle Roberts (CAN) who can definitely go faster but today's downhills were a bit too technical for her still improving skills – she crossed the line in 40th place.
Canada had two female first timers at these Worlds – Lori Ann Donald and Caroline Reid – and today was perfect for gaining experience. Both women battled through the elements finishing in 42nd and 48th, with their stronger disciplines yet to come.
» Full results – individual women

Tomorrow's race
Tomorrow is time for the younger athletes to shine and we are looking forward how well the USA juniors will go as they are definitely showing some skills and ambition!
Canada doesn't have any non-senior athletes at these championships.