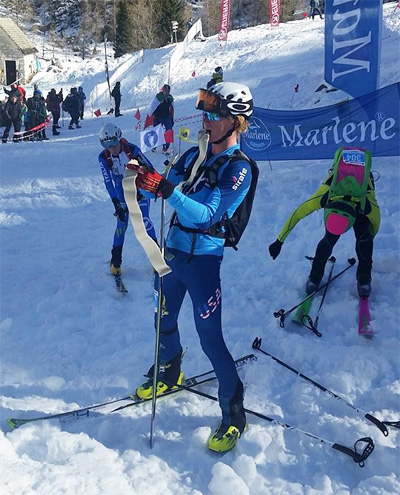 Second day of racing at the 2017 Ski Mountaineering World Championships saw the future of skimo racing compete for medals today.
With sunny skies back on the menu, and racing on shorter courses than the seniors, it wasn't any easier for the youth athletes – majority of their course was at lower elevations, thus, skiing on an even thinner snow-pack than seniors the day before.
We think the US youth team had a reasonably good day. Quinn Simmons was the top scorer (11th in Cadets) but every US athlete competing today was in their 'big race' debut. Compounded by the course difficulty in the first place, an evening below freezing made the skin tracks extremely firm and slick. It was definitely a learning experience.
» Click here for previous day – Senior & Espoir Individual races report
Individual Race – Men
In the junior category, Italian athletes completely swept the podium and once again are confirming that the depth of talented skimo athletes in their country has no limits:
Davide Magnini – ITA
Nicolo Canclini – ITA
Enrico Loss – ITA

In the cadets category, it was two Swiss athletes winning gold and silver, with third place going to Italy:
Aurelien Gay – SWI
Leo Besson – SWI
Alessandro Rossi – ITA

USA men:
USA had a single athlete – Ian Clarke – competing and gaining experience in the junior category. While Ian is a seasoned cyclist he loves to skimo in the winter. Today, he finished 23rd.
On a shorter course, there were 3 cadets representing USA today. Top result went to Quinn Simmons (also a cyclist in the summer) who crossed the line in 11th only 8min behind the winner. The other two cadets – Henry Hanes and Henry Boyd – finished 16th and 17th respectively.
» Full results – juniors and cadet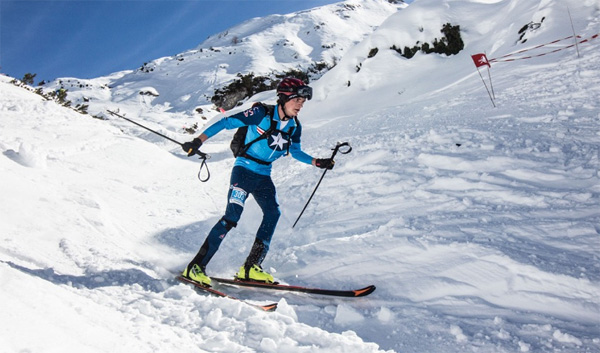 Individual Race – Women
In women's junior and cadet races, the podiums were a lot more colourful with 5 countries dividing 6 medals.
Women's junior podium was:
Giulia Murada – ITA
Ekaterine Osichkina – RUS
Julia Casanovas Cuairan – SPA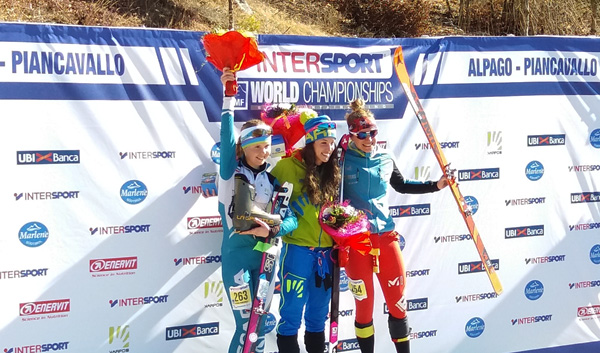 And here is the podium for the cadets category:
Justine Tonso – FRA
Samatha Bertolina – ITA
Caroline Ulrich – SUI

USA women:
USA had Morgan Fortin racing in the cadets and finishing 7th.
There were no North American female racers in the junior category.
» Full results – junior and cadet

Tomorrow
The teams race, the longest one of these championships, is scheduled for tomorrow. Italian and French teams will be the biggest favourites.
USA will have 4 men's and 4 women's teams with John Gaston / Max Taam having the best chances in men, while Janelle Smiley / Jessie Young team will try to sneak into the top 5.
Canada will have 3 men's and 2 women's teams on the start. Everyone is looking forward to a long day in the mountains.