With almost a metre of fresh snow on the ground, local organizers had to revise their plans for stage 1 due to high avalanche danger. Thankfully, the stunning mountains and meadows surrounding Areches-Beaufort offer endless options for big long race courses no matter what mother nature decide to do.
Therefore, today's stage still covered over 2200m of climbing spread over multiple ascents, including two big ones – 700m and 900m, for a total of 2200m. Skiing was as good as it gets, although, it was less fun for racers than spectators on fatter skis 😉
News from the Lead Pack
Men
There was no surprise with the first place as the race's big favourites – Damiano Lenzi and Matteo Eydallin (both ITA) – started to set the pace from the beginning. They continued increasing their lead by a small margin on every climb and ultimately stretched the gap to 3min 30sec by the finish.
Second across the line was a young Italian duo of Nadir Maguet and Michelle Boscacci who deserve lots of respect for their performance today! They managed to hold of the famed Kilian Jornet (SPA) and his new partner Alexis Sevennec (FRA) who jumped into this team to replace an illness-stuck Matteo Jacquemound.
Fourth went to locals William Bon Mardion and Xavier Gachet (both FRA) who are probably still looking for their best form this season. Fifth across the finish were Anton Palzer (GER) and young Remy Bonnet (SWI).
Race for the podium is wide open with only 4min 30sec separating 2nd from 5th!

Women
Arguably, this Pierra Menta will bring the closest race ever as all three teams were within 30sec on the day's last big climb! At that point, Laetitia Roux (FRA) was vigorously pulling her teammate Emelie Forsberg (SWE) while still in the first position.
By the finish, the order shuffled with two experienced Swiss athletes – Severine Pont Combe and Jennifer Fiechter – taking the win by about 1min ahead of Roux/Forsberg. Third place went to a young French team of Axelle Mollaret and Lorna Bonnel, only 15sec further back.
The news of the day for North America was a fourth place by Jessie Young and Janelle Smiley (both USA)! Although, they finished 7min behind the 3rd team it's refreshing to see a strong women's North American team at Pierra Menta once again.
USA and Canadian Teams News
Beyond Jessie's and Janelle's 4th place there were other well performing North American teams in this first stage.
Canadian ladies – Kylee Ohler and Michelle Roberts – managed their energy well today in order to dig deeper in the coming days. They finished 15th in the women's category and about 35min behind the strong US female duo.


Eric Carter (USA) traditionally pairs up with Nick Elson (CAN) for big teams races as the two often train together and live within one mile of each other. Today, Eric and Nick finished in 17th place, about 23min off the winners. They probably wished for a higher placing, however, they looked pretty good on the last big ascent and are poised to climb higher in the standings over the next 3 days. They finished 15th overall in 2015.


Second NA men's team (both USA) didn't have their best going today as Max Taam was visibly struggling to find his legs while John Gaston was looking pretty comfortable – they finished 26th and about 8min behind Carter/Elson as Gaston broke a ski on the final descent. However, this is an experienced team and definitely not a one to give up, so expect to see them fighting for higher places tomorrow and beyond.


A very solid performance came from Tom Goth and Teague Holmes (both USA) who crossed the line in 30th and only 2min behind Gaston/Taam. Both are great descenders but Tom had to do a bit of pulling as Teague was digging deep to keep up.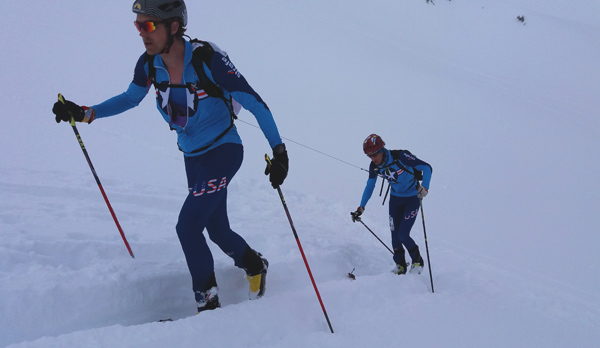 Kudos for today need to go to Jon Brown and Rory Kelly (both USA) who both have strong engines but are looking for experience at such a big race. They finished a respectable 58th but only 12min behind the Wasatch shredders Goth/Holmes.
Due to multiple issues with failing skins, the Canadian/USA duo of ultra-runners – Rob Krar and Mike Foote – cannot be satisfied with their 94th place today. They can definitely go into the top 50th in the coming days as long as their gear management improves. Otherwise, both looked pretty fresh in the finish.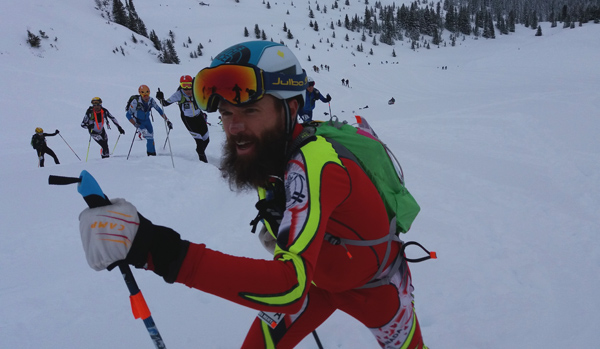 Another Canadian/USA pairing – Steve Sellers and Scott Archer – raced well within their limits today in order to easy into this big race as they don't have much experience with skimo stage racing yet. Placing 164th will put them at the back of the start line tomorrow so they are likely to dig deeper on day 2 to avoid a clog in the coming days.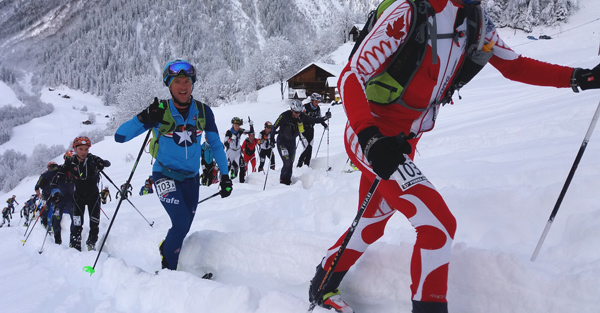 Full results are only available as Facebook post right now:


Tomorrow's stage
The athletes' briefing will begin in about 1h so we don't know the details yet, however, it is likely to stay within tree line and on meadows as we all wait for the avalanche conditions to improve.