Over the last weekend (Sep 4-6, 2015), we hosted the 3rd annual SkinTrack Summer Skimo Training Camp, with activities based around Whistler BC.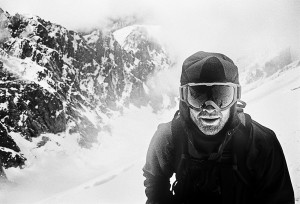 The camped kicked off at Escape Route, a local outdoor store in Squamish, with a presentation by a local steep skier and Dynafit athlete Trevor Hunt (@coaststeepskier on Instagram).
Forty skiers turned up while Trevor gave an exciting presentation where he highlighted five local steep descents including the North Face of Atwell and the Ledge.
His presentation sparked some interesting discussion and questions ranging from gear (he uses Dynafit TLT6 boots on Denali skis with Expedition Bindings) to how he copes with fear.
Saturday
The core training camp group met in Whistler Village where a few of us competed in the first ever edition of the Whistler Valley to Peak running race. The race was 20km with 1800m of elevation gain climbing from the village, up mountain bike trails and service roads, to finish at the peak of Whistler via the beautiful High Note trail.
Eric Carter came second but was very close to winning until cramps got best of him just metres from the line.
Those not racing opted for a slightly less gruelling option of running the Signing Pass trail to High Note to cheer for the racers. After lunch on the deck in Whistler, we returned for some recovery time in Squamish and a BBQ dinner with the group.
Sunday
Despite a dreary weather forecast for Sunday, we opted to head into the alpine and hope for the best. Parking at the Rainbow Lake trail-head in Whistler, we headed up the trail with an ambitious plan of a high alpine traverse over Rainbow Peak to connect two valleys and form a perfect loop.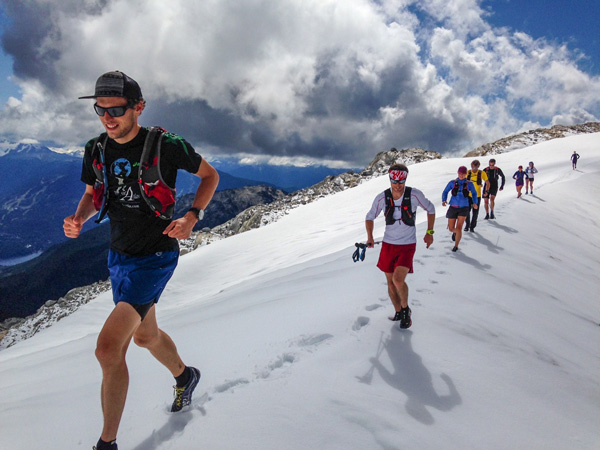 Luckily for us, the weather held. We jogged the trail to the beautiful Rainbow Lake and then started climbing scree slopes and rock slabs to reach the Rainbow Glacier. Snow fall from several days prior had covered the glacier ice giving it a nice clean coat.

By descending the NE side of the peak and shoulder, we linked up with the recently completed beautiful Skywalk Trail – a new addition built by the Alpine Club of Canada Whistler Section. Skywalk led us down Nineteen Mile Creek and after 6 hours, 30km and 1800m of vert we were back to our cars!
Thank You
We'd like to say thank you to Trevor Hunt, Escape Route, Dynafit and as well the athletes who attended the training camp. We can't wait to do it again next year!