We are super excited to bring you this detailed interview with Mike Foote today!
We will talk about his training, preparation, nutrition and the 24-hour attempt itself.
For those that don't know… Mike became the new world record holder to climb 61,200 vertical feet or 18,654 metres in 24 hours on skis. He chose to do it on a fairly short climb – 1020 feet or 310 metres – which he lapped 60 times. And all of this at his "home" ski resort Whitefish Mountain Resort in Montana, USA.

For many, Mike might be unknown but in the endurance trail running world he has achieved some incredible results over the years such as a podium at the famed Ultra-Trail Du Mont Blanc and 3x second place at Hardrock 100. Mike is also The North Face Athlete, member of the US National Ski Mountaineering Team, raced Pierra Menta in 2017 and placed 26th in a vertical race at the 2017 World Skimo Championships.
The Interview
Q1: First of all, huge congrats to you Mike!
On Sunday morning of March 18, 2018 you had finished a massive effort to set a new world record in the most vertical climbed and skied in 24 hours.
How, when and why did you come up with an idea to try this?
I first came up with the idea after running the Hardrock 100 last year. I love longer and lower endurance events like that which take around 24 hours, and there was nothing in the skimo world, which compared. So I began wondering if I could run 100 Miles in a day, what could I do on skis in 24 hours.
Q2: What was the previous record? How did you realize that you might have a shot?
An Austrian named Eckhardt Dolshlag did 60,000 feet on the dot in 2009 in Austria at a 24-hour event at Bad Gastein Ski Area. Then the famous ski mountaineering racer Florent Perrier did 59,893 feet in 2011 in his home town of Areches, France in the Alps.
These were the two efforts that felt like the benchmark for me. I didn't know if I had a shot, but I did know that if they could do it, I may be able to as well!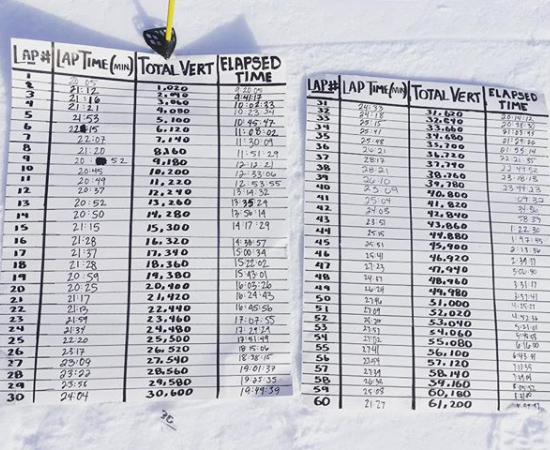 Q3: What was the weather like during your attempt? Seems like it cooperated well.
The weather was really nice. Sunny and warm during the day and mid 20's (F) at night. This however made the surface conditions of the snow really bad due to melt-freeze which plagued me most of the night with really slippery skinning.
Q4: This is going to be a longer question but perhaps the most interesting one… Let's talk about selecting the right conditions and venue for something like this:
Can you elaborate on how crucial the right angle and length of the slope is, I know that you switched to a less steep climb from the one you originally wanted to use?
Why did you choose only a 310m climb (1020 feet)? How steep was it?
Altitude was not a factor, right?
And while all the above is important, I have a feeling you didn't choose Whitefish Resort only based on calculations.
I'll say it right at the beginning that I chose Whitefish because I have a community there. And I knew I would need support to pull this off. I used to ski patrol there. It's also the place where I began uphill skinning. Lastly, one of my biggest inspirations in the skimo world was a friend Ben Parsons, who passed away in an avalanche in Glacier Park last year. The uphill route on the mountain was named after him, and there was nowhere else I wanted to try for this record.
As for slope length and angle, I've thought a LOT about this. I think something in the 32-34% grade range that was very consistent and was about 1500-2000ft in length would be perfect for something like this. Also, to have a lit on-piste run to ski down is really helpful.
Q5: Did you use any special gear, or your usual skimo racing equipment and clothing?
I used my normal skimo gear – Dynafit DNA skis and Pierre Gignoux boots. It's what I know and train on and I didn't want to mess with it. The North Face and I worked together to design a ski suit with some textiles often used in the bike racing world. The first time I used it was on the day of the attempt so I was quite nervous, but it ended up working great.
Q6: What did you eat and drink during the 24 hours? Did you have a specific fueling schedule? Did your tastes change at any point?
I just planned to eat a little bit each lap, and I totally stuck to that plan.
I had a wide variety of food such as Gu gels, sweet potato and bacon rice ball, corn cakes, drink mix, maple syrup diluted into a water bottle (I drank almost an entire quart!).
Towards the end I was also drinking warm soup broth and coke. I was eating around 400 calories per hour, which is insane! In training I often don't eat at all or only about 200 calories an hour. It was working though to eat a lot so I kept eating!
Q7: Do you know how many calories you burned overall and how much did you drink?
I don't know. Maybe 15-20,000 calories burned? I drank a lot of liquid. Every lap. And I may have been over-hydrated because I had to go to the bathroom a lot towards the end!
Q8: How many people did you have helping out during your attempt, and what were their roles? How many pacers did you have?
I had a HUGE support crew!
I had friends feeding me and giving me drink, and drying gear, and switching skins at the bottom. I also had friend at the top taking a picture and documenting my times for each lap.
In the second half of the day I had friends swapping out and pacing me for multiple laps trying to keep me on target for the record. It was a total team effort and I'm so lucky to have had the all time crew that I did. I would not have been able to come close to my goal alone.

Q9: What was your pacing strategy for the 24 hours? Most of the time, were you ahead of the world record schedule, or where you behind at any point?
You knew you would be fading slowly but it seems like you were able to have some surges.
I made a decision early on in the day to go by feel and not get too lost in numbers. I looked at my watch only a handful of times over the course of the 24 hours.
With that said, I was hopeful to build up some padding in the first half of the day without blowing up too much. I was able to ski about 33,500 ft in the first 12 hours and then skied about 27,700 in the second 12 hours. It was much slower but still enough to get the record.
The surges came with pacing. I just kept trying to hang onto the back of Luke Nelson's skis the last 6 hours. Some laps I could do it and we would post a really good time. Other times I could barely stay focused and I really slowed down.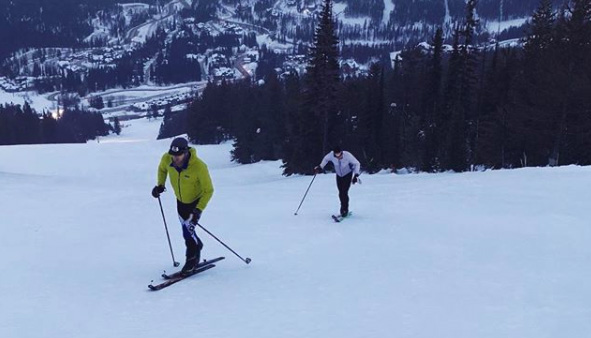 Q10: When did you have your toughest moments? How did you push through?
The hardest part for me was the first 5 laps. I didn't feel great, and I was feeling negative and not confident. I was worried that so many friends put their lives on hold to help me out and that I was going to fail. However, I just kept reminding myself I had a long day and that giving up wasn't an option. After 7-8 laps I began feeling better and was able to fall into a really good rhythm.
Q11: How did you take care of your feet? Or your training prepared them for it?
Umm….I didn't take care of my feet. I planned to switch boots and socks to dry them out but never did. And I paid the price. They hurt!

Q12: Do you feel like that you reached your life-time best fitness? Or do you think such a long endurance effort is highly dependent on one's mental state and overall mindset?
Definitely the latter. I know I could do better.
I also know that conditions are really important as well as mindset. I would like to think I will keep getting stronger every year at least into my 60's 🙂
Q13: Something tells me that the 24h record attempt was only a very small portion of the whole project, so let's talk about your training and preparations now…
Obviously, you are a very fit athlete year-round so you didn't start from zero, but when did you specifically started to train for this?
I started training specifically for this late last fall around November.
Q14: Did you design a whole training plan towards your 24h attempt, or did you come up with a couple of specific key workouts and just plugged them into your usual schedule?
My training plan was specific to the attempt for sure I still wanted to race a bit, but my priority was to be the best prepared I could be for the 24 hour attempt.
I worked with Scott Johnston of Uphill Athlete and we devised a plan together that naturally focused a lot on volume and vert. The biggest thing to work on was to be really good at doing long slow days that weren't too tiring so I could go out and do them again the next day.
It took work, but I had to get really good at operating at really low output in training so that I could boost my aerobic capacity which paid dividends once it was time for the 24 hour effort. My body was very used to "Race Pace", which is slow and steady, by the time of the attempt.
Q15: Since you live a little ways from bigger mountains, and being a runner, how much were you running still? What other activities did you use for training?
I pretty much just skied. I have a couple areas I can drive to within 20 min from my home and we had a great winter, so I was lucky there.
I ran about a day a week for an hour. I also did some easy afternoon 1 hour spins on the bike trainer, and went to the gym 1-2 times a week for some light-to-moderate core work. I did harder gym workouts in the fall, but once the season started I backed off of all hard leg workouts in the gym.
Q16: While the focus was on volume during your training, I am wondering whether you incorporated also some higher intensity intervals, apart from jumping into few races?
Pretty much I just did 4-5 races, and then a handful of Zone 3 longer workouts – I would do 3x 20 min or 4 by 10 min at about 80 percent effort.
Q17: In the weeks prior, you did a couple of 8 hour ski sessions to climb a lot of vert. How many did you do and how much did you climb?
My two longest days were back-to-back 8 hour days and I did 20,000 the first day and 22,000 the second. Before that I did a handful of 15,000 days and probably 10-12 times 10,000 days.

Q18: I know you were training a lot on the original climb – named Benny Up after our good friend Ben Parsons – in the Whitefish Resort. It has some really steep sections so you wanted to feel it out. Do you remember how many times have you climbed it this winter?
Oh man, good questions. I don't know. Maybe 50-60 times?
Q19: Since there was lots of vertical to be climbed on the D day, every gram would matter. Did you try to loose some body weight, or you were not too concerned about it?
It's something that's always on my mind and causes me concern at times. There is no debating the physics of hauling mass uphill.
I've tried losing weight in the past and have failed to do so. What I've realized is that it's healthier for me to focus on being strong, healthy, consistent and injury and illness free. I'm better at those things than a lot of people, so if I'm a few pounds over my goal weight it's worth it to me.
Q20: Was this the most challenging athletic thing that you have ever done? How would it compare to the battles at Hardrock 100 trail race, or some of your other adventures?
In many ways this reminded me of running 100 miles, but it was much harder because all the pressure was on me. I had no competitors. It was a clock, a mountain and me. I've never experienced that.
Also, it was up to me to set up the logistics of the event with the venue and to get all my friends to volunteer their time. There were many added stressors, which made the experience as a whole both more challenging but ultimately more rewarding.

Q21: Having this amazing experience under your belt, what would you change that you think could have made a reasonable impact on your performance?
I will start by saying I wouldn't change my experience for anything. With that said, a longer slope that was extremely consistent at 32-33% grade would be perfect. Also, the melt-freeze conditions were hard for going up AND going down. I would have loved to have had some nice new snow for this attempt!
Q22: What would you recommend universally to an athlete that might be thinking of doing this? Or is it too person-specific?
I would say to anyone to let go of your preconceived notions. You would be surprised what you can accomplish just by walking uphill all day!
Q23: Coming from the trail running background, what first steps would you recommend other trail runners to do if they are thinking to pick up skimo?
Do a race. They aren't as scary as you think. Also, buy the SkinTrack Manual For Ski Mountaineering Racing. I did and loved it. It's a great resource!
Q24: You now have collected some great achievements in trail running and skimo. What are your future personal and athletic goals?
I am always working to just enjoy the process. I like mixing up my goals and sports. This has been fun but I am excited to get back to big mountains and racing next winter.
I will be running the Hardrock 100 this summer and will likely have some big running adventures planned before and after that to.
I am just going to do what inspires me, even if it's a bit out of the ordinary. That strategy worked really well for me this winter as I really enjoyed preparing for the 24 hour attempt.
Thank you very much Mike for your time with these questions!
Stano