Third day at the 2017 Ski Mountaineering World Championships brought another sunny day but thankfully it didn't get as hot as forecasted, thanks to a thin cloud cover, and so there were perfect conditions for senior athletes to tackle the longest of all the World Championship races.

Organizers prepared one hell of a technical course including via ferrata sections and a walk/hike on an exposed ridge over one of the local summits. Technical and rocky descents continued to be on the menu as no new snow fell since the opening ceremony.
Arguably, the two most notable performances were in the women's race with French ladies winning the title without Laetitia Roux, and that the US Team's Jessie Young and Janelle Smiley clinched 4th place – the best ever for a North American women's team at Worlds!
» Here are beautiful ISMF photos from the teams race
» Click here for previous day – Junior & Cadet Individual Race – 2017 Skimo Worlds – Feb 25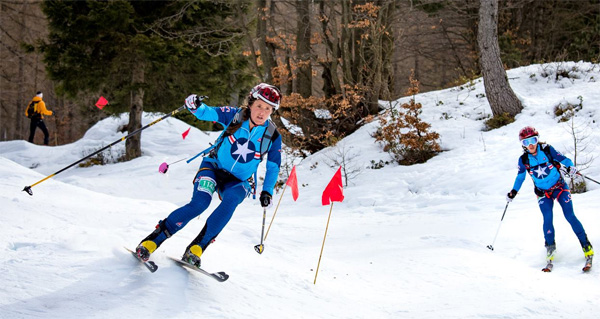 Team Race – Men
Historically, Italian teams have been quite dominant whether at Worlds, Pierra Menta or any other teams events. Today, again, it was more of a question which of their teams wins than anything else. Damiano Lenzi is on top form this season and partnering with experienced Matteo Eydallin didn't hurt. However, they out-skied their fellow country men – Robert Antonioli and Michele Boscacci – only by a few seconds to win gold. Third place went to always strong and well skiing William Bon Mardion and Xavier Gachet (FRA).

USA and Canadian men:
It was a mixed day for the US mean's team today. John Gaston and Max Taam proved their skills finishing 11th, only one place lower than at Worlds 4 years ago. Another strong duo – Eric Carter and Tom Goth – had minor gear issues on the technical ridge walk (many teams had gear issues on that section of the course) but their race really went off the tracks when Eric broke a ski at the bottom of the second descent and they had to abandon. Very respectable performance came from Jon Brown and Teague Holmes who finished 16th. Paul Hamilton and Scott Simmons are showing in the results at 17th place but in fact abandoned after suffering too many issues.
The top Canadian placing went to two mountain/ultra runners, Nick Elson and Rob Krar (see quote below),  finishing 17th (18th in results after Hamilton/Simmons correction). They skied a solid race with Rob having some difficulties in the icy skin tracks – after all it was his very first time seeing something like that.

Second Canadian team placing was still up for grabs half-way through the race with Stano and Matt Reid leading Travis Brown and Peter Knight at that point. Eventually, Travis and Peter prevailed, finishing 19th, after Matt suffered from cramps and breaking his boot early into the third descent. By slowing down a little and taking on fluid and salt, Matt was able to pull through and even skied well with one working boot, and so our team finish 20th.

Here is what Rob Krar had to say in the finish about his experience today:
I was humbled and in awe of the competition and athleticism on display this morning, including my teammate Nick Elson. I believe we both have a strong and quiet drive that led to a solid showing, although Nick was clearly the stronger athlete and I wish I weren't the weaker link that held us back from placing higher.
There is a great quote something along the lines of the only risks I regret are the ones I never took. It has been a primary goal the past few years to take more risk and step out of my comfort zone whenever possible. This approach to life has opened doors I never thought possible and racing today was really the culmination of a two year goal to represent Canada at the World Championships. It was the toughest and most challenging ski mountaineering race of my life and I loved every moment of suffering out there.
» Full results – men's teams race
Team Race – Women
Just like in the individual race, today, was very competitive in the women's field again. Italian team was leading up the first climb but another 4 teams were right on their heels, including Janelle Smiley and Jessie Young.
At the end, the gold went to Axelle Mollaret and Lorna Bonnel (FRA) with Mollaret having done quite a bit of towing as well as bringing a lot of experience. After all, she has won many teams races with the most decorated skimo athlete in history, Laetitia Roux. Second team over the finish line was from Spain – Mireia Miro and Claudia Galicia – both very experienced racers. Bronze medal went to home Italian women – Martina Valmassoi and Alba De Silvestro – who were in fact leading that first climb.

USA and Canadian women:
For North Americans, the story of the day have been written by Smiley and Young (USA) by racing into a historical 4th place in a teams race! Today's result will given them a huge confidence bust for Pierra Menta (starts March 8th) where they can certainly attack for the podium, because why go top 5 if you have already done that.
The rest of US and Canadian women had a mixed bag of feelings but overall still delivered respectable performances. Nikki Larochelle and Lindsay Plant place 8th about 10min ahead of 9th Najeeby Quinn and Michela Adrian. In 10th, and only few minutes behind, came the Canadian ladies – Kylee Ohler and Michelle Roberts – who got in good training today before Pierra Menta. 12th place went to another US team of Kristi Knecht and Anne Gonzales, finishing the race on a substitute ski after breaking one.
» Full results – women's teams race

Tomorrow
There is planned rest/transfer day for tomorrow as we all head to Piancavallo for the last three events including many youth events as well. None of the athletes on US and Canadian teams are sick or (significantly) injured so we are all looking forward to more racing! 🙂