Today, most of us were waiting whether Kilian Jornet and Emelie Forsberg can pull off a double as a couple, or whether it will be Damiano's Lenzi third gold medal of these World Championships. At the end, neither scenario came to fruition as Austria's Andrea Mayr (former Olympic marathon runner) basically just showed up for a day and won the women's title, and Lenzi claimed silver behind Jornet.
» Click here for previous day: Sprint Race – 2017 Skimo Worlds – Feb 28

Vertical Race – Men (Senior & Espoir)
Today's race was always going to be contested between this season's fastest four skimo athletes – Jornet, Lenzi, Palzer and Werner. Kilian Jornet (SPA) had a 12sec gap over Damiano Lenzi (ITA) in the finish, with Werner (SWI) further 20sec back, and Palzer (GER) another 15. Jornet and Lenzi established themselves early on and then just extended their gap. Top espoir was Remi Bonnet (SWI) in 6th.
It is worth noting that today's vertical was one of the most competitive ones in recent history due to many top guns sitting out yesterday's sprint because of the rain and opted to focus on the vert instead.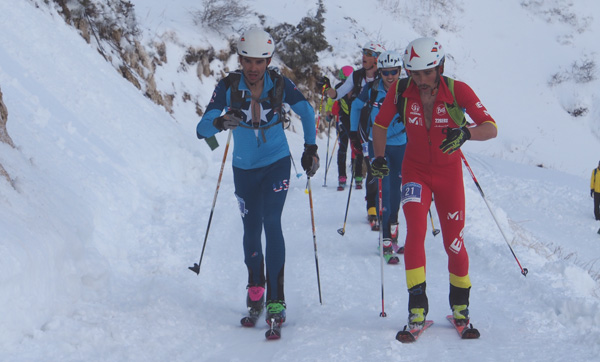 USA and Canadian men:
Given such top competition, John Gaston's 11th place – only 1sec behind 10th – is even more impressive than if it occurred in a "regular" World Cup race. Mike Foote and Eric Carter perhaps started a little too fast and faded slightly by the end, yet still finishing in 26th and 27th respectively – a great result. Tom Goth wasn't too far behind Mike and Eric to place 36th. An espoir Cameron Smith finished very respectable 43rd.
Best Canadian placing came from Peter Knight who had a great personal performance to claim 38th. Nick Elson and Rob Krar were couple of seconds behind after not having their best day, finishing 42nd and 46th. As for myself, I hopped for better than 57th although short non-technical races are exact opposite to my strengths.
» Full results – men's vertical

Vertical Race – Women (Senior & Espoir)
As for men, today's women's vertical was going to be one of the most competitive ones in recent history since there are many female athletes in their best form at these Championships. Furthermore, absence of Laetitia Roux suggested that the race will be wide open.
Emelie Forsberg (SWE) and Axelle Mollaret (FRA) were the likely two favourites but at the end it was a seasoned mountain and road runner – Andrea Mayr (AUT) – who surprised them all to take the win in a convincing fashion, more than 30sec ahead of Forsberg.

USA and Canadian women:
Along Gaston's, another notable US performance came from Kristi Knecht who finished in a fantastic 15th place, and only about 30sec from top ten! Janelle Smiley came in 20th while Jessie Young finished 25th – probably feeling a bit tired by now considering, that she entered all events so far.
Not far behind Jessie, for North America, was a Canadian Kylee Ohler with a great performance in her least favourite discipline to finish 27th. Nikki Larochelle finished one down on Kylee with the rest of Canadian team behind her – Michelle Roberts in 40th and Caroline Reid in 41st.
» Full results – women's vertical race

Vertical Race – Men (Junior & Cadet)
Racing on the same course as seniors, a 19-years old junior Davide Magnini (ITA) threw down a truly impressive gold performance which would have saw him place 13th if he raced with the senior men! After wining the individual few days ago, he now has two world titles. Second junior, Stefan Knopf (GER), was 40sec behind but still would have placed within top 20 in men's race. Bronze medal went to Maximilien Drion du Chapois (BEL) who claimed bronze in yesterday's sprint race as well.
In cadets, racing on a shorter course, it was time for Swiss athletes to dominate with Leo Besson and Aurelien Gay (who won sprint yesterday) taking two top podium spots. Matteo Sostizzo of Italy claimed bronze.
USA and Canadian men:
Ian Clarke was the only junior racing for North America and placed respectable 22nd.
US Team cadets trio – Quinn Simmons, Henry Boyd and Henry Hanes – were racing again. Many eyes were on Quinn to see whether he can repeat yesterday's bronze sprint race run. Although, he was with the top guns for some time he faded a little later on to finish 9th. Boyd and Hanes gave their all, finishing few minutes behind, in 17th and 18th respectively.
» Full results – juniors and cadets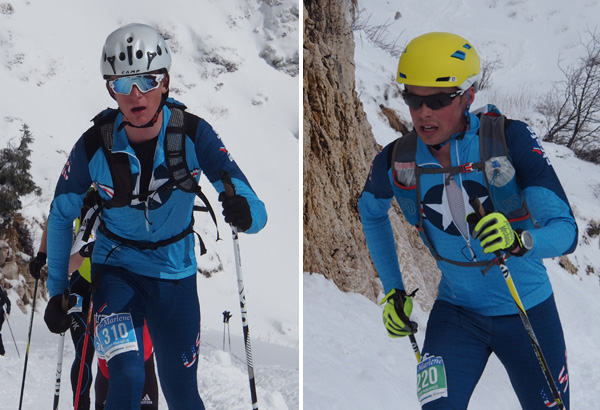 Vertical Race – Women (Junior & Cadet)
In junior category, adding to her medal collection (now two gold and one silver), it was Russia's Ekaterina Osichkina to claim the win with an impressive 1min 15sec lead on the second Guilia Murada (ITA) – who also now has one gold and two silver medals. Third place went to Malaurie Mattana (FRA).
In cadets, the order shuffled a bit compared to previous days, with Italy's Samatha Bertolina winning gold. French Justine Tonso had to settle for second this time around, with bronze going to Caroline Ulrich of Switzerland.
USA and Canadian women:
The only women competing in youth categories was a cadet Morgan Fortin (USA) who continues to gain experience, finishing 8th today.
» Full results – juniors and cadets
Tomorrow
The last day of these Championships will see athletes competing in relay races – in teams of four and three, depending on the age category and gender.