Right now, industry insiders are schmoozing at a plethora of trade shows and new gear leaks continue to entice racers. Instead of visiting the Outdoor Retailer show in US again, we flew over to Munich for ISPO – the biggest winter outdoor gear trade show in the World – as our application for official media accreditation has been successfully approved a few weeks ago.
As for snow conditions, they remain lean in the US Rockies while the Canadian Rockies deal with high avi danger. The Coast Mountains are battered by storms that bring either heavy rain or heavy snow depending on where you are lucky enough to be based.
World Cup skimo racing continues before a short break and the beginning of the Grande Course racing in just a few weeks. Read on for our recap of current racing action!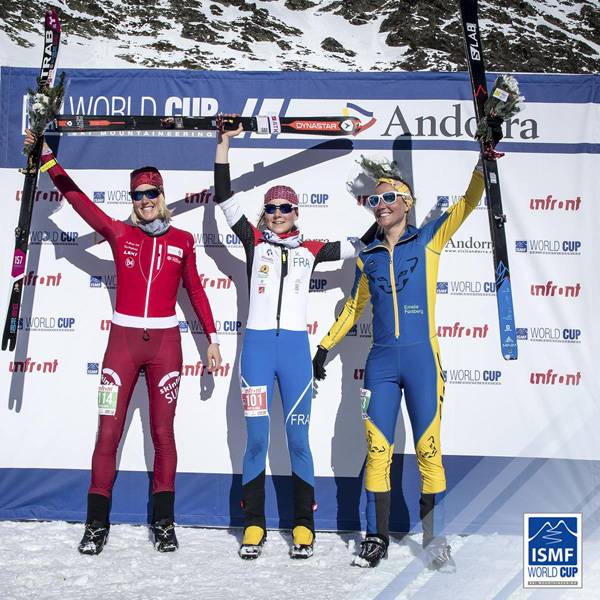 New gear at ISPO Munich
Over the next couple of days, we will publish articles with more detailed info about the new cool gear we found at ISPO. Meanwhile, check out our Instragram and Facebook feeds as we have been posting gear photos there while at the show.
USA and Canada Race News
SkinTrack skimo clinic at Whitefish, MT – Feb 9:
We would like to bring your attention to the clinic we will be teaching the night before the Whitefish Whiteout race. There are only 14 spots available in total and only few are left. All proceeds will go to Ben Parsons' family fund. We are looking forward to see you there.
» Click here for more details and to register.
– – – – – – – – Now the Race News – – – – – – – –
Racing took place all over the US, including both Coasts and a mini-event at the SIA show in Colorado. We don't have any firsthand info from the SIA sprints but we do know that Sierra Anderson and Cam Smith took the respective wins and the event overall raised $1000 for the USSMA. Right on!
Loup Loup Skimo Race – Methow Valley, WA – Jan 27:
The below recap was sent in by Sam Naney, race co-director. Thank you!
Conditions for the second-annual Loup Loup Randonee Races couldn't have been better this year. A blizzard moved in at 2am on race morning and blanketed the course with freshies. This year's event featured one, two, and three lap race options (~1300' gain/lap), as well as a new "ultra" race format: the 10,000ft challenge, inspired by four participants last year who vowed to skied 10,000ft every time they adventured together, and continued on after last year's race.
Race morning was a bit of a scramble with the blizzard ongoing and many racers stuck on the other side of the mountains due to weather. We postponed for 30min before sending the 10k stalwarts off. Thirty-four competitors started off the line ranging from only 17 years old to 74! Moving quickly to the front were several race gear-clad competitors who maintained between 25-30min laps the whole race, an average climb rate of almost 3000' per hour. Quickly breaking away to the front was young gun Peter Butler and man-about-the-mountains Patrick Fink. Trading leads and seeking every second's advantage in transitions the two pulled away from the group and by the eighth lap, Peter had gapped Patrick by over a minute. He crossed the line in 3 hours and 18 minutes, barely two minutes ahead of Patrick. Equally dominant in the women's race, Canadian Marg Fedyna cruised through every lap in style and finished in 4:26, still only six minutes ahead of Seattle-based racer Holly Davis in 4:32.
Beer and quesadillas flowed like wine at the aid station/finish zone and as the sun broke through in the early afternoon the 80s tunes cranked up, the bonfire surged, and racers pushed through cramps, hangries, and skin failures to complete their requisite 10k vertical. At the end of the day we had a 97% finisher rate and an entire hour remaining to ride lifts and close out the area. Keep an eye to CascadeEndurance.com for information on next year's race!
> Full Results
Burke Mountain (SkimoEast) Race – Vermont – Jan 28:
East Coast athletes converged on Burke Mountain, located in the far northern tip of Vermont, just south of the Canadian border. Light rain the night before followed by freezing temperatures glazed over the entire mountain, turning a steep groomed skintrack segment into an impromptu decide-for-yourself bootpack, adding many slippery moments to an otherwise moderate ungroomed skintrack, and transforming the ungroomed descent into a luge run of semi-controlled high-speed side-slips.
Team USA dominated the podiums. Jen Downing took her third straight win for the year, followed by Whitney Withington and Robyn Anderson. US national team member Ian Clarke repeated his win from last year, Ed Warren repeated his runner-up from last year, and Benoit Simard was Canada's lone podium member. Antoine Corbeil was the only junior to complete the full course. (Contributed by our East Coast correspondent Jonathan Shefftz)
> Full Results
International Race News
Font Blanca World Cup – Andorra – Jan 3:
The third meeting of the World Cup took place in Andorra this weekend. Font Blanca is a special place for Eric as his very first World Cup to place there.
Unfortunately, the high-mountain nature of the course makes it difficult for organizers to deal with changing weather conditions. As with several previous years, storms created challenging avalanche conditions that caused the organizers to first change the course, and then, minutes before the start of the individual race, cancel altogether.


The vertical was still contested at Arinsal resort the following day and was won by on-form Anton Palzer (GER) who had struggled in earlier World Cups this season, and Axelle Mollaret (FRA) in the women's race. It's worth noting that only a 20-years old Davide Magnini (ITA) finished only 5 seconds behind Palzer, and only lost the race in the very end.
Americans John Gaston and Rory Kelly took full advantage of the high altitude racing and utilized their Colorado acclimatization to help with excellent finishes in 16th and 18th respectively!
> Full Results – men and women

Upcoming Events
Major racing takes a break this weekend both in North America (due to the cancellation of US Nationals in New Mexico) and Europe. Check back next week for a racing preview!