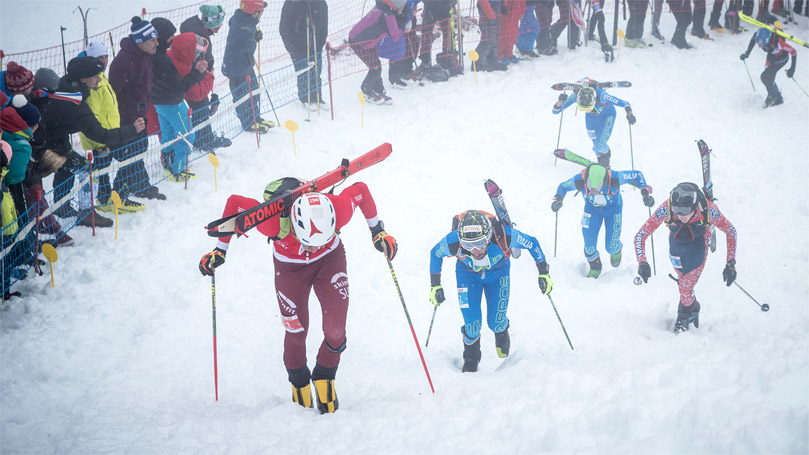 This is our first recap of the 2020 skimo racing season!
We are looking forward to bringing you results and analysis of both North American and International races again this winter.
Whether you are an athlete or race organizer, please, let us know if you'd like to help contribute news from events (especially from the women's field). Don't hesitate to reach out via SkinTrack's Facebook Messenger.
International Race News
ISMF World Cup – Aussois, France – Dec 20-21, 2019:
Individual and Sprint Races
The first stage of the ISMF World Cup opened this weekend in France with an individual and sprint events.
The first day (individual race) was marked by difficult weather conditions that necessitated a course reduction. Robert Antonioli (ITA) and Axelle Gachet-Mollaret (FRA) each ran away with their respective senior victories. The men's podium was rounded out by Matteo Eydallin (ITA) and Werner Marti (SUI), and the women's podium by Marianne Fatton (SUI) and by the young Guilia Murada (ITA).
The sprint event was featured on TV in Europe, with better weather than the previous day. The Swiss team performed very well with Iwan Arnold and Marion Fatton winning the senior events. Robert Antonioli (ITA) and Damiano Lenzi (ITA) chased hard but had to settle for 2nd and 3rd. Déborah Chiarello (SUI) and Marianna Jagercikova (SVK) took the podium in the women's race.
North Americas were represented in the individual race by Sierra Anderson (USA) who placed 10th in the senior women's race and Grace Staberg (USA) who placed 3rd in the junior women's event! Sierra finished 13th in the sprint while Grace notched another top-10 with an 8th place finish.
> Full results for both events
USA and Canada Race News
Wolf Creek Skimo – Colorado – Dec 14, 2019:
Thirty-one racers met at the Wolf Creek Ski Area for December's COSMIC race.
Scott Archer won the overall in snowy conditions with Arthur Whitehead just two-seconds behind in the nearly two and a half hour race, with Paul Mumford in third. Leora Wallace won solidly over Ashley Carruth and Gina Base.
Vert180 – Calgary, Canada – Dec 7, 2019:
Vert180 changed its format slightly and now the event lasts 120 minutes instead of the original 180.
The traditional season opener in Canada requires athletes to repeat laps of about 120m vertical on the Canada Olympic Park ski hill in Calgary. The winning men completed 14 laps total with Tyson Smith taking the win over Peter Knight and Nathan Smith in third. Marg Fedyna completed 10 laps to win over Alison Walford and Martha Burley.
Upcoming North American Events
Castle Mountain Skimo Race – Alberta, Canada – Jan 4/5, 2020:
The Castle races feature an Individual and Sprint event. The individual race offers difficult skinning followed by a ridge-top portion on foot – usually accompanied by cold winds. The descents are fast and steep with a finish down the powder cat skiing terrain. Expect good competition between athletes from the Rockies, the Coast, and usually a few from Montana!
For accommodation at Castle visit StayCastle.ca
Heathen Challenge – Colorado – Jan 4, 2020:
This is one of the bigger races in Colorado at Sunlight Ski Area. Expect big climbs and difficult off piste descents and the infamous Heathen descent to the finish.