With a new season under way, we are going to continue the weekly roundups that you got used to last winter but we are going away from the "Skimo Racing Roundup" name and will be calling it "News Shorts" as there are often other ski mountaineering related items worth including besides just skimo racing. We believe you will enjoy this format even more!
US Skimo Team qualifiers: Gaston continues winning
Skimo World Championships take place every second year and this means the US skimo athletes continue to train harder than ever before. To qualify, and to have a choice at which events each athlete wants to race at the
2015 Skimo Worlds in Verbier
 (Feb 6-12), he or she first needs to prove the speed. The first two qualifying races took place last weekend (Dec 6-7) in Crested Butte, Colorado. Saturday's
individual race
, at
Irwin Guides
, is known for great backcountry terrain and skiing. The Irwin race is a unique experience for skimo racers with the entire event taking place in the backcountry. Racers are required to take a 45-minute snowmobile or snowcat ride to the venue deep in the Elk Mountains.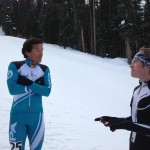 Scott Simons (2nd place), a father of two and always improving, took off strong from the start and charged around the first lap at a blistering pace along with Marshall Thompson (3rd place). The two reached the first descent together with John Gaston close behind. Gaston, showing his perennial strength at descending, closed the gap and by the third lap, had a manageable lead on the two to win the race. Max Taam raced hard from 10th position to 4th by the finish and Jason Dorais battled illness to finish a strong 5th.
In the women's race, Lindsay Plant (
2014 NA Teams Race Champion
with Janelle Smiley) stayed in the lead throughout the race with seemingly little competition. Sari Anderson and Jessie Young (new to the skimo circuit but quickly improving) equalled each other on the first climb. Anderson dropped out of the race and Young chased hard forcing Plant to increase her pace to maintain her lead. Nikki LaRochelle finished in third.
Sunday was a
vertical race
 (also a team qualifier) hosted at the CB resort. The results changed a bit but not dramatically. Gaston dominated the men's field again with Marshall Thompson taking a close 2nd. Local star, Brian Smith charged from behind, sitting at the back of the pack early in the climb and moving up to 3rd by the finish. The women's race went again decisively to Lindsay Plant who was followed by Nikki LaRochelle and McKenna Douglas.
SkinTrack's Eric Carter, who is trying to qualify for the US Worlds Team, placed 9th on Saturday and 5th on Sunday. Eric was happy with the results despite seeing room for improvement. His altitude acclimatization program seemed to work (he lives at 14 m in Squamish, Canada) and all the hard dry land training is paying off.
» Weekend results from both races – 
https://www.facebook.com/USSkimo/posts/795269280519181
» Great weekend race photos can be
found here
.
» Qualifying criteria and process can be found on
USSMA website here
.
Vert180 opens season in Canada
In Canada, the Vert180 in Calgary opened the skimo racing season with its unusual format once again. The winner of the men's category, trail runner and skimo racer Travis Brown, climbed a little less than 3000 m in 180 minutes of racing. Second and third went to Peter Knight and Ryan Burlingame respectively. The women's category win went to Kylee Toth, who is coming back strongly after having two kids in the last several years! Michelle Roberts and Marg Fedyna finished second and third.
» Vert180 results are here.
Melanie Bernier's big November
Melanie Bernier is the only Canadian, and only the second North American, to place on a skimo World Cup podium and as part of her preparations for the World Championship season she went on to do a massive month of training. She  accumulated over 70,000 vertical meters during November in the mountains around Revelstoke and in Rogers Pass. Once again, Melanie will travel to Europe for an extensive period of time this winter and we can't wait to see what exciting performances she will be up to this season.
Kilian Jornet ready for Aconcagua speed attempt
If you haven't caught the news yet then next couple of weeks will  bring another speed record attempt by Kilian Jornet. Like Melanie, he also did lot's of training in November and, only few days ago, left France for South America. None of such records are guaranteed but if the weather on Aconcagua is at least somewhat cooperative, then Jornet should be able to set the bar very high for anyone that will come after him.
Wolf Creek skimo race on Nov 22
The first race on the USSMA calendar went down two weeks ago at the Wolf Creek ski area in Colorado. Men's category top 3 were: Scott Simmons, Jon Brown, Pete Swenson. In women's race category, the win went to Lindsay Plant, followed by Sarah Stubbe and Christena Ward.
» Full results are here.
Teaser video for 2015 Ski Mountaineering World Championships in Verbier