When we sling on our pack for a ski traverse or strap down our boots for a ski mountaineering race we rarely think about the effect altitude will have on our body and our performance.
Altitude is a concern for Himalayan expeditions not for running around our home peaks, right?
Wrong! The International Olympic Committee (IOC) designates "Moderate Altitude" as between 1700 and 2900 metres above sea level.

Whether you are doing a multi-day traverse expedition or a two-hour skimo race, the altitude will affect you. The effect varies and can be minimized with proper education and preparation.
Usual skimo race elevations
Skimo races in the US and Canadian Rockies are routinely held between 1700 and 3000 metres (5500-10,000 feet) with some reaching as high as 3500m (11,500ft).
Specifically, the course of the American Skimo Championships in Jackson Hole, WY is between 2000 and 3200 metres (6500-10,500 feet). And Colorado races have their start lines already above 2700m (8900ft)!
For the Canadian Skimo Champs in Golden, BC the course travels between 1800 and 2600 metres (5900-8500 feet).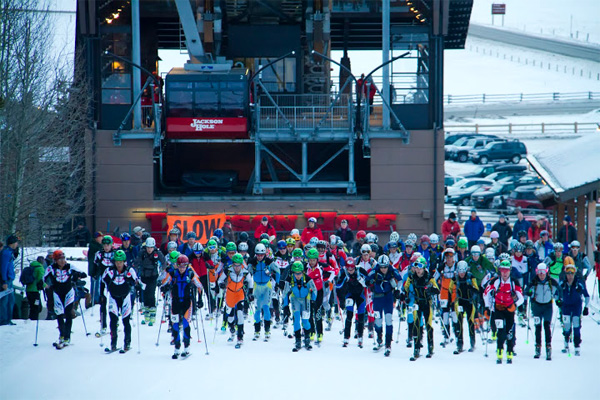 » Photo credit goes to Mark Gocke and here you can see his full 2012 Jackson race photo gallery.
How does altitude affect our bodies?
With exposure to moderate altitude, our breathing rate increases, partially making up for lower oxygen availability.
Short-term exposure (hours to days) also causes loss of body water and sodium through increased urination. Decreases in body water lead to decreases in plasma volume (the fluid component of blood), which can potentially impair performance.
The altitude also affects your heart and lungs; impaired oxygen delivery to the muscles results in a 7% decrease in aerobic capacity (VO2max) for every 1000 metres above sea level (a relationship that is nearly linear; even at low altitude, we see a decrease).
Aerobic capacity is closely related to endurance performance. This decrement improves with a long-term stay at altitude but never completely recovers to sea-level values. One study at 2300 metres showed an initial 13% decrease in VO2max improving to only a 6% decrease after 14 days.
At altitude, our muscles also communicate fatigue differently. An athlete will self-select a slower speed than they would at sea level. It is possible that this is related to an increase in lactic acid production.
Lactic acid is produced as a byproduct in our working muscles and its accumulation during exercise is generally accepted as a factor leading to fatigue. Higher levels of lactic acid could mean earlier onset of fatigue compared to sea level.

During the night, waking up more than usual might easily be attributed to (or overshadowed by) pre-competition jitters, but research shows that sleep can be affected even by moderate altitude.
The first few nights at altitude might be marked by poor sleep. At higher altitude, this becomes more pronounced where breathing slows gradually until it stops altogether (called Cheyne-Stokes breathing). After a moment, you wake with a start, gasping as if you just crested the top of a steep bootpack.
How to minimize the "altitude effect"?
We can mitigate the effects of altitude prior to competition or a trip by using a few simple strategies:
It is advisable to allow for a 4-6 day acclimatization gap between travelling and competition. This allows your body to recover from some of the acute changes at altitude while hopefully not interrupting necessary pre-competition training too much.
Travel to altitude well rested, therefore, giving your body a chance to adapt as much as possible.
Training in the first few days at altitude should be restricted to low-intensity and minimal volume. This allows your body to recover from the combined stress of training and altitude.
A proper hydration strategy is important to combat water loss while maintaining a proper fluid and electrolyte balance.
The final component of competition at altitude for an athlete to be aware of is illness. Three main altitude illnesses are:
acute mountain sickness (AMS),
high altitude pulmonary edema (HAPE),
high altitude cerebral edema (HACE).
At moderate altitude, it is unlikely anyone will experience HAPE or HACE – life-threatening accumulation of fluid in the lungs or brain.
It is possible that AMS could develop, especially after a quick ascent to the venue. Symptoms to watch out for include: headache, nausea, fatigue or weakness, lightheadedness or dizziness, and poor sleep.
While some of these symptoms may be difficult to differentiate from travel/jetlag or from hard training, grouped together, they may signal the onset of AMS and descent to a lower altitude should be considered.
Touring, training, and competition at moderate altitude are unavoidable for even a novice ski mountaineer. All those who participate in these activities should be aware of the acute affects of altitude and should take the necessary precautions to avoid altitude illness.
Summary – key points:
Many competitions take place at moderate altitude (1700-3000m or 5500-10,000ft)
Moderate altitude impairs performance through a variety of mechanisms
Mitigate the effect of altitude by:

travelling to competition venues 4-6 days early
ensuring adequate fluid and electrolyte levels
being well rested

Watch for signs of altitude illness