Hosted at Brighton Ski Resort, UT the Wasatch Powder Keg has long been on To-Do lists of many people and it seemed like all of us 1st timers showed up for the 2014 edition. Record participation once again proved that skimo in North America is growing rapidly and that the Powder Keg is the most popular race on the continent.
Participation numbers – combined for men and women in all categories:
Sprint race: 54 people

Individual race: 162
Teams race: 33 teams of 2
Sprint race – Friday, March 7th
This fairly new discipline for skimo racing  – last 3 seasons on the World Cup scene – has become the one most likely to make it into the Olympics (the decision should come in July).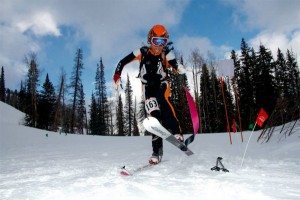 At Powder Keg, the sprint attracted a notable number of races and at 4pm Chad Brackelsberg (PK's organizer) sent off the first athlete on the 4-5min course of a qualification round, with athletes being sent off in 30 second intervals. After that, 12 fastest men were seeded into two semi-final "full contact" heats, and 6 women created the finals heat.
The course consisted of about 30m of flat skinning, leading into a diamond shaped skin tracks where racers could pick their path as pleased for about 40 vertical meters (150 feet). Then it was time to quickly transition into boot-pack mode and run up another 30m before clipping back into the skis for a 20m flat section. After a skins-off transition, couple of skating strides brought us to 6 turn slalom gates downhill, and finishing the whole thing with a 15m false flat skating section.
Men's finals – drama for 3rd:

Wasatch's own Jason Dorais showed no mercy and flew up the boot-pack like a rocket which netted him the sprint gold. While skinning towards the booter transition Jason was still closely followed by Reiner Thoni who eventually comfortably secured 2nd but was no match for the local skimo icon. However, the most drama was created by Andy Dorais and Andrew McNab racing for 3rd. Once on the downhill portion, Andy seemed to have the bronze in the bag until he lost some speed 3 turns from the skate finish, and Andrew miraculously managed to pass him on the outside 2 turns later and then "padded" the gap with strong skating.
Jason Dorais (USA)
Reiner Thoni (CAN)
Andrew McNab (CAN)
Women's finals – drama for 1st:
The women's sprint final was even more exciting to watch and just like in the men's final everything seemed to be decided way before. From the gun, Melanie Bernier took to the lead with the other five ladies right on her tails. Right before the boot-pack Gemma Ribot made her move to match Melanie into the transition, and just like Jason Dorais she took off with a frenetic uphill run. Gemma emerged on the downhill with a very solid lead but like Andy Dorais lost momentum in one of the gates and allowed Melanie to quickly close the gap. At the end, Gemma manged to take the gold by only about half a ski length. Due to similar circumstances, drama for bronze was in the making as well but Sari Anderson seemed to regain control to fend off rapidly approaching Jari Kirkland.
Gemma Ribot (SPA, but living in Utah)

Melanie Bernier (CAN)
Sari Anderson (USA)
» Full sprint results – sprint results (PDF)
First and fourth photo by Rick Carter, other two from ISMF:

Individual race – Saturday, March 8th
Even only a brief look at the start list of the individual race of the 2014 Powder Keg revealed that this would arguably be the most contested skimo race of all times in North America. And the question was: "Can Reiner Thoni prevail once again, or would it be John Gaston confirming his talent, or Jason Dorais using his local knowledge to snatch the NA crown this time around?"
In women's race, the field was stacked as ever as well. You know a battle is coming when a reigning UTMB champ, Stevie Kremer, lines up against Melanie Bernier who just recently won a bronze medal in World Cup race, and then you still have another very fast women itching to go – Gemma Ribot, Janelle Smiley, Sari Anderson…
Men's race – Top 5 within 2 minutes!

Right off the gun a very fast pace was set by the usual suspects and pretty much each climb and descent failed to create any significant gaps between top 5-7 racers. With that, it all more-or-less came to the last climb and descent combo on which John Gaston opened a 17sec gap on Jason Dorais, with Marshall Thompson only 38sec further back. Reiner Thoni wasn't able to follow the strong pace at later stages and came in 7th.
John Gaston (USA)

Jason Dorais (USA)
Marshall Thompson (USA)
Tom Goth (USA)
Scott Simmons (USA)
Eric managed to place a very solid 12th which was only a sign of things to come the next day.
 Women's race – Top 2 separated by 28sec only!

After over two hours of racing it was a very well pacing Janelle Smiley to take the win just in front of a local skimo queen Gemma Ribot. Stevie Kremer came in about 5min back but comfortably ahead of Sari Anderson. The fifth was taken by a very strong yet fairly knew to skimo Kate Zander, who should be a force to watch out for in the future.
Janelle Smiley (USA)

Gemma Ribot (USA)
Stevie Kremer (USA)
Sari Anderson (USA)
Kate Zander (USA)
» Full individual results:
# 1, 4, 5, 6 photos by Rick Carter, rest from ISMF.

Teams race – Sunday, March 9th
To put the nail in our energy coffins but happiness on our faces, the Powder Keg crew came up with one hell of a long technical course that would have satisfied any skimo geek. With way over 8000 feet of climbing it featured an ascender/via ferrata boot-pack, ridge travel, really good skiing, and some gnarly icy skinning since the sun failed to do its job.
Men's race – All came down to last 1200 feet:

For the first 1,5h of racing no significant gaps were established by the top 5 teams as everyone was mostly dealing with the technicalities of the course and saving energy for later stages. On 3rd or 4th descend John Gaston broke his boot but managed to kept his cool despite his big weapon – super fast skiing – was neutralized. And so, two strong teams started the last ascent (6th) that featured around 500m of climbing together – John Gaston with Max Taam, and local's Jason Dorais with Tom Goth. At the end, Max and John slowly opened and kept steadily increasing their gap on the SLC boys all the way to the top transition. John's boot somehow held on the last sketchy downhill and they managed to win by just only one minute. Third place went to Teague Holmes and Marshall Thomson who managed to escape from SkinTrack's Eric Carter and his partner Nick Elson on the last ascent as well. Eric and Nick really produced a performance of their skimo lives but at the end just had bow down to their more experienced rivals.
John Gaston + Max Taam (USA)
Jason Dorais + Tom Goth (USA)
Teague Holmes + Marshall Thompson (USA)
Eric Carter + Nick Elson (USA + CAN)
Cary Smith + Pete Swenson (USA)
Women's race – 4 minutes after 4 hours: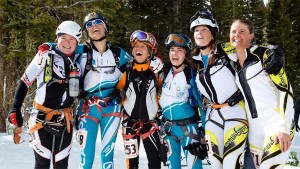 The women's race started to shape up right from the beginning as Janelle Smiley and Lyndsay Plant were pulling away on the first two climbs and into the via ferrata. However, the battle was won until the second half of the race and at the end they prevailed by 4 minutes over strongly climbing Stevie Kremer and Jessie Young. Third went to the newly discovered Kate Zander and a skimo veteran Jari Kirkland.
Janelle Smiley + Lyndsay Plant (USA)

Stevie Kremer + Jessie Young (USA)
Kate Zander + Jari Kirkland (USA)
Lyndsay Mayer + Melanie Bernier (USA + CAN)
Sarah Cookler + Zinnia Wilson (USA)
» Full teams race results – teams
Photo #2 by Rick Carter, rest from ISMF.

Personal account
With lack of training this season and quite high altitudes at Brighton I wasn't expecting any miracles, mostly I wanted to finally experience the Powder Keg. But racing at 3000m while living at 14 went a bit harder than I thought.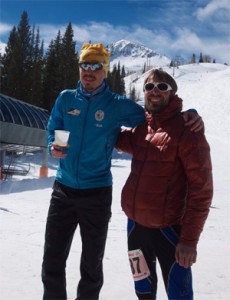 The sprint went reasonably well since I managed to pull off smooth transitions at all points in the qualifying round. But in the semis I messed them up.
After three mostly sleep-less nights at 2200m the individual went downhill right from the start. I was constantly treading the line of stopping to gasp for oxygen and just keeping it going. The highlights were that I enjoyed the whole course very much and did not back off skiing fast even after hitting a tree on the third downhill.
Despite another short night my warm up before the teams race felt better than the days before and I was looking forward to take on the big teams race course with an avid SkinTrack reader Tim Zander. We connected via email only couple of days before and I thought why not race with someone that can benefit from my experience. And the Sunday's race quickly became my weekend's favourite as Tim and I enjoyed the technical course while occasionally chatting about all things skimo. Tim dug very deep on the last climb but still skied strongly down to the finish. My feeling is that this will help him in future races to race much harder and faster than before as he was quickly picking up any technique tips and pushed beyond of what he thought was possible.
At the end, I want to say Thank You to everyone that have expressed their appreciation for the SkinTrack website, it was great to hear kind words even during the races right in the skin track 🙂
And big Thank You to you Tim for your great enthusiasm during the whole race on Sunday, it was great 🙂