Another full weekend of racing in the US and Europe while the Canadian Series takes a break. Read on for more news from last week in skimo!
USA
Heathen Challenge
Racers convened at Sunlight Resort in Colorado for the Dynafit Heathen Challenge. The race featured beautiful weather and a full course with 4500+ feet of climbing. Max Taam put together a solid performance throughout with a small group of chasers to push the pace. Paul Hamilton, Teague Holmes, and Brian Smith all fought to round out the podium with Hamilton and Holmes edging out Smith.
Jessie Young continued her domination of the women's scene finishing one minute ahead of Lindsay Plant and two minutes ahead of Sari Anderson!
» See full results HERE
Whitefish Whiteout

The Whiteout's eight edition, traditionally held at Whitefish Resort in Montana, delivered deep powder as it usually does! A large contingent of Canadians traveled south for the race to take on a strong group of Montanans. Peter Knight (CAN) took off hard from the line with his eyes on the the hill climb prime. After waiting for the chase pack, the group stayed close together before the fresh snow started to take its toll on racers and their skins. Several athletes blew skins before arriving at the final cat track climb to the finish. Knight attacked Mike Foote, an accomplished distance runner, for the win with a local legend Ben Parsons coming from behind to take 3rd place.
Women's race recap from Ben Parsons: "Adrian from Bozeman took it. Najeeby, an ultra-runner from Alaska, was hot to the top for the climb prime but missed a critical turn on the third descent and lost positions. Michelle Roberts (CAN) was a solid second and Katie French brought home third for locals glory!
» See full results HERE
Canada
Racing resumes next week in both the East and Western series. The next race in Western Canada is the new Lizard Skinner event in Fernie, BC on Jan 23rd. The next Skimo East event will be at Berkshire East on Jan 23.
Europe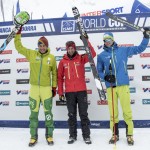 The World Cup circuit met for the first time this season at Font Blanca in Andorra for an individual and a vertical race. Last year, the race was plagued by severe weather causing chaos for the organizers to decide on a course in touchy avalanche conditions. This time around, despite a lack of snow in the alps, the Pyrenees were again hit with a major winter storm. The organizers were under immense pressure to put on a well run event and by all accounts seem to have succeeded. The individual was shortened to about 1300m and its start was delayed several hours due to severe weather and ran on a smaller circuit on-piste.
In the individual, to no-ones surprise, Kilian Jornet (SPA) took the win, however, a young Michelle Boscacci (ITA) finished close behind, pushing Jornet throughout the whole race. Werner Marti (SWI) also surprised with a podium position as he is known more for his vertical race abilities. The rest of the Italian team seems to have had a difficult race, finishing lower on the results sheet. The lack of off-piste descents may have played in favour of the less technically skilled descenders in the field while the usual downhill rockets were kept at bay – William Bon Mardion (FRA) and Robert Antonioli (ITA).
While there were only 25 senior women competing in the individual race the sharp end of the field was very strong. Emelie Forsberg (SWE) won only by 20 seconds in front of Spaniards Claudia Galicia and Laura Orgue (previously only considered a threat in vertical events) who rounded out the podium. The previously super-dominant Laetitia Roux finished fifth, one of her lowest results in recent memory, while she is still recovering from a surgery couple of months ago.
In the vertical race, Jornet repeated his win, with a Swiss Espoir Remi Bonnet upsetting the rest of the field to place second, and Michele Boscacci taking third. The women's race (39 took to the start line) was handily won by Laura Orgue as was mostly expected since she has a strong nordic skiing history. Second went to Emelie Forsberg and third to Victoria Kreuzer of Switzelrand.
The lone North American competitor, John Gaston (USA) finished 30th in the individual and 32nd in the vertical. John had this to say about the races:
Andorra went pretty well.
Like everyone, I was bummed to see Saturday's individual course changed. The 4 lap alternate was about as far out of my warehouse as it could have been. Loads of long flat skinning sections that put a premium on glide and technique, and zero technical or hard skiing to make back some time. Still, I felt pretty good and finished strong, so that's all I could have asked for.
Sunday's vertical was exact same as last year – I tried to go out harder and stick with their pace for longer – a strategy I knew in advance wasn't totally smart. Still, these Euros have such amazing speed compared to anything we see in NA, so you've got to give it a go. I actually made up a few spots in the last half of the race which was a good confidence boost, but got crushed trying to sprint past that Spanish dude Marc Pinsach at the finish, and as a result got beaten on the line by some sneaky German kid lurking behind me, ready to pounce after I tried my move on Mr. Spanish. Haha, good times. Definitely the highest avg HR I've ever maintained in any race/sport, ever.
Kilian was incredible to watch and he's obviously incredibly fit right now. He was just so patient at the starts and so calculated when and how he'd make his attacks. His vertical was ridiculous – like 30s faster than last year or something. He literally started jogging on that long straight upper part (not usually something Euros do, since they glide so well). He looked so casual about it.
» See full results HERE
ISMF Individual Race Video:

ISMF Vertical Race Video:

Thanks to Peter Knight and Ben Parsons for words, and Myke Hermsmeyer and ISMF Skimo for photos.