The race season is in full swing, though it may not feel like it in the American Rockies, and we have lots of action everywhere!
North American athletes have multiple options for racing each weekend and with good snow coverage in Europe, athletes are getting after it over there as well.
Avalanche conditions in Canada have put a damper on big backcountry missions but new snow and colder temperatures will heal the snow-pack soon! The Pacific Northwest is holding good snow throughout and the East Coast is recovering (rejoicing?) from a major winter storm.
USA and Canada Race News
Sunlight Heathen Challenge – Colorado – Jan 13, 2018:
Finally a race goes off in Colorado!
The COSMIC organizers pulled it off this weekend by hosting the Heathen Challenge at Sunlight Resort, albeit on a heavily modified and man-made course.
John Gaston is in good form and as usual, finished several minutes ahead of the field. Espoir Cam Smith had a strong showing jumping to the silver position on the podium. In the women's field, Eva Hagen stayed well clear of National Team members Nikki Larochelle and Michela Adrian.
> Full Results
Trail de Nuit Stoneham – Stoneham, Quebec – Jan 13, 2018:
Report for this race was submitted by Richard Ferron. Thank you!
After an explosive weather cocktail – two days of rain followed by a snowstorm on race day – it was a windy -20C racing evening that the third edition of SkimoEast's Trail de Nuit Stoneham occurred. This Quebec race is a 3km, 350m+ loop in an hour plus one loop, similar to cyclocross races and, although it is a skimo race, it accepts snowshoes racers and runners.
Even with the tough conditions, 8 juniors participated in the event, the youngest being 8 years old! In the junior skimo category, the honors were won by promising 15 year old Antoine Corbeil with 3 loops in 1:13:38 followed by his 11 year old brother Maxime who did 2 loops.


In the men's category, a close fight between Canadian National Development Team member Arnaud Côté-Boisvert and Aiden Lennie finally came to a draw. Both men finished 3 laps and a few seconds after the hour… Not sure they wanted to go for another lap! In third position came David Grenier, a little less than 2 minutes behind.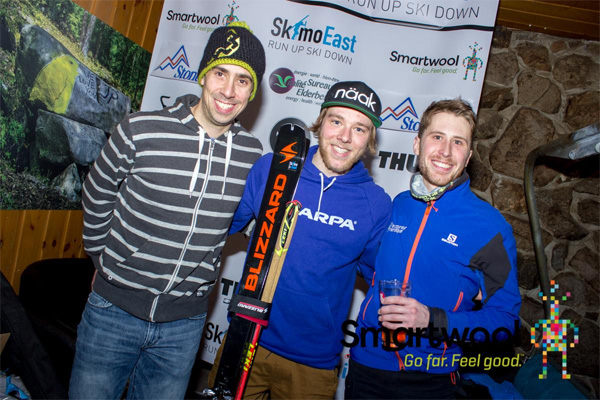 Evelyne Gagnon won the day in the women's category with 2 laps despite skin glue problems.
The next SkimoEast race is Burke Backcountry adventure on January 28th.
> Full Results
International Race News
French Skimo Championships:
Xavier Gachet wins the French individual championships with William Bon Mardion in 2nd and Alexis Sevennec in 3rd.
Laetitia Roux won an incredible 27th French Championship title of her career! Axelle Mollaret takes 2nd in the individual.

Swiss Skimo Championships:
Werner Marti wins vertical event.
Unique night format for the individual event went to Werner Marti again. Our good friend, Pascal Egli finished 7th overall.
Ivan Arnold took the sprint over the well-accomplished Martin Anthamatten.
Victoria Kreuzer took double victory over Jennifer Fiechter in vertical and individual championship races!
Mountain Attack – Saalbach, Austria – Jan 12, 2018:
The Italians and Germans were busy with one of the biggest events in skimo and of their season – the 20th edition of Mountain Attack race –  a very cool night ski resort race with 3000m elevation gain in the main category.
Close to 400 athletes lined up for the 3000m course and about the same for the 2000m version.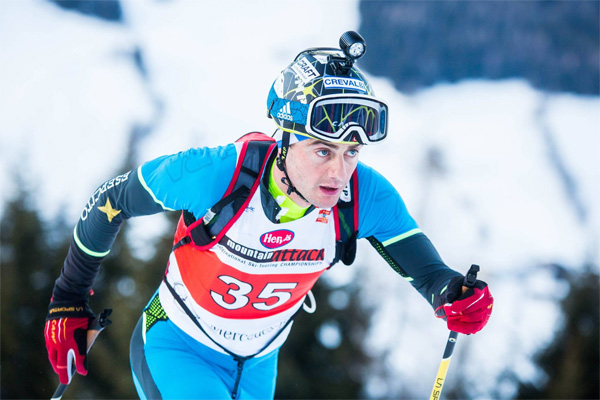 All the best athletes race the long course and this year, still pretty young Michele Boscacci set a blistering new course record of 2h 18m 57s. However, the second and third, Tadei Pivk and Jakob Herrmann respectively, finished only less than 30 sec behind Boscacci!
A quick calculation reveals that their average climbing speed was around 1560 vertical metres per hour if we subtract 25min for all the descents and transitions. That's 3000m in less than 2h, on skis!
In the women's category, the long course win went to Michaela Essl in 3h 1min – average vertical speed of 1240m/h if we subtract 35min for downhills and transitions – followed by Katia Tomatis and Veronika Mayerhofer.
> Full results
Upcoming Events
Racing action in Canada continues this weekend with an individual and sprint event in Fernie, BC. Avalanche conditions have necessitated some course changes but organizers are still promising an exciting event. Remember that the guys over at SkiUphill.ca bring race skis to ever event for YOU to demo! Get in touch if you want to give them a try!
Organizers and racers are sure to have difficult conditions on the East Coast as conditions warm up. Expect a competitive field at one of the biggest races of the season on an exciting course at the Berkshire East!
The next SkimoEast race is Burke Backcountry adventure on January 28th.
The second ISMF World Cup of the season is this weekend in Switzerland. After the relatively non-competitive event in China, this is effectively the first real WC of the season and we hope to see all the big names at the starting line. A few athletes will be tired from last week's Mountain Attack but expect to see a good battle between the top Italians and the rest of the field!