Since Eric and I are staying longer in Europe than other North American skimo athletes we searched for some "out of the beaten path" races to attend. He ended up in Stryn, Norway and I went to Poland. Originally, I thought I would make it to a new race in Lofoten – group of islands in the north west Norway – but I opted to stay closer to my family to spend more time with them.
Memorial J. Oppenheim – Central Europe Skimo Cup – close to Zakopane, Poland
This event was the final round (out of 3 races) of the Central Europe Ski Mountaineering Cup which is run by three countries – Poland, Slovakia and Czech Republic – with one race being held in each country. Currently, there are no world class athlete in either country (the last one retired 6 years ago), however, the level and depth of competition is comparable to US.
» See Wikipedia page about Zakopane, Poland
A unique aspect of this race is that the start is about 7km walk, deep into the valley, to a mountain lodge where all racers stay. The race map and profile showed it would be a 25km slog with only 2100m of climbing (7000 feet) but considerable time spend on bumpy alpine ridges and shoulders. Little anyone knew that extreme winds high up would make our progress much slower than anticipated.


The race started on a snow dusted logging road with about 1.5km run, then on skins for 10min, then back on foot, and back on skins. After all these transitions we finally stared at a steep snowy boot-pack with crampons that would take us to a long ridge. As soon as we crested the top the wind was relentless but it was nothing compared to what came later on.

To make a long story short, the 5-6km ridge line included lots of up and down skinning and about 3km post-holing walk with crampons – all that time wind speed hovered around 40km/h and often gusting close to 80-100km/h. After that we skied back to the valley and completed the first 15km, with another ridge walk awaiting on the other side of the valley 🙂
Not that I was a podium contender, my race went "side ways" as I deliberately chose to prioritize my health and look around for anyone that might need help on that windy ridge. After all, skimo race suits and thin windbreaker jackets aren't much protection in such conditions. I finished 21st in 3h 43min and well behind the top ten.
My respect goes to all the top racers for pushing on so strongly despite the furious winds. Luckily no one got hurt and rescue wasn't needed despite 18 racers out of 77 abandoning.
There was also a shorter version for juniors and recreational athletes which brought the total number of participants to over 100.
Results:
» 2017 Memorial Josef Oppenheim
Stryn Rando 3000 – Norwegian Skimo Championships – Stryn, Norway
This race report is from Eric.
As the lone American competing on the World Cup, the Norwegians have been my adoptive team at the races and also pushing me to come for a visit. I decided to head over there last weekend for the Norwegian Skimo Championships – the Stryn Rando 3000 race. I was lucky to be able to stay with one of the Norwegian skimo stars, Lars Erik Skjverheim (6th at recent Pierra Menta).
» See Wikipedia page about Stryn, Norway
Western Norway reminds me a lot of a mix of British Columbia, New England, and old Europe. The fjords and mountains are amazing and fall away dramatically. The forest thins quickly and the treeline is visible not far from the valley bottom. The houses are generally wood and colourful, a bit of a contrast to the stone houses and tiny windows of the Haute Savoie region in French Alps.
The weather wasn't optimal during my visit but we were both tired from the Pierra Menta and were happy with a few short walks in rain jackets. Luckily, the forecast looked a little better for the weekend so we headed off to the town of Stryn. We arrived early to join the race organizers doing some course marking. The crew of volunteers they had assembled was more than capable but I love seeing some of the top athletes of the country helping out picking the route and placing flags – something I'd like to see more of in North America!


The original course traverses six summits surrounding the Stryn ski area with about 3000m of elevation gain and looks incredibly spectacular. A big snowfall two days before the race meant the course was switched to plan B: a bit more time skiing below treeline and two of the alpine peaks with about 2300m+ of gain. The course was incredibly well marked – something that was obviously necessary in the not unlikely case of whiteout – big bamboo flags only a few meters apart and there must have been several thousands spread over the route!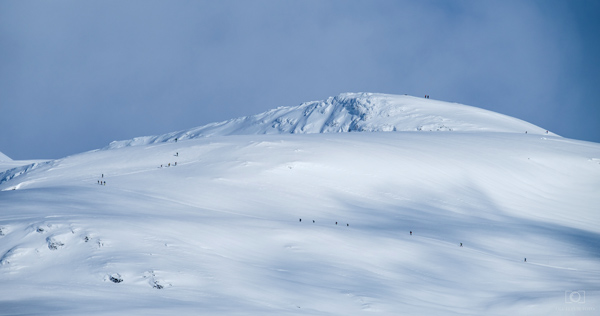 We woke up to clearing skies and a very civilized start time of 11:00am – giving time for avalanche control and weather concerns. A recreational class started a bit before the elite wave, bringing the total number of entrants to almost 150. The race started a bit more mellow than expected with lots of attention given to the big star of the event, Kilian Jornet, with the rest of the field being tentative about pushing it early. Kilian slowly increased the pace while Lars Erik and I chased, not far behind. We started the second ascent (of four) all together and Kilian and Lars Erik opened a gap while I fumbled through some kick-turns in the fresh snow. As we climbed up into the alpine, the views opened up to the nearby summits and the fjords behind us. By the third ascent, I was starting to feel the effort, losing time to the athletes behind me. Dropping into sixth, I struggled staying warm and stopped to put on my wind-breaker. Feeling a bit like a tourist at this point, I was mostly looking forward to the final 1000 meter powder descent to the finish.

I can't really say I had a good race. I felt like I started well within my usual pace but just couldn't keep it up. The residual effects of the virus I caught a week earlier at the Pierra Menta were close in my mind and I know I'm still recovering. It was hard to get down about my result though spending a weekend in a beautiful lakeside cabin with a group of good friends who only occasionally forget I don't speak Norwegian!

The following day, we had a big group ski of two more of the summits on the original course and plenty more powder! Kilian led the way breaking trail most of the day without even taking off his down jacket while I sweated along at the back of the track.
After two more days staying with Lars Erik (and finally getting in a rain-free day of skiing) I was back at the airport, regretting not having booked an extra week. I can't wait to go back!
The below race promo video showcases the terrain and environment:

If you are interested in visiting Norway for skimo, I'd highly recommend it. Any of the Norwegian Team athletes would likely be very helpful resource but I can say that the skimo scene is strong. Areas like Sogndal, Romsdal, and Trondheim host a series of races and have tons of training options. A car is probably the way to go but the trains are pretty useful. Spring seems to be the best time to visit (April and May) but you risk rain just about any time of the year it seems. The only downside is that Norway is expensive – food, gas and just about everything are expensive by European standards and the exchange rate does not favour North Americans.
I would highly recommend the Stryn Rando 3000 event. The organization was on a World Cup level and put this year's World Championships to shame. The backup course options were well planned and kept the spirit of the race. The track setting and marking was excellent and the volunteers were plentiful and helpful. Definitely put it on your list!
Results:
» 2017 Stryn Rando 3000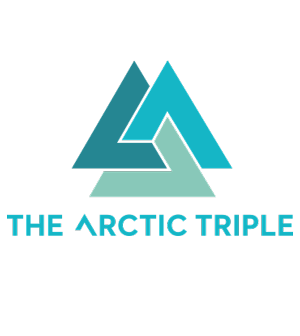 The Arctic Triple – Lofoten Skimo – Lofoten, Norway
This is an event and destination I would like to definitely visit in the future as Lofoten is one of the most beautiful places in the World. This event is not necessarily trying to attract the pure skimo racer, seeking just competition, but rather is for those that like a big outdoor challenge in a unique destination.
The original route was planned to cover 36km and climb around 4000m, running from north to south. Due to stormy weather in the days leading up to it organizers were forced to shorten the route to about 28 km and 2600m – still a big course. Shorter course covered 14 km and climbed about 1000m, and went on pretty much as planned.
Two French athletes, Mathèo Jacquemoud and Lèo Viret, finished together to take the win in just over 4h. Italian Skimo Team member Martina Valmassoi (we will bring you an interview with her soon) was the best female crossing the line in 4h 25min. The female winner of on the short course was Anja Millerjord while the men's race was won by Edvard Vea Iversen.

Results:
» 2017 Lofoten Skimo results – The Arctic Triple
And what does the Article Triple mean?
The Arctic Triple consists of three annual races. 2017 is the first year with all three races set up and Lofoten Skimo was first out in week 11. Next comes Lofoten Ultra-Trail in week 22 and the triple year is final with Lofoten Triathlon in week 33. For more information visit http://www.thearctictriple.no/