Although today's stage could not have gone over the mythical Grand Mont summit, due to still elevated avalanche danger, the melt-freeze conditions allowed organizers to layout the stage just below, with athletes crossing Col de Forclaz three times. The atmosphere there, or "ambience" as the Euro's say, was absolutely electric with perhaps close to 1000 people being glued to their "seats" there for the whole day!
Today's stage included three boot-packs with required use of crampons and via ferrata kits on some of them. The total gain for this final stage was just over 2600m covering some spectacular alpine terrain.

News from the Lead Pack
Men's race today
Two Italian teams created a coalition and pretty much raced together the whole day. They even crossed the finish line together. With that, the overall win went to Damiano Lenzi and Matteo Eydallin, not a surprise as we predicted in our preview few days ago. The younger Italians Nadir Maguet and Michelle Boscacci shared the win with Lenzi / Eydallin today and finished 3rd overall. All four are great skiers and very proficient on technical sections.
The ultra-running and ski mountaineering legend Kilian Jornet (SPA) and his partner Alexis Sevennec (FRA) were in third place and about 2min behind 2/3 throughout the stage. Ultimately, they finished 3rd today and 2nd overall.

Fourth over the line, and further 4min back, were Valentine Favre (FRA) and Filippo Barazzuol (ITA) who must be very happy how well they raced this Pierra Menta! They finished 4th overall.
William Bon Mardion and Xavier Gachet (both FRA) managed to finish 5th today and with that to seal their 5th overall. They probably won't be very happy with their performance, however, any North American team would be above the clouds with such a result. Different levels, different satisfaction.
Today's stage didn't go so well for Lars Erik Skjervheim (NOR) and Nejc Kuhar (SLO) as they were lingering just outside of top 10 most of the day, ultimately crossing the line in 12th. However, this was still enough to hold on to 6th overall. The only higher Norwegian Pierra Menta finish was by Ola Berger who partnered with Alexander Pellicier (my guide yesterday) in 2007.
Men's overall after Stage 4
Lenzi / Eydallin
Jornet / Sevennec +13:19
Maguet / Boscacci +16:11
Favre / Barazzuol +22:54
Bon Mardion / Gachet +35:11
Women's race today
With a big enough time cushion in the overall standings, Emelie Forsberg (SWE) and Laetitia Roux (FRA) could enjoy today's technical final stage. They won 3rd day in a row, thus, cementing their overall victory.
The winners of the 1st stage, Swiss team of Severine Pont Combe and Jennifer Fiechter, came in 2nd today 3min behind Roux / Forsberg making sure to keep their 2nd overall position.


About 5min behind across the line were the French duo Axelle Mollaret and Lorna Bonnel in 3rd, confirming their future potential and securing the last podium step in the overall.
Fourth place, and best result in this Pierra Menta, went to a sister Italian team of Annie Bieler and Katrin Bieler.
US women's team, Jessie Young and Janelle Smiley, weren't as strong as in the previous days and finished 5th today. However, by keeping their 4th place overall they set a new standard for best North American women's performance at Pierra Menta. Big congrats for this achievement!
Women's overall after Stage 4
Roux / Forsberg
Pont Combe / Fiechter +18:30
Mollaret / Bonnel +33:43
Smiley / Young +1:03:21
Fabre / Riba +1:21:39
USA and Canadian Teams News
Kudos to Canadian women's team, Kylee Ohler and Michelle Roberts, after their first Pierra Menta! They spent the most time out there of all the NA teams and had to dig deeper as recovery time was shrinking for them each day. They finishing 13th overall.
After Carter / Elson abandoned yesterday, all eyes were on John Gaston and Max Taam to see how high they can climb in the final standings. They had a reasonably good day, crossing the line in 20th, which was good enough to move into 17th overall. Great achievement despite finishing 2 spots lower than in 2016.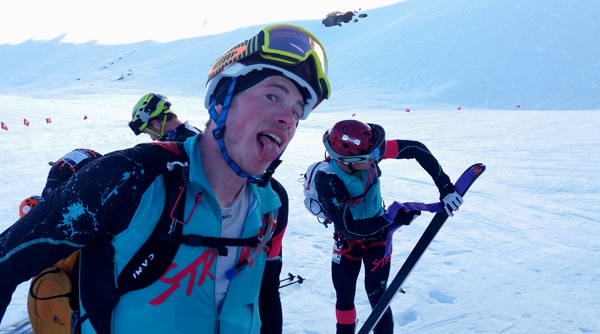 Tom Goth and Teague Holmes had their best stage today and finished in 26th which bumped them up to 27th overall. A great performance but this team definitely can do a couple of spots better in the future.
North Face athletes, Rob Krar and Mike Foote, delivered a solid performance on today's technical course and finished 31st. They placed 39th overall and just like Goth / Holmes they can definitely improve on this in the future.
Jon Brown and Rory Kelly had their best stage today and were looking good through the feed one. 37th place today was good enough to lift them up to 46th overall.

Results – Stage 4 and Overall
» Stage four finish order
» Overall after Stage 4