Traditionally, last day of the Championships belongs to relay races which are always lots of fun as so many technical aspects of skimo and all transitions are packed into a 10min lap – consisting of 80m skinning, then descent, the skinning before a 20m boot-pack, the followed with more skinning and a final descent to the finish. Both descents had race gates and both ascents had some technical skin tracks.
» Click here for previous day – Vertical Race – 2017 Skimo Worlds – Mar 1
Relay Race – Men (Senior & Espoir) – 4 person teams
Swiss athletes are known for speedy transitions and being great sprinters. Today, Iwan Arnold (who won sprint few days ago) set them up with a small lead during the first leg and the Swiss managed to hold it until the finish, ultimately beating Italians only by 4 seconds. Third place went to Spain with Kilian Jornet moving them up in the third leg, coming in 20 seconds behind Italy.

USA and Canadian men:
Neither the US nor the Canadian teams had anything special up their sleeve today. All athletes raced well and gave all but it simply wasn't enough to really compete with the Europeans. At the end, Team USA finished in 8th and the Canadians in 12th.
The athletes competing for the USA were Mike Foote, John Gaston, Rory Kelly and Max Taam. For Canada, the four were Peter Knight, Stano Faban, Matt Reid and Travis Brown.
» Full results – men's relay
Relay Race – Women (Senior & Espoir) – 3 person teams
With the return of Laetitia Roux to the Championships (she went for a quick trip to Russia after the individual) it was France's race to loose. Ultimately, the French team won with a 1min gap on Spanish, with the third place going to Italy only 10 seconds further back. The Swiss were in the mix for long time as well but their efforts didn't materialize at the end.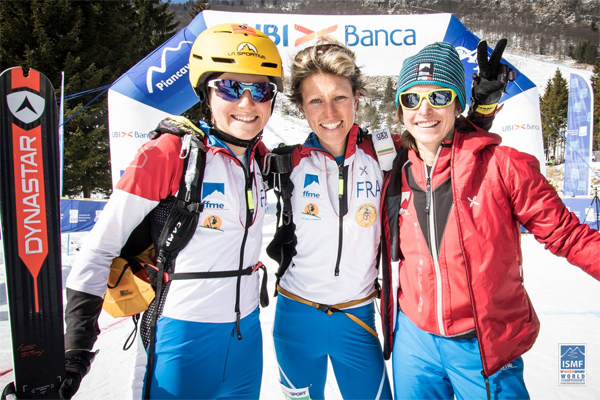 USA and Canadian women:
Just like for NA men, the women teams were perhaps a bit tired and didn't deliver their best performances. However, Janelle Smiley took it by the horns leading some early parts during the first leg. After all dust settled, they finished 8th but only 20 seconds behind the 7th Swedes.
Canadian ladies went out hard as well with Kylee Ohler on the first leg. At the end, all had a fairly clean race to finish 9th.
» Full results – women's relay
Relay Race – Youth – 3 person teams combing both genders
The youth relays include 2 men and 1 female athletes, and combine both junior & cadet categories. This setup was put into place a couple of years ago after only very few countries could seed full 3 or 4 person teams in each gender or category.
Swiss athletes won quite convincingly with silver going to France and bronze to Italy.
USA relay team:
The US relay team consisted of Morgan Fortin (female cadet), Quinn Simmons (male cadet), and Ian Clark (male junior). They went on to finish 9th in their very first ever relay race.
» Full results – youth relays
Tonight and Tomorrow
We are just about to head over to the final ceremony and some beers. Tomorrow, everyone packs up and most of the skimo caravan heads to France for Pierra Menta.
Thank you for following!