Overnight cooling, some light winds high up, and a 7am start allowed organizers to finally take the athletes into the alpine today. These conditions also delivered very breakable crust on the first 2 descents, however, by 9am the sun was beating down on everyone once again.
Today's stage brought about 2500-2600m of climbing – about 300m more than yesterday – but on steeper terrain, thus, covering less distance than Stage 2. There were also 3 boot-packs on fairly exposed ridges, with some parts being rope assisted.
I don't have any photos of NA racers today as I was feeding them and that was the priority. I only got pics of other teams since they were someone else's duty 😉

News from the Lead Pack
Men's race today
I saw the racers only at one spot today really (at the feed zone where I helped a bunch of North American teams) as I had an early morning start with one of skimo's legends Alexandre Pellicier  – 2008 World Champion and 3rd at 2007 Pierra Menta. He is only 35-years old but long time retired from high level racing, yet after today's experience I would guess he is good enough for top 20 in PM any day!

From spectator's point of view, it appeared that Damiano Lenzi and Matteo Eydallin didn't want any close finishes like yesterday and went out hard from the gun. They already had a substantial lead halfway through and by the finish their gap on the 2nd place was close to 5min. The stage was very technical with some tricky snow conditions on the descents and that suits this team.
Kilian Jornet (SPA) and Alexis Sevennec (FRA) were in second through the feed zone (halfway more or less) but not too far ahead of their pursuers.
By the finish line, only 30sec separated 2nd from 4th with order being – in 2nd were Favre/Barazzuol, in 3rd were Maguet/Boscacci, and 4th went to Jornet/Sevennec.
A great performance today came from young Catalan's Oriol Cardona and Coll Nil Cardona who placed 5th, about 20sec ahead of William Bon Mardion and Xavier Gachet (FRA).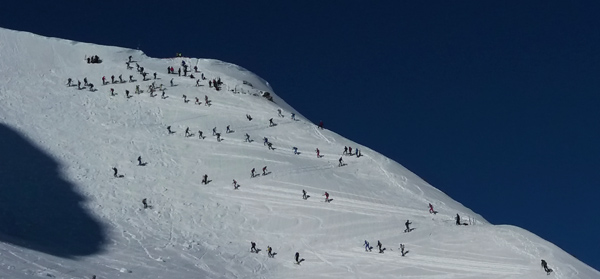 Lars Erik Skjervheim (NOR) and Nejc Kuhar (SLO) finished 7th today, only 4sec behind Gachet/Bon Mardion.
Anton Palzer (GER) and Remy Bonnet (SWI) head to pull out before the stage due to knee pain for Bonnet.
Men's overall after Stage 3
Lenzi / Eydallin
Jornet / Sevennec +11:15
Maguet / Boscacci +16:11
Favre / Barazzuol +17:18
Bon Mardion / Gachet +28:03
Women's race today
Emelie Forsberg (SWE) and Laetitia Roux (FRA) enjoyed another day in the front and comfortably won by 8min again. I have two observations regarding this team and Roux:
It seems like Laetitia Roux is so strong that if you want to win women's Pierra Menta than you have to race in a team with her, or wait until she retires.
I am not sure why Roux continues towing Forsberg every day since they are winning stages by 8min (except the first one). I know win is a win, but wouldn't it be nicer to see how other teams really compare without one dominant athlete making most of the difference? Now they have 15min lead in the overall so I am curious whether Roux will tow again tomorrow.
Second like yesterday, the Swiss duo 
Severine Pont Combe
and
Jennifer Fiechter
 had a solid day and finished 8min behind the above mentioned and 5min ahead of 3rd placed young French
Axelle Mollaret
and
Lorna Bonnel
.
Only 3min behind the French girls, and racing with a real shot at the podium today, were US ladies
Jessie Young
and
Janelle Smiley
. They looked good today when I fed them some drinks in the feed zone and I hope that if tomorrow's stage is technical enough then they will be able to perhaps reached the podium tomorrow. Overall, they are enough behind 3rd that they won't be able to move up though, but bigger surprises have happened before.
Women's overall after Stage 3
Roux / Forsberg
Pont Combe / Fiechter +15:18
Mollaret / Bonnel +25:49
Smiley / Young +39:46
Fabre / Riba +57:52
USA and Canadian Teams News
Canadian ladies were suffering and had another long outing today. Kylee Ohler and Michelle Roberts finished 13th and are still doing quite well, however, today's recovery will be crucial. Keep it up!


The bad news in the North American camp this morning came from Eric Carter who fell ill and pretty much spent the whole night between bathroom and bed. He and Nick Elson had to make a difficult decision and didn't line up for the start. A real bummer for this duo that has been training specifically for this race since October.
On the other hand, John Gaston and Max Taam got to show some descending skills today and went on to finish 16th. Still a great result, although, it meant they dropped one spot in the overall, sitting in 18th before the final stage but within striking distance of 17th and 16th.
Our ultra-runners, Rob Krar and Mike Foote are going better every day which is a sign of quick learning skills since they definitely have the engines. Today, they cracked top 30 finished 29th and only 6min behind Gaston and Taam!
Another NA team wasn't far behind – Tom Goth and Teague Holmes – finishing in 32nd an currently sitting in 28th overall as the second best NA team. Great going indeed!
Jon Brown and Rory Kelly had another solid day and are arguably the most consistent and best matched NA team in this Pierra Menta. They are giving all but are pacing well and truly having a blast. I am really enjoying cheering these two athletes! Today, they finished in 56th and are in 52nd overall, with only 1min behind the top 50.
Unfortunately, Steve Sellers and Scott Archer had to pull out about halfway through the stage as fatigue from sleep-less nights really caught up with Steve. However, they learned a lot and will go out to enjoy spectating the final stage tomorrow.
Results – Stage 3 and Overall
» Stage three finish order
» Overall after Stage 3

Tomorrow
The famed Grand Mont stage won't probably run as planned due to high avalanche danger as it quickly warms up early in the day. However, athletes will be passing just around there a couple of times and the spectators' spectacle is surely on track!
I will be again doing some feed zone duties for the NA teams, tacking photos, skinning around, and getting a sun-tan or a sun-burn depending on whether I forget my sunscreen again 🙂