Sharing a look behind the scene of manufacturing the world's lightest ski boot (Pierre Gignoux 444 model) through the eyes of Michael Silitch, an internationally certified mountain guide living his dream in Chamonix.

Michael is the founder and the main guide of High Alpine Mountain Guides, and a husband to one of America's top female skimo racers Nina Silitch – NinaSilitch.com.
Both of them ski the PG boots on regular basis while Nina is also putting them through rigorous testing on the skimo World Cup circuit.
On behalf of all SkinTrack readers I want to thank Michael for sharing his experience from a visit to Pierre Gignoux' workshop.
Michael supplied the text and photos, so please contact him via his website if you wish to reuse any of it.
Also, judging based on Pierre's accomplishments as a ski mountaineer, and couple of reports like Micheal's, Pierre is an absolute representation of someone extremely dedicated to deliver nothing less than the best to the sport he loves so much.
For a comparison of the lightest ski boots, currently available on the market, make sure to read also check these two articles and great discussions in the comments sections below them:
Look behind the scene – Michael Silitch words
Nina just loves her Pierre Gignoux all carbon fiber ski boots. She loves how light they feel climbing (less than 10% heavier than a Salomon World Cup nordic skate boot) and also how stiff they feel while descending, delivering precise edge to edge control.
Basically they are lighter and stiffer than almost all touring boots out there, from the big touring boots to the race specific light boots.

Just after [the December 2009 Pila World Cup] race, I had the opportunity to visit Pierre Gignoux at his workshop outside of Grenoble, France.
It's a small workshop in his basement where he and 5 other employees hand-mold and assemble the lightweight masterpieces.
Pierre raced for 12 years at the highest level and [besides other wins] he won the Pierra Menta stage race.
He also holds the ski record for Mont Blanc. With Stephan Brosse, he skied up and down Mont Blanc in 5 hours 15 minutes – the start and finish line was the church in downtown Chamonix!
Stano's note: This is little more than 3800m of climbing, then skiing it down. Pierre and Stephan reached the summit in 4 hours. The record attempt also involved a small crevasse rescue.
After all Pierre's racing at altitude and using his degree as a biomechanical engineer he started working to create the lightest and highest performing ski boot possible. Used in skis, sail boats and F1 technology, carbon fiber was the material of choice.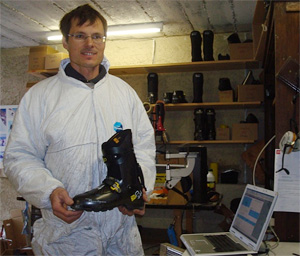 After a few years of testing, the XP 500 was made available to the public in 2006.
At the time it weighed 650g per boot and was nearly half the weight of the Scarpa F1 (1200g).
My 2008 XP 500 were down to 520 g per boot without liner in size 27.5.
This year, the new XP 444 shell weighs a cool 444 grams in 27.5 and comes with many other improvements as well.
The shape, especially around the ankle, is lower profile and more streamlined resulting in an even more precise fit, and less ankle bumping which can rip your race suit to shreds.
The distinctive yellow fiberglass tongue has been replaced with a lighter more sturdy carbon fiber tongue. Besides the weight savings, the upper cuff is 30% stiffer and the locking lever more ergonomic.

Speaking of the unique, one motion, locking lever (by just lifting the locking lever you go directly into touring mode without needing any further ankle buckle adjustments), Pierre told me he invented it and Scarpa copied it.
Poorly I might add, as the F1 Race locking lever is a real knuckle basher – Scarpa did fix that for the F1 Carbon.
Similarly, the new Dynafit and LaSportiva race boots have both developed one movement locking levers.
Pierre also makes a Mountain version with a protective rubber rand and a full Vibram sole – all that with just 56 extra grams.
The XP Mountain is a true lightweight touring boot. There is a rubber rand around the welt of the boot to protect the carbon fiber while scrambling around in the rocks.
And a full Vibram sole will give you the best grip and wear. All that for only an additional 56 grams still makes it an exceptionally light boot for extended tours.
One thing you may note of all these pictures is that there are not many boots in his workshop. That's because they fly off the shelves.
Pierre and his crew produce about 300 pairs a year and currently there is a 6 month waiting list. So order now to get a pair for next season! They are well worth it.

Questions? Experience?
Feel free to ask any questions about these boots in the comments section below.
If you have a personal PG boots experience you are welcome to answer these questions and share your experience.