Racing action continued in North America on the East Coast and in Alberta, Canada while the Western US continues to struggle with low or no snow conditions.
USA and Canada Race News
Unfortunately the Grand Mesa Challenge, CO was cancelled. On the other side of the country, East Coast athletes were getting slammed with deep snow and cold, stormy conditions.
Magic Mountain Skimo Race, VT – Jan 6, 2018:
Our New England skimo correspondent Jonathan Shefftz checked in with the following race recap:
Fortunately, after some negotiating  ski resort management grudgingly acceded to requests, and thus on January 6 the NE Rando Race Series returned for its ninth time since 2009 to Magic Mountain VT, for the first USSMA-sanctioned race of the season in the East.
The temperature was negative 5F yet winds were light and the sun was shining. Patrol then informed us that the summit temperature was negative 20F and the winds up there were something other than light. The start procedure was modified to minimize time outside: all racers assembled inside the lodge, then once everyone was 100% ready to race, a quick trot to just above the base area led into a ten-second countdown.

The high winds were fortunately never directly in racers' faces during the perfectly graded groomed skin track. The descent route briefly turned directly into the highest winds on the mountain, where the windchill was probably around negative 50F. Fortunately the core of the descent after that was relatively protected from the wind, allowing racers to concentrate on a mix of frozen moguls, stiff deep windslab, rocks, roots, cliffs, and convexities. A steep boot-pack of nearly 300' vertical led back into the steepest section of the descent, which was therefore skied six times.
For Open men, Milan Kubala (of the MountainOps Skimo Race Team), in only his second season of skimo racing crushed the field by a large margin, completing the course in just under an hour and a half. Chris Labosky took second in his first race ever on skimo race gear. Third was a tight race between long-time Series veterans and Team Hagan members Josh Flanagan and Jerimy Arnold, with Josh eventually pulling away when Jerimy slowed down to don an extra layer.
For Open women, Jennifer Downing took the win despite being enrolled full-time at Harvard Business School. Colorado transplant Hannah Lippe took second. For 45+, newcomer Cameron Chalmers took the win, followed by Race Director and Team Hagan Member Jonathan Shefftz, then ski resort race liaison Mike Owens. Asa Chalmers was the U17 winner for a first-ever father-son duo in the NE Rando Race Series.
Looking ahead, Northeastern skimo weekend racing takes a break for the Martin Luther King holiday, except for the continuing Tuesday evening race series at Bolton Valley VT. The tenth annual Berkshire East race is then on January 20 in Western Massachusetts, talking advantage of the resort's expansion this season to debut a new "touring"-style course that will incorporate elements from prior years.
» Full Results – Magic Mountain Skimo Race 2018
» Race course info
Castle Mountain Skimo Race, AB – Jan 5-6, 2018:
Meanwhile in Canada, temperatures were a tropical -2C for the start of both Saturday's sprint and Sunday's individual.
Rock hard conditions made for difficult preparations in the sprint course but organizers persevered and put on an excellent sprint event. Athletes completed a full qualifying sprint and three additional elimination heats for the top group. Kylee Ohler showed her dominance in the Canadian scene with Michelle Roberts and Lori-Ann Donald chasing.
The men's sprint final was contested between Eric Carter, Mike Foote, Joel Desgraniers, and Peter Knight, finishing in that order. Joel had a smart, tactical start to the race but was overtaken by Carter and Foote in the diamonds and transitions.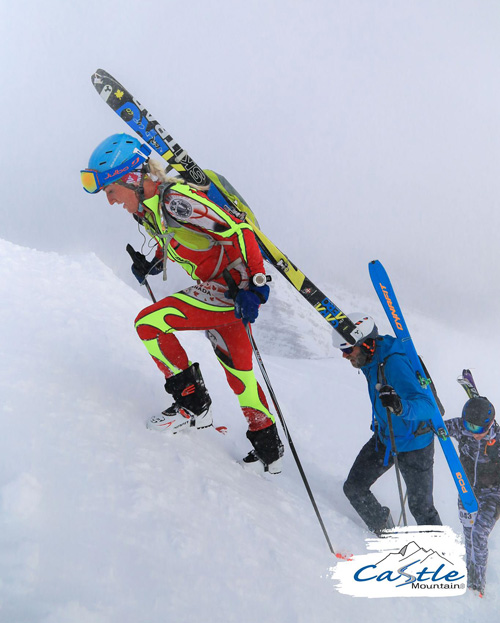 Sunday's individual event saw a skiff of fresh snow and high ridge winds filling in the skin track. The leading athletes found themselves breaking trail on the first big climb. Rockies wind, blasting into the face of athletes booting across the summit made for a somewhat serious ambiance. Snow conditions were better than the previous five editions of the race and both descents provided excellent skiing.
Carter and Foote finished the first climb together with Knight and Desgraniers chasing close behind. Carter opened a gap on the first big descent and held on to ~40sec gap through to the finish. Kylee Ohler led the women's race from start to finish with Michelle Roberts taking second and Katarina Kuba moving into third near the top of the first climb and consolidating her podium position with fast descents.
Racers were all thinking of fellow athlete Ben Parsons who died tragically in an avalanche one year before. Ben was a frequent competitor on the Canadian Cup and at Castle and is greatly missed.
» Full Results – Castle Ski Mountaineering Race 2018 (we are still waiting for results from the organizers)
Upcoming Events
The COSMIC series is scheduled to continue with the Heathen Challenge but registration has yet to be announced due to snow conditions. Stay tuned to the COSMIC page for more information.
Canadian racing continues in Quebec at Stoneham. The recent storm could provide excellent skiing and an interesting SkimoEast event!
Berkshire East race is coming on January 20.
World Cup racing moves to the classic Font Blanca venue in Andorra where the top athletes will contest a vertical and individual event. No North American athletes are scheduled to attend.