World Cup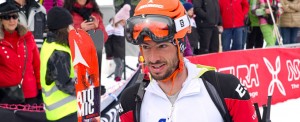 This weekend marked the second to last World Cup race of the season at Les Diablerets in Switzerland, dominated by Spaniard Kilian Jornet and Latetia Roux of France. The weekend started with an individual race covering 1850 vertical meters for the men and 1650m for the women. Kilian (ESP) broke away early in the race, chased by Damiano Lenzi (ITA) and William Bon Mardion (FRA).  Unfortunately, while attempting to pass Bon Mardion, the Italian crashed with a tree and was unable to regain 2nd position. Roux (FRA) finished the women's race solo with Maude Mathys (SUI) and Emily Forsberg (SWE) chasing minutes behind.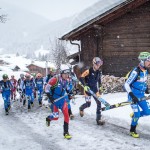 The final vertical event of the World Cup season took place on Sunday and again Jornet and Roux took the top of the podium.  The race climbed 560 vertical meters and was completed in 22min 51sec by Jornet with Roux only requiring an additional 3min. Damiano Lenzi  (as well as Roux) solidified his World Cup win in the vertical specialty with a 5th place finish.
This weekend's results put Jornet in the leaders position of the overall World Cup but he could still be surpassed in the event of a poor race in the World Cup finals in Tromso, Norway. Jornet had this to say about his weekend:
TODAY'S RACE WAS HARD FOUGHT AND DIFFERENCES WERE MINIMAL. MY ASSESSMENT OF THE WEEKEND IS VERY GOOD AND I ALSO MANAGED TO PUT MYSELF IN TOP POSITION OF THE WORLD CUP RANKINGS. NONETHELESS, THE SCORE DIFFERENCE IS NOT VERY HIGH SO I'LL HAVE TO GIVE EVERYTHING OF MYSELF IN THE FINAL ROUND, WHICH WILL DECIDE THE CHAMPIONSHIP.
-Kilian Jornet to Atomic.com
Again this weekend, no North Americans competed in World Cup events. The final World Cup is scheduled for April in Tromso. Stay tuned!
North America
In the West, all eyes were on the Audi Power of Four race in Aspen, Colorado. Racers in teams of two competed on a 26 mile course, covering 12,000 feet of elevation gain (3000m) in 5hrs 20min for the fastest pair. The race featured a 6:30am start time and 3 to 10 inches of fresh snow on course for the leaders to break through. High winds and low visibility made for difficult conditions to deal with but most of the teams persevered.
Locals John Gaston and Max Taam teamed up to take on the rest of the competitors and Gaston had the following to say about their preparations going into race day:
We knew the wet weather and new snow would definitely play a big factor, and that the race would be effectively neutralized until Highland Bowl. With that in mind, our main goal was to be the first team into Congo trail. A lot of time can be gained or lost there, and there's absolutely nowhere to pass if someone's holding you up in front. Then it was just a matter of keeping it pinned up Midnight and really focusing on not blowing up. And of course not breaking any equipment!
Gaston also had the following to say about the course itself:
The course is great. The Highland Bowl/Congo trail descents, as well as the finale down Ajax, are some of the best skiing of any race on the calendar, and really require strong ability. It's a lot easier to make up two minutes on a descent than two minutes on a climb when they're that long. The climbs are certainly not the most interesting out there, with a lot of groomers and cat tracks. This is something the Aspen SkiCo is working on every year though and is getter better at. It's just logistically really tough to route 26 miles of skin tracks. Hopefully in the future the volunteer staff can grow and they'll be able to work on this.
Gaston and Taam relied on their ability to work as a team, watching over one another's fuelling and hydration throughout the race.
Scott Simmons and Marshall Thompson pulled into the finish ~13min after Gaston and Taam despite a binding issue, with Brian Smith and Bryan Wickenhauser just  5 min behind them.
» Results HERE
The East Coast contingent competed at Mt. Greylock. Jonathan Shefftz sent us this recap of the racing:
Mount Greylock, in the northwestern corner of Massachusetts, was the site of the first-ever 100-percent backcountry Eastern rando race featuring almost 6,200 feet of vertical for the full course, spread out over three ascents and challenging ski descents on March 2nd.
All three descents included the core of the historical Thunderbolt ski trail plus the Bucket Trail, but the first descent also included the aptly named "Chute" and a ski-friendly portion of the Appalachian Trail (i.e., coming off the summit).  The final descent included a maze of trails back to the trailhead.
This was a separate event from the March 1 Thunderbolt race, a revival of the original 1930s "down mountain" race, although both were supported by the Thunderbolt Ski Runners club and Thunderbolt Ski Patrol.  The March 1 race was essentially a time trial version (i.e., ascent and descent timed separately, as opposed to continuously) of the first lap of the March 2 rando race, so an excellent opportunity to warm up for the rando race and become familiar with the terrain.  Plus although the focus for most participants is the descent, separate prizes are awarded for the fastest ascent and the King and Queen of the Mountain for fastest combined time.

For the March 1 "down mountain" race, your faithful correspondent was the defending King from 2011, and also the record holder since the 2012 and 2013 races were cancelled.  However, I focused exclusively this year on serving as a member of the Thunderbolt Ski Patrol on race day, so Jerimy Arnold snatched the win.
For the March 2 rando race, Jerimy Arnold once again dominated, although Josh Flanagan surprisingly was fairly close behind.  Surprisingly because Josh had competed the prior day in the Aspen Power of Four, then after logging 12,000 vertical in that race, drove to Denver, slept three or four hours on the plane, and drove two-and-a-half hours the next morning from Boston to Greylock just barely in time for the time.  I filled out the podium for the Eastern Team Hagan.
Nina Silitch was, as always, the fastest woman, and also finished fifth overall despite missing the final turn in the aforementioned maze, resulting in a descent below the finish, and a final skin ascent.
» Results HERE: Results, Greylock 2014
Upcoming Races
The major upcoming race this weekend is the Wasatch Powder Keg at Brighton resort in Utah. One of the jewels on the USSMA calendar, the PowKeg features three days of racing, starting with a Friday night sprint race where racers complete a qualifying round and then the fastest racers continue on to head-to-head rounds. Saturday is a individual distance race followed by a technical teams race on Sunday where racers must compete with a partner and use a harness and equipment to cover technical terrain.
Race Director Chad Brackelsberg is predicting snow throughout this week, ending on Friday when a high pressure ridge should move through the region with the likelihood of sun throughout the day on Saturday and Sunday. It is still up for debate if the sprint race on Friday will be in heavy snowfall or clear weather. Brackelsberg provided the following links to obsess over:
Brackelsberg also asked us to remind all racers that officials will be checking everyone at the race start and finish for mandatory gear.
Gear lists
can be reviewed on the race website
here
. Finally, Brackelsberg offered the following predictions for the race outcome:
I predict an extremely tough fight for the Saturday podium.  I think it could be Tom G, Jason D, Reiner T, John G, Max T or anyone from several others.  My top 3 in any order will be Reiner, Tom, and John, but I have no idea in what order.

-Wasatch Powder Keg Race Director Chad Brackelsberg
There will be a strong Canadian contingent in attendance at the Powder Keg including top racer Reiner Thoni. Thoni will be paired with Andrew McNab for the Teams race. As a team Thoni and McNab have raced together on numerous occasions at the Pierra Menta, World Championships and at last year's Atomic Waymaker event. While Thoni expects to have to work for placing, he is hoping their strong descent skills will work to their advantage.
This year I think both of us have been doing much more powder skiing than racing so the longer race might be better suited to us.  It will be interesting to see how it all plays out, the US guys are looking strong.
-Reiner Thoni
When asked about racing at altitude, Thoni offered the following advice:
The altitude adds to the challenge but with most racing being below 12,000 feet I feel it's still in a reasonable range from what I'm accustomed to.  I live at 2000 feet but spend a lot of time skiing around 5000-9000 feet so from where I do most of my skiing it doesn't feel like a huge adjustment.  It seems some times ignorance is a bliss, maybe I will just eat a lot of brussel sprouts 😉

-Reiner Thoni
Stano Faban will be racing with Tim Zander, and Eric Carter and Nick Elson will be teaming up. John Gaston will again pair up with Max Taam and Gaston had this to say about race predictions:
I think it's going to be a real battle either way, and weather/conditions/powder could play a big role. I see a big battle with a lot of players. Reiner and McNab, Tom, Jason, Marshall, Max. Everyone's going real well right now.
-John Gaston
It is safe to assume that altitude, duration, weather, and technical ascent and descent skills will all play a major role in the outcome of this race. The women's race is tough to predict but Canada's Melanie Bernier will be gunning for a top spot on the sprint podium. In the teams race, Mel will be paired with Lyndsey Meyer and should be expected to compete strongly with Sari Anderson and Stevie Kremer. Mel had this to say about the competition between the Canadian and American women:
I think the US have a good up of strong women. The ranking should be similar to the Jackson Hole Race earlier this year.
-Melanie Bernier
Our East Coast friends have two race options this weekend. SkinTrack correspondent Jonathan Shefftz sent in this preview. The Jay Peak VT and Owl's Head QC races have been rescheduled from their original January dates.  The Quebec Dynafit rep Jeff Rivest has reinvigorated the race with an entirely new layout for this year.  By contrast, the Owl's Head is entirely new, and ascends via a new backcountry sector, so this will be a new venue for everyone.
The very strong Equipe Quebec is sure to attend in force, and Team Hagan's Jerimy Arnold and Josh Flanagan might sally northward to meet them.  (Your faithful correspondent will be unable to attempt to repeat his 2008 win.)  Perhaps Jan Wellford can be convinced to emerge from his Adirondacks redoubt and take a weekend off from Mordic racing to repeat his dominating performance from the February 23 Mad River Valley VT race.
For the women, Nina Silitch is as always the favorite.  Danielle Deguire is probably a bit faster skinning, although still relatively new to skiing, and of course unable to match Nina's sprint-specialist transitions.  Should be some interesting lead-changing among them, and with Nina fresh from her dozen years in Europe, some interesting French dialogue too!