It has been a busy couple of weeks at SkinTrack.com with Stano and I travelling to races. So while we missed the weekend roundup last week, here, we are bringing you two weekends worth of race reporting. Enjoy!
International
World Cup racing action took a break last weekend for the European Championships in Andorra. The weekend started with a
vertical
event and Robert Antonioli (ITA) and Laetitia Roux (FRA) are the new European Champions.
» Vertical
results
Roux continued her domination in the
individual
race and William Bon Mardion (FRA) stepped up to take the men's title. Throughout the race, Mardion was trailed by two Italians but he managed to keep ahead using his superior downhill skills on the technically demanding descents. The women's race was well established in the lead with Roux occasionally looking back to keep an eye on improving Maude Mathys. But the real excitement was the race for bronze among three women, eventually won by Axelle Mollaret who also cinched the Espoir category (under 23).
» Individual
results
Vertical race video – it would be great if they didn't make such fast cuts and showed more long-shot footage.
Individual race:
North America – Feb 15-16 Weekend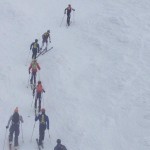 Another weekend passed without any racing in Canada but a large contingent of Coastal skiers were able to attend the
Subaru Vertfest at Alpental Resort
in Washington. Marshall Thompson came from Colorado to represent Team Dynafit and won the Men's race while Holly Davis of Seattle won the Women's. Here you can read Stano's more detailed 
report on the race
.
» Alpental
Results
Also, the same weekend was the
CROWBAR race at Sink Hollow
in Utah. The lead group (including Gemma Arro i Ribot leading until a binding breakage on the first descent) took off hard from the gun with Nick Francis taking charge. The race was on for the remainder of the podium places with Chad Brackelsberg powering away from his pursuers on the last climb. In the Women's race, with Gemma out of the way, Sarah Cookler took the lead and let Emily Brackelsberg and Emily Sullivan battle for second, with Emily B eventually landing on top. Also of note was the 5 Junior racers (13-18 years old) who competed!
2nd Chad Brackelsberg had this to say about the race and the course:
The Crowbar is the only 100% backcountry races in the US that I know of.  The organizers decided to step up the race this year adding an additional 1000′ climbing and 2 booters. In the week prior to the race, Logan Canyon received 12″ of snow water equivalent. The course was their best one yet with gradual ridge climbs and moderate tree (often tight) descents.
» Crowbar Results
North America – Feb 22-23 Weekend
There were four big races over the weekend:
At the
ROAM Rando Rally
a full contingent of Canadians battled it out in Nelson for spots on the National team due to two race cancellations so far this season. Reiner Thoni – the usual favorite – set a strong pace off the start, not to be seen again until the finish. A major miscommunication between a course official on the second to last descent and a group of chasing racers sent a small group off course, adding extra vertical. Andrew McNab chased hard to get back on course and pulled in to a strong second, out-sprinting Travis Brown from Calgary and Stano Faban. Despite losing the course as well on the last descent, Melanie Bernier won the Women's race with Michelle Roberts and Marg Fednya rounding out the podium.
Also of note is that Ben and Jen Parsons who went on to compete in the full Coldsmoke Powder Fest King of the Mountain competition, finishing 2nd and 4th overall!
» ROAM Rando Rally
Results
For
The Five Peaks
 race we received a short and sweet report from Tim Zander. Thank you!
The 5 Peaks race was a cold and windy affair, but not as bad as last year. The turnout was amazing with 132 racers in 66 teams competing. Last year saw 72 racers, over 80% growth. The course was quite enjoyable with three short bootpacks, some good switchback sections, fun descents and plenty of alpine wind exposure. Max Taam and John Gaston took first with an impressive time of 2:35:35. Marshal Thomson and Stevie Kremer came in 3rd overall and 1st for Coed Duo. Annie Gonzales and Jessie Young did quite well in the Womens Duo at 3:10:01.
» Five Peaks Results

Vertfest continued in Oregon at Mt. Bachelor. The race course was a bit unclear beforehand but it looks like the end result was three climbs and descents race with the final climb to the summit crater of Mt. Bachelor. Definitely an interesting race that I will consider in the future! The sun was out for the race, uncharacteristic of Vertfest events! Aaron Talbot and Brandon Kern were the local favourites battling each other to a close finish with Patrick Fink trailing behind to round out the Men's podium. Molly Grove won the Women's race with a healthy lead over Hailey Garside and Laurel Manville.
» Bachelor Results

Mad River Valley in Vermont sported an updated course with some challenging skiing restored on Mount Ellen (via a bootpack and subsequent ski of Upper FIS), and the pointless nordic skate skiing section eliminated at Lincoln Peak.  Total competitor-measured vertical was 4,722' across 11.4 miles.
Jan Wellford repeated his 2009 and 2013 wins, by the largest margin ever recorded since the race first started in 2006 thanks apparently to a competitive focus on nordic ski racing. Competition  for the rest of the podium was fierce, with Jerimy Arnold battling a very strong Equipe Quebec seeking to repeat its dominance two weeks earlier at the Burke race. Daniele Poirier took third only 19 seconds behind Jerimy, with Philipe Deguire in fourth less than half a minute later.  George Visser (5th) would have been a favorite to win with his new Dynafit-rebranded Pierre Gignoux boots and bindings.  Unfortunately, the release pin broke on one of his toe units during the first ascent. Even with all that, Jerimy, Daniele, Philipe, and George all traded places multiple times in the final course segment, with Jerimy finally benefitting from his course familiarity.
On the women's side, Manon St-Pierre took first, with Burke winner Danielle de Guire less than half a minute later.  We look forward to more of this strong international competition from our friends across the northern border in future races!
» Mad River Valley Results:


(Thanks to Jonathan Shefftz for his East Coast submission)
Did you race at any of these events? Write a blog post about it or take some pictures? Post up in the comments so we can read your take!
Upcoming Races – Feb 22-23 Weekend
This weekend World Cup racing action resumes in Switzerland at Diablerets with an individual race on March 1st and a vertical race the following day. We have not received word of any North Americans on the start list but will be covering the race regardless.
March 1st marks the Audi Power of Four race in Aspen, Colorado. Expect big guns in attendance and a very challenging race course for all racers. The rest of the continent will be busy preparing for the Wasatch Powder Keg in Utah on March 7th-9th which we will be attending as well.