Registration just opened for one of the most popular events on the North American skimo calendar and here is the official press release with all the details:
The Power of Four Ski Mountaineering Race – one of the most challenging events in Aspen/Snowmass – is back and will test the endurance of athletes as they race in teams of two across all four area mountains. The course covers approximately 25 miles and more than 12,000 vertical feet of climbs. A two mountain category is also an option, covering ground on Aspen Highlands and Aspen Mountain.


The race is on Saturday, March 1, 2014 starting at 6 a.m. in Snowmass Base Village and will continue into the afternoon where athletes will finish at the base of Aspen Mountain. The summer version of this race tested mountain bikers as they raced up and down all four mountains or two mountains in one day.
New this year, the race will offer a $5,000 prize purse – largest in North America – split evenly between men and women. The first place team will take home $1,500, second place will go home with $700 and third place takes $300.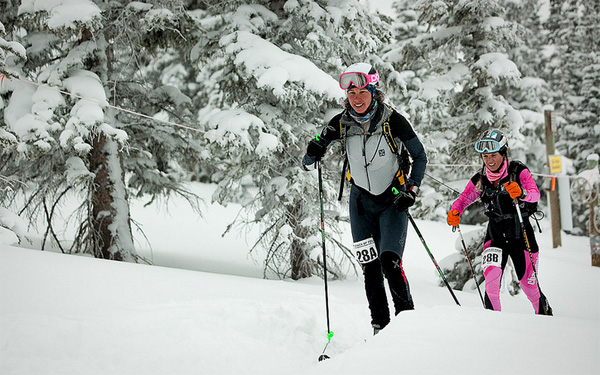 Sport Race Course:
Teams will start in Snowmass Village and skin up to the top of Elk Camp. Then racers will traverse from Elk Camp to West Buttermilk. Once at West Buttermilk, racers will ski down to the bottom of Tiehack. From there, athletes will cross the bridge by the Aspen Recreation Center and head to Aspen Highlands Village. From there skiers will skin to the summit of the Highland Bowl and ski down to Castle Creek Road via the Congo Trail off of the Grand Reverse. Teams will then cross Castle Creek and head up Midnight Mine Road until they reach The Sundeck. In the final descent of the race, athletes will ski down Aspen Mountain, ending in Gondola Plaza.
Recreational Race Course:
There will also be a half race starting at 8 a.m. following the same course on Aspen Highlands and Aspen Mountain, finishing on Gondola Plaza. This race is perfect for recreational uphillers looking for a new challenge.
More Details:
There will be four categories of racers: Vets, Men, Women and Coed teams. Only the Men and Women categories are prize eligible, Coed and Vet categories are for time comparison only. Coed teams will be grouped into the Men's category for prize purposes. Alpine Touring (AT) gear, Telemark gear or snowboard Splitboard gear is required.
Registration is now open at www.aspensnowmass.com/poweroffour.
Registration is $225 per team if registered before January 5, 2014.
Call for Volunteers:
Volunteers are still needed for the event. Those interested in volunteering should contact Brendan Collins at bcollins2@aspensnowmass.com.
More info
More information on the race series and maps of the course, please visit www.aspensnowmass.com/poweroffour or call 970/925-1220.