The following is a recap of the first 3 weeks from Melanie's trip to Europe in pursuit of further progress that keeps nudging her ever closer to a skimo World Cup podium. And here's a link to my podcast interview with Mel just before she left.
I left beautiful BC shortly after New Years to fly to Lyon, France. My last workout before going away was in Lake Louise at -20 C with sunshine. You can imagine my shock when I arrived in France, bare of now, to run in a t-shirt the following day in Albertville!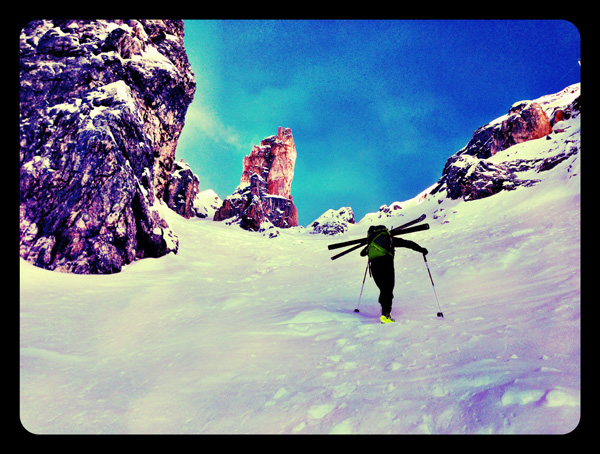 Note: Albertville is a small town in Rhone-Alpes region, close to Italian-Swiss-French border, that hosted the 1992 Winter Olympics and is not far from where the famous Pierra Menta takes place each year.
French Nationals – Jan 11-12, 2014
In order to get some race mileage before the World Cup races I decided to enter the French Skimo National Championships held in Oz-En-Oisans the weekend after I arrived. Still a bit jet-lagged, I managed to have a great individual race placing 4th and even better the following day placing 2nd in the sprint, right behind Laetitia Roux. These couple of events was what I needed to get my race mind and confidence back for the start of the World Cup season.
After that first weekend, I skied and trained around Albertville, place I would call home for the next month. Staying with friends here has been a true gift as my hosts are so kind and supportive. It makes things so much easier to have a base where you can reset in between events.
Verbier World Cup – Jan 18-19, 2014
After the French Championships, I think I got a bit too excited with training in between races and was not fully rested or maybe it was the jet-lag catching up to me. I got to Verbier at the end of a small snow storm the day before the individual race. That day, between checking out the course, attending the coach meeting, opening ceremony and race briefing, I finally put my bags down at 8 pm.
The following day I was not feeling 100% on my skis. It was a super nice course and really challenging but I had a hard time finding the usual rhythm. I still managed to finish top 10 but I was a bit disappointed knowing I could do better.
The vertical race the following day, in my mind, went way better. I took 14th but I fought till the end and felt much more fluid on my skis. It was simply great to check out the venue of the 2015 Skimo World Championships since the race courses will be the same. It was also great to hangout with fellow racer Meredith Edwards and Chad Brackelsberg from the States. Chad could not race due to injury but Meredith had her first World Cup race experience which was awesome to witness.

Courchevel World Cup – Jan 25-26, 2014
After that Verbier weekend, I took the positive from both races and went with it. I also trusted that what I needed was a bit more rest before the following World Cup in Courchevel.
I went skiing in Chamonix with a friend, went skiing in the fog in La Lauziere and went to check out the Courchevel venue under the sun the Wednesday before the race to give more time to fully reload.
The Friday before the event, this time, I did only a small workout with some accelerations, then rested all day. On Saturday, it was time to race the individual. The course was super fun, taking advantage of a nice part of the world famous ski resort with many couloir options both up and down.
The individual went well for me as I kept consistent throughout and tried to stay in the same position finishing 6th. It felt great this time and I also closed the gap on ladies in front of me.
The vertical race also went quite well. I shaved 30 seconds from that same climb from last year (vertical race at the 2013 French Championships) so I was happy to take 9th.
Meredith also raced the individual but had to pull out of the race due to illness.

Back in my French home
Back in Albertville, I have now couple of days for recovering as I am leaving for Italy for the 3rd race of the World Cup season. The sprint is on Friday night and individual on Sunday.


So far, I am having a great time, enjoying every second or every day in this very special place to me. Let's hope I manage to finish the trip on a high note with great results at the Pitturina!
Note: Pitturina Ski Race had to be postponed due to 1.5 m of new snow in the forecast and will be held on Feb 8th and 9th.