The US Ski Mountaineering Association (USSMA website) recently announced a changing of the guard with Nick Francis and Chad Brackelsberg stepping down from their positions as President and Vice-President. Ram Mikulas of Summit County, Colorado and Matt Hickey from Colorado Springs (originally from Minnesota) will be taking over their roles effective immediately.
Nick and Chad will continue in a support role while the new duo finds their legs. We reached out to Mikulas Ram to get some more information on the new President and where he hopes to take the USSMA under his leadership.
Q: How long have you been ski touring and ski mountaineering racing?
I grew up recreational hiking, climbing, and kayaking. After a shoulder injury I begun mountain biking a lot, fell in love with it and got involved with racing. That let to road racing, trail running, and finally skimo. I started off skinning resorts with friends 6 years ago and jumped right into racing. I loved how dynamic ski mountaineering racing is and was quickly hooked!
Q: What do you do for work when you are not out skiing?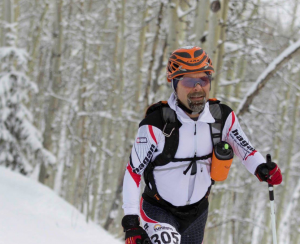 I worked in the corporate finance world in Denver, where I'm from, for many years. My wife and I had a weekend mountain getaway and played the weekend warrior game for a while, but made a change and moved up to Summit County 11 years ago. I work year round at Copper Mountain Resort as an eCommerce Manager. Awesome mountain, company, and people.
Q: What inspired you to go for the USSMA president position?
Whatever I'm involved in, I like to immerse myself and learn as much as possible and be involved below the surface. I quickly became passionate about the sport and wanted to find ways to introduce it to others and help it grow.
A few years back I worked with some other racers in Summit County, CO to help start the Summit Skimo Club. I've been acting as VP and have been leading a program we have to introduce new people to skimo and provide clinics for all abilities. I've had some great communication with Nick and others involved in the USSMA over the years. So, I suppose my passion for the sport and community has inspired me.
Q: What skills are you bringing that you believe will help you in leading the USSMA?
Organization, leadership, and communication which will be key moving forward.
Q: What are your primary goals to accomplish over the next few years?
The Vision of the USSMA is to expand the sport of Ski Mountaineering throughout the United States, with a current primary focus on developing the association into a fully functional national sports organization.
My goals will be to establish formal structure and process within the association and to become financially viable and appropriately resourced. With the recognition of the IOC and looking toward inclusion in future Olympics, I will strive for an enhanced focus on fundraising and developing athletes.
Q: Will the US develop a standing 'National Team' separate from its 'World Championship Team' similar to Canada and other countries?
This is a direction the USSMA would like to move toward as we focus on developing athletes. As for when and to what extent will need to be determined by available resources.

Q: The US has large participation numbers for skimo. Why do you think this is?
Awareness and access to uphill skiing is growing and resorts are beginning to embrace this new demographic. SIA (SnowSports Industries America) data reports strong growth in the backcountry / uphill sector. I think the bottom line is that the word is out and people are trying it, which leads to more people participating at a recreational and competitive levels.
Q: How can the USSMA encourage more US athletes to race on a world stage (World Cups and Grande Course events)?
As the USSMA builds resources and a National Team is developed more awareness, exposure, and support should be available to assist and encourage US athletes to race abroad.
Q: How does the PRO2022 program encourage athlete development?

Project 2022 is a concept to identify up and coming skimo athletes that the USSMA can help develop into future Olympians. PRO2022 Camps will be put on throughout the country in skimo hot spots to identify talent, coach the coaches, and build the foundation with the under 23 (U-23) age group.
Instruction is built around the ISMF Sprint Course (likely Olympic event) and designed to "shortcut" American skiers' path to elite skimo technique. The first camp was held a week ago in Summit County, CO and was a big success with many U23 athletes and coaches. Plans are underway for setting up additional camps this season. More communication to come.
Q: Right now a focus is on 'coaching the coaches', what does this mean and how is it being accomplished?
The focus is to build a coaching and support structure to develop athletes. PRO2022 Camps in 2016/2017/2018 will include "coach the coaches" to train regional coaches on the US skimo coaching methodology.
Call for Comments & Suggestions
What questions would you pose to the new USSMA leadership? How do you think skimo racing could be progressed in North America?
More reading: Interview ISMF President
The above interview was second in our "presidents interview series" so if you would like to know more about direction of skimo on the world stage read Interview with ISMF President about Skimo & Olympics and Anti-doping Efforts with Armando Mariotta.