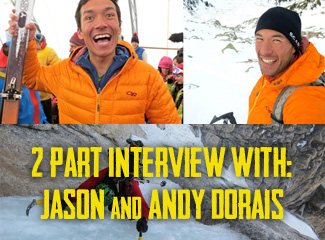 This is an in-depth, two part interview with the fast Dorais brothers.
Jason and Andy live in Salt Lake City, and besides their own adventurous pursuits they are successfully growing the local ski mountaineering racing scene.
To the outside world, Jason and Andy, are probably best known for owing the Fastest Known Time for a ski ascent and descent of Grand Teton, WY (along with Jared Inouye).
» Here you can read the second part of the interview.
» Andy's blog
» Jason's blog
» Jared's blog
Q1: What are your sporting backgrounds?
Jason:
I began running track/playing football in 7th grade. I continued both through high school until I realized I had a brighter future in track, that's when I started running full time. I was lucky enough to run at BYU under the tutelage of Olympic marathoner Ed Eyestone.

I ran the 800m but he was a distance oriented coach and he gradually turned me into a distance runner. Although, I now focus most of my energies in the mountains I still love running and I am greatly indebted to coach Eyestone for his assistance in becoming an endurance athlete.
Andy:
As for Jason, I started in organized sports in 7th grade, playing football and running track.  Then after highschool, football fell by the wayside and I ran track in college at BYU.

I was more of a sprinter and not a very good one at that but it was fun and set a way of life for me to always compete and try to maintain fitness.  It hasn't been until the last few years that I've really tried to build a bigger aerobic engine through mountain running and skimo racing.
Q2: What brought you to skimo racing? And ski mountaineering in general?
Jason:
I think a love for the mountains brings most people to skimo. I remember our dad telling us stories about his climbing days in the Tetons back in the 70's. He had a bunch of old slides and would give us slide shows every once in a while. We always loved it.
Apart from the stories, he made a point of taking us out any chance he got. We never lived in a mountainous region but would take extended summer vacations every year to either the Pacific Northwest or New Hampshire. Wherever we were he would drag us up the local classic peaks. He always made us feel like we had accomplished something big and noteworthy. I guess that was the start of my passion for the mountains.
More specifically, Jared Inouye is the one who first taught me what it means to move fast on skis and actually skimo race. I remember watching him destroy me (and every one else in the race) in my first Powderkeg. It was mind blowing, I was hooked!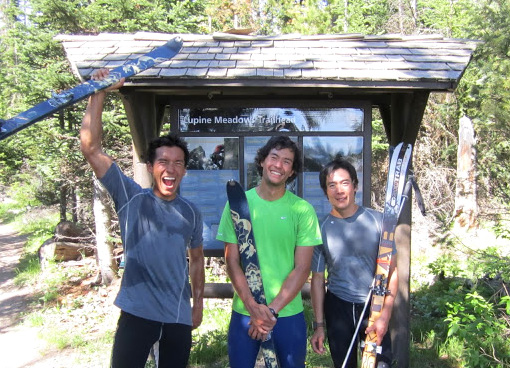 Andy:
I'll start with ski mountaineering since I think that was the primary goal and happened first.  Once our collegiate track days were over, we turned our attention and energy to climbing, hoping to tick off some North American classics like the Grand, Half Dome, El Cap, desert towers, Bugaboo and Snowpatch Spires and on and on.  We found early success and loved long days trying to move efficiently in the mountains.
In the meanwhile, we were getting our start in skiing at Alta and Snowbird but resort skiing didn't have the same appeal.  There was no adventure, no objectives, no lasting high at the end of each day.  Then a friend, Sam Inouye, took me backcountry skiing and my eyes were opened!  I could suddenly aspire to go anywhere and started to see local peaks as potential adventures with some of the more aesthetic lines as objectives, much in the same way one views alpine rock routes.
Then through Sam, I met his older brother Jared, who was light years ahead of the rest of us in terms of gear, fitness, and goals. Through him, my learning and gear curve was greatly accelerated and pretty soon we had a great group of core partners to run around the Wasatch.
It was also through Jared that I was introduced to skimo.  He had already been racing for years and had been a member of the US Skimo team.  He taught us about gear, technique, etc.
Q3: You guys have some sponsors but you definitely need to pay the bills with jobs. What do you do?
Jason: Same as Andy.
Andy: We are both emergency medicine residents at the University of Utah.  This entails anywhere from 40-80 hours a week.  I'm in my final year and Jason has 1.5 years to go.  Then we will work as ER doctors, hopefully with a better schedule and more time for skiing!
Q4: Jason, you made the US National team this year by finishing 2nd at the recent US Champs. Are you planning to go to World Champs in France this year?
Jason: I sure am, just got my ticket 30 mins ago and I am PSYCHED!
Q5: Andy, you narrowly missed the qualifying spot. Are you still happy with the improvements you've made since last year?
Andy: Yeah for sure.
I was able to put in a better training block heading into this season (I had a newborn in the home last year).  This year I climbed with the lead pack and was looking around at the National race thinking, "Wow, I'm right in the middle of this thing".  Unfortunately, I'm still working on the leg strength and downhill speed to put together a complete race and this ultimately proved my undoing when trying to make the team this year.  That's OK though since the way to get better is to ski more!
In part 2 – Wednesday, Jan 30
» Here you can read the second part of the interview.
Do you know Jason, Andy or Jared?
Whether you know these guys or not feel free to comment below.