When it comes to shopping for your first-ever skimo racing setup there is no "fit-for-all" advice as each person's goals, budget and athletic background are different. Some are new to skimo racing or even ski touring altogether while others have already achieved some athletic success in other endurance sports and want to give skimo a serious try from the start.
With all that in mind, I will do my best to provide the most useful and honest advice for everyone new to skimo, and point them to the right gear that is currently on the market.
Majority of the below mentioned gear can be purchased online or in person from our two favourite skimo specialized stores – Skimo.co in Salt Lake City and Cripple Creek Backcountry in Vail or Carbondale.
Boots
Don't make the mistake focusing only on weight and price. Fit is very important when it comes to boots as it will determine how well you will be able to control the tiny race skis on descents as well as for how comfortable you will be training in them.

The most suitable entry level racing boots are the La Sportiva Syborg, Dynafit PDG and Scarpa Alien. All three are similar weight (800-850g/boot in size 27MP) and are priced around $750 USD (700 Euro, $1000 CAD) depending on the deal you find. Therefore, your decision should come down mostly to already mentioned fit and availability.
Only slightly heavier but more suitable for regular touring with bigger skis are the new Dynafit TLT7 Performance and Atomic Backland Carbon Light, both weighing just over 1kg/boot in size 27MP. Both are priced around $900 USD (850 Euro, $1200 CAD).
For those that are ambitious right from the start or can spend more money, you can try jumping straight into the Dynafit DyNA (basically a lighter PDG) or Scarpa Alien 1.0. Then the very top level boots, even more expensive, are the Pierre Gignoux Race 400, Dynafit DNA, La Sportiva Stratos (Cube and Hi-Cube), and Scarpa Alien 3.0.

Skis
There are many skimo race skis on the market so I won't list them all but I will give you a couple of pointers and will mention only those with the best price-to-weight ratio.
The good news is that the "entry level" skimo skis are generally only about 100-150g heavier that the top line yet costing about 20-30% less.
For racing, there is a rule that men's skis have to be at least 160cm long while women's can be 10cm shorter. You should be looking for skis weighing less then 900-1000g/ski and not wider than about 68mm (ideally 64-66mm) since all racing skins are manufactured for those widths.
To get you on race skis without paying the top price you should check out Hagan Ascent, Dynafit PDG, Atomic Backland UL 65, Voile WSP, Movement Gold Fish-X, or older models of race skis from these brands that can be still found on sale. You will pay around $600-700 USD ($800-950 CAD, 570-670 Euro)  for all of the above new models.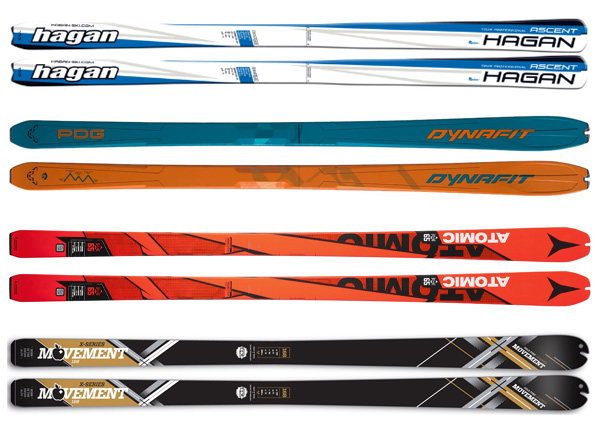 Overall, it's difficult to recommend specific skis for a specific skier because it depends on your weight, height and style of skiing – aggressive, careful, expert skier, intermediate skier, etc. But in general all of them will ski somewhat similarly – the first couple of times, it will feel like you need to learn to ski again 😉
Bindings
There are three important things when shopping for race bindings (even "entry level"):
With few exceptions, all models can be mounted only for one boot size as the heels have no adjust-ability!
Don't mix-and-match toe and heel pieces from two different brands on your race skis. First, it's race illegal, and second it could pose a safety issue.
Buy a model without the auto-lock feature – it's forbidden by the sport's rules. This means that when you step into the toe piece it won't lock itself right into the touring (or locked-out) mode automatically but rather you have to nudge it to that position.
The good news is that all bindings listed will likely last you for many seasons. The only maintenance you will need to perform is changing the heel pins every 2-3 seasons (they are cheap).
Here are the models we recommend: Hagan ZR (optional mounting plates allow heel to move), Plum Race 150, Plum Race 170 (possible to adjust heel for 2-3 different boot sizes!), Dynafit Superlight 2.0, Kreuzspitze SCTT, ATK Race SLR World Cup.


Once shopping, expect to pay around $500-600 USD (470-570 Euro, $650-800 CAD) for the models mentioned above.
Skins
Thankfully, there is not much to contemplate about "entry level" skins. You can just buy any skins that fit your race skis and are preferably made of mohair (or similar fast gliding fiber). The width should be about 3-6mm narrower than the middle of your skis – in general, race skins are pre-cut to 58-62mm and are the same width in their full length.
With that, we recommend buying the skimo race skins: Pomoca Race and Race Pro 2.0 models, Colltext PDG, Dynafit Speedskin, Ski Trab World Cup, Hagan Mohair.
Some race skins can be bought in a roll or as an ready-to-go package with bungee cord tip attachments already in place. The cost for a pair of skins will be around $100-160 USD (90-150 Euro, $130-220 CAD).
Pack
There are many skimo race packs on the market and more-or-less all of them perform quite well but like with boots the fit is important, and that is the crux with almost all packs if you are either smaller or taller than an average male (175-185cm / 5′ 7″ to 6′). The best idea is to try some on first or buy the one that lets you adjust the sizing.
All of last season, we worked with Ultimate Direction to design two race packs that allow for size adjustments and even come in two different sizes – the first skimo packs to ever do this! Both of them borrow some features from their famous running vests that we seamlessly merged with the necessary skimo functionality. Check them out: UD Skimo 8 vest and UD Skimo 18 vest.
For a new skimo racing pack/vest, expect to pay about $100-160 USD (90-150 Euro, $130-220 CAD).

Helmet
With new regulations coming into effect this season, we recommend buying only helmets that are fully compatible with these new rules – we wrote a whole article about this a couple of weeks ago so there you can find all the right models.
Beyond that, even more than with boots and packs, the fit is very important! And if there is some space for a bandanna/buff to slide inside for those cold days then even better.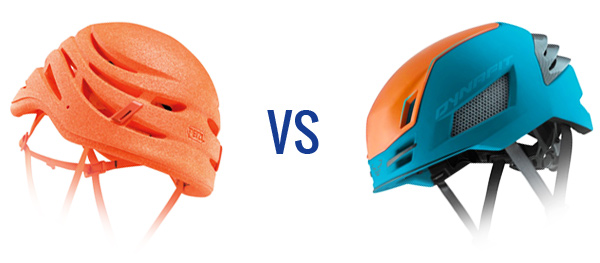 Skimo Race Suit & Clothing
While skimo race suits are fine pieces of gear designed for the most efficient skins management and ventilation I don't think a novice to the sport needs one for their first couple of races. As long as your clothing is well/slim fitting and your jacket has some nice pockets for skins then you will be just fine.
The middle ground between a full-on one piece race suit and just slim fitting touring clothing are some double-piece "suit" options. Perhaps buying just a jacket will give you most of what a one-piece suit can offer.
One-piece skimo racing suits cost around $250-350 USD (240-340 Euro, $340-470 CAD) while the two-piece solutions would come to about the same if you buy both the bottom and the top.
Ski Poles
Just like with the race suit, you don't need specific skimo race poles for your first couple of events and most of your training. Light ski touring poles will do. In fact, even top racers use pretty much just shorter xc skiing poles as they work quite well.
To figure out the correct length for your ski poles see this article on how to do it – How to choose the right length (and kind) of skimo racing poles for you.
Prices will range from $80 to $180 USD.
Avalanche Gear & Training
Last but not least, let's take a brief look at the avalanche gear you will need for racing and your training. On top of that, you should also take at least some basic avalanche courses to educate yourself how to use this gear the most effectively as well as to how to avoid avalanches altogether.
Avalanche beacon – choose a 3-antenna beacon from reputable brands like Pieps, Mammut, Backcountry Access, Ortovox. Prices will range from $300 to $500 USD.
Avalanche probe – for racing you only need a 240cm probe but if you are going to buy only one then we recommend 280cm or 320cm length. The extra length is beneficial should you find yourself in a real rescue. Carbon probes are lighter than aluminum but are also more expensive – we leave it up to you to choose. Prices will range from $50 to $150 USD.
Snow shovel – just like with a probe, to meet skimo racing regulations you only need a "kid's toy" shovel like CAMP Crest but we recommend buying a more robust shovel that is actually usable in a rescue scenario. If you opt for something with a short handle but strong blade of decent size then you will be way more equiped. Prices will range from $50 to $100 USD.
Final thoughts
After reading the whole article it may seem that skimo racing is a super expensive sport but it is possible to be strategic with your spending. You can buy a lot of used gear (don't do this with avalanche beacon) or using online sales and package deals from specialized shops like Skimo.co or Cripple Creek BC. Also, remember, that lots of this gear will last you for many years and will take you to place no expensive carbon bike can ever do.
If you would like to know more about race gear and even skimo training then check out our Manual For Ski Mountaineering Racing where we discuss specific how-to tricks.