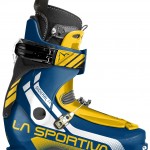 It's that time of year when all the manufacturers are coming out with the newest products. Here we want to give you a quick overview of what is new this season. Frankly, it is a relatively quiet one, with very few truly new products. Several companies have given current products some big updates however.
The biggest change of the season is in skimo racing bindings. Weight continues to be shaved off despite new ISMF regulations that require race bindings to have manual locking mechanisms (pulling up on the toe piece to lock in). All the major brands now have a competitive (light weight) binding with a manual lock.
La Sportiva
No major changes to the La Sportiva ski line but the citizen race/ski touring boot – the Sideral – has been update to the 2.0 version. It features improved buckles (borrowed from the Spectre model) and an updated sole that offers compatibility with Tech, Frame and Trab TR2 binding systems.
Dynafit
Dynafit continues to improve its ski running line with the retail release of the 2.0 version of the DNA Race ski, boot, and Low Tech Race binding.

DNA 2.0 ski (and PDG 2.0) – The new DNA ski is 40 grams lighter than the black DyNA thanks to its carbon construction. It is also shaped a bit differently (similar to the Cho-Oyu or Denali shape) compared to previous version, while retaining the same dimensions (99-65-80) and turn radius (20m). The PDG 2.0 adopts the same shape and shaves 25 grams off its predecessor.
DNA Boot (PG RC-1 2.0) – Last year, Dynafit stepped away from their DyNA race boot and began licensing the Pierre Gignoux Morpho 400 as their RC-1 race boot. The 2015/16 DNA Boot is an improved RC-1 with a new color scheme (green and pink to match the skis) as well as an improved sole (way better than the RC-1!), and a new upper cuff strap system. Probably, it will be pretty difficult to find much stock in the US but if you find yourself in Europe it's much more common over there.
Low Tech Race 2.0 Binding – With ISMF regulations requiring a race binding toe that does not auto lock, the Low Tech Race has taken an TLT Superlight toe piece with locking lever and trimmed it down to the essential material, pairing it with a Gignoux plastic heel piece to create a lightweight (around 100g) binding with a removable crampon attachment.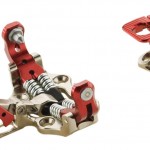 Plum
Race 99 Binding – This is an exciting entry into the game from Plum as the lightest all-metal binding on the market at a scant 99 grams. Mount these on any of the lighter skis and you might find yourself needing to add weight to meet the ISMF minimums! We got a chance to check them out at the 2015 Pierra Menta in March and at the Plum factory in Annecy, they are pretty cool!
Fischer
While racing the World Cup last season, Eric took mental note of all the broken skis that he saw throughout the year, and there were lots! The yellow Fischers topped the list but it looks like they have worked out the issues this year with their new Alp Attack Carbon skis. It has the same design as the (older) yellow version with a new construction and top sheet.
Race binding – Fisher is moving away from ATK as their bindings manufacturer and adopted the Dynafit Low Tech as its own re-branded binding for this season. Using the same toe as the Low Tech described above, it is slightly heavier with the older version Low Tech heel (metal rather than the current plastic Gignoux heel). This unit is likely much more durable for day-to-day use.

Profoil skins – Not really a skimo race quiver but worthy of a mention. The Fischer Profoil skins are just a thin sheet of plastic with no natural or artificial hair. Fischer claims the skins are just as effective climbing, have as good glide as mohair, but due to the material they literally can never ball up with snow (when wet to cold conditions occur). They cannot be trimmed and are only able to be used on a ski of a certain width (to allow room for a certain pattern on the base), but with their light weight and low bulk they could be especially useful on an ultra-wide ski.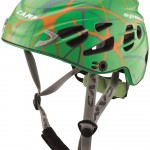 CAMP
Speed 2.0 Helmet – CAMP is responsible for some excellent skimo accessories including their Rapid Racing Pack and their Race 290 crampons, and have now improved their venerable Speed helmet to be slightly lighter and with a new retention system. The Speed 2.0 helmet is comfortable for racing and does not to conflict much with sunglasses or a light light hat.
Ski Trab
Gara Titan binding – Ski Trab's new binding comes in at just over 100g (slightly less than Dynafit Low Tech 2.0) and has all the required features plus a new design that allows the tech toe to close without coiled springs on the wings. Being completely new on the market, it may require some testing of the concept but it's a possible worthy alternative binding.
Petzl
Rad Line – This is a special 30 meter, 6mm diameter 'hyperstatic' cord that can be used for rappelling and for glacier travel. The cord is pre-packaged by Petzl with three lightweight screw-lock carabiners, a double-shoulder length sling (can be used as an anchor or improvised harness), a micro traction (rope capture pulley (for a crevasse rescue), and a Tibloc (for rope ascent), all in a fancy Petzl bag.
The Rad Line is basically a ready-to-go ski mountaineering kit. Perfect for glaciers in the North Cascades, or Chamonix, or dropping into gnarly lines in the Tetons. Pair it with a thicker 30m lead line for harder terrain or use a skinny pull rope for 30m rappels.
For now, that's all we have for new 2015-2016 skimo gear. We will have some more in-depth reviews of all of the above products soon! If we've missed anything, please give us a shout in the comments below or via our contact form.