Quick overview:
Usual Retail Price: 

 $200 USD

Weight: 

330 grams without liner (size medium)

Sizes available: 

Small (53-56cm), Medium (56-59cm), Large (59-62cm)

Pros: 

dual certifications (climbing & skiing), lightweight, comfortable, easy to find in North America

Cons: 

heavier than ultralight climbing helmets, fewer vents, discoloration

Suitability: skimo racing, ski alpinism, ski touring
Bottom Line:
A comfortable helmet that will be a good option for skimo racers who need dual certification.
Product description and How we tested it:
I've been using this Salomon helmet for early season skiing in the Coast Mountains of British Columbia and the first round of racing in North America, overall about 20 days.
With new ISMF regulations mandating dual certifications (UIAA 106 and EN 1077) for World Cup competitions, some North American athletes will be scrambling to find new helmets for the season, especially with the World Championships imminent. The Salomon MTN Lab is one of the few helmets currently available in North America that is a reasonable option for skimo racers.
At first glance, the MTN Lab Helmet is still quite light. Its claimed weight is 300g (for reference, the CAMP Speed 2.0 is 268g). A liner with ear flaps is included with the helmet but easily removed with Velcro attachments. EN certification stickers are visible inside the helmet shell even after removing the liner. A small amount of padding at the top and back of the helmet keep it comfortable without the liner. Inside the helmet, noticeable channels in the material reduce weight.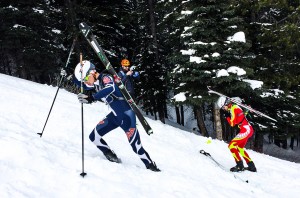 The retention system is a simple fabric chin strap with a buckle and a Boa type dial at the rear of the helmet. The chin strap is easy to adjust but does not always keep the helmet from tipping sideways on my head. I'd like to see a lighter and more secure strap system like that on the Petzl Sirocco. I worry a bit about how well the helmet will stay positioned in case of a hard crash.
Wearing the helmet, it seems to sit a bit higher on my head than some others (the Petzl one for example) which does allow some airflow to circulate around my head but feels a bit like a mushroom cap. Vents are positioned on the top, side and rear of the helmet. This resembles more of a traditional downhill ski helmet (to keep you warm) rather than those designed purely for skimo racing with vents on the front as well (to keep you cool) like the Dynafit DNA. That being said, it is generally quite cool and comfortable with a lightweight headband underneath.
The included goggle attachment works well and is a feature I'd like to see on more skimo helmets. It is just a bungee cord that clips over the goggle (or headlamp) strap.

Pros:
Reasonably light weight helmet with double certification
Compliant with ISMF regulations
Comfortable
Good breath-ability
What can be improved:
Our test helmet is the white version and immediately began to dis-colour in my ski pack on ascents, despite being kept in the included felt carrying bag. If you worry that your gear looks shiny and new, maybe choose a darker colour version.
I also find that to keep my goggles on my face where they need to be, the strap needs to be quite tight over my helmet, constricting my entire head and becoming uncomfortable after a long touring day. This is a function of both the large frame of the goggles and the fit with the helmet (as well as my head) so I can't truly list it as a fault of the helmet.
Online stores that carry The Salomon MTN Lab Helmet: