There were a couple of new ski mountaineering and ski touring boots that caught my eye at the recent Outdoor Retailer show in Salt Lake City. In this post, I would like to introduce you to a light and very good looking boot from an Austrian company with rich history in winter sports.


Fischer, founded in 1924 and family owned, is a traditional alpine skiing and cross-country skiing manufacturer with many wins on the World Cup circuits in both sports. Recently, the company is making more and more inroads into ski mountaineering and skimo racing with some well-designed and innovative products.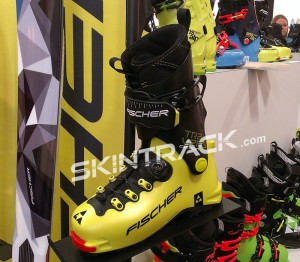 With the Travers Carbon boot, Fischer has done a fantastic job at delivering a very light, simple and functional boot. I am saying this without actually skiing the boots because it seems like they took the most effective solutions from other boots and combined them into one.
At the claimed 990 grams for size 26.5MP, the Travers Carbon will be challenging for the lightest ski mountaineering boot on the market apart from the obvious skimo racing models.
Cuff rotation, also known as ankle articulation, appears as good as on my Dynafit TLT6 and feels quite frictionless just as we have become used to with racing and light touring boots.
The choice and design of closing mechanisms is minimalistic and simple. Cuff locks into ski position with a lever that is located on its backside, just like on most skimo racing boots. The shin/calf closing buckle uses a tall velcro-style power strap, with the buckle being hollow, making it very light.

For adjusting forefoot tension and closing the lower shell Fischer opted to use a Boa Closure System. However, unlike on Scarpa Alien skimo boots where Boa was first used, the Travers uses small pulleys to reduce friction and wear on the Boa laces. The Boa tightening wheel is placed slightly higher than on Aliens and more on the outside of the boot, but doesn't seem outside enough to be an issue while boot-packing.
Cuff forward lean in ski mode looks fairly neutral (not up right though) which is usually desirable for long days in the mountains. Steep and aggressive forward leaning boots can be tiring for your quads during long or multiple descents, although, it is an individual preference.
The boot's cuff and shell are made out of Grilamid, very hard and abrasion resistant "plastic", that is now more commonly used by other manufacturers as well. Bottom part of the shell is also reinforced with carbon fiber sole to create a no-torsion base with the goal of maximum power transfer.

The Tech inserts seem to be directly from Dynafit and should offer good durability and fit with various Tech style bindings.
Width in the forefoot, or last, is 100 mm.
Overall, the Travers boot looks and feels well manufactured and finished. With Fischer now fully in the game, I believe this will benefit all ski mountaineering enthusiasts as the pressure for better gear will keep piling on.
Stay tuned as in the next post we will take a closer look at the new Arc'Teryx Procline Carbon ski alpinism boots.