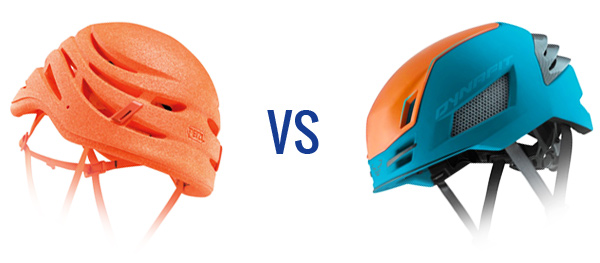 Several weeks ago, we hinted that some new ISMF rule changes will affect the gear skimo athletes will need to use at ISMF sanctioned races starting in the 2016/17 season. Since then one of the most debated topics among athletes revolves around helmets.
Here, we are taking a deeper look at:
the new ISMF helmet rule and how it will affect the use of your (and our) current helmets,
what the certifications/standards mean,
what you should pay attention to in a store,
which helmets currently on the market have both of these certifications.
* ISMF stands for International Ski Mountaineering Federation and is the world governing body for skimo racing.
The new ISMF rule and required helmet certifications
For years, ISMF required our skimo racing helmets to meet only the UIAA 106 or EN 12492 standards. Both are basically the same and saying a helmet has been certified for mountaineering.
However, with the beginning of the new racing season our helmets will also require the EN 1077 classB standard – effectively meaning, a helmet has been certified for alpine skiing.
This is the helmet rule to the letter as of last update in early October 2016:
A helmet conforming to:
– UIAA 106 (For season 2016-2017 : UIAA 106 and EN 1077 classB standards)
– or EN 12492 (For season 2016-2017 : or EN 12492 and EN 1077 classB standards).
Helmets must be used (chin-strap has to be fastened) during the whole race (from the start to the finish line). CE/UIAA: Yes.
What do these certifications and standards mean?
In a nutshell, this is the difference between the two certifications/standards:
UIAA 106 and EN 12492 standards test and approve helmets mainly for

impact from above

such as rockfall, hence, the standard was designed for climbing and mountaineering helmets.
EN 1077 standard tests and approves helmets for alpine skiing where a lot of impact is happening on collision or when a skier falls. Statistically, in such situations the

impact is coming from the sides or the back

of the head.
This standard further divides into class A and class B, which essentially only differentiates the amount of head's side and back areas covered up by the helmet. Class A helmets cover the head more while class B helmets less, however, both meet the same minimal impact force requirement protection from directions defined in the standard.
Do you really need a new helmet?
The answer is not black and white. First check your old helmet for certification tags to see whether or not it is compliant with both standards. Beyond this:
You will need a new helmet if you are planning on racing in World Cups, World Championships or any races that fully comply with ISMF rules.
You may not need a new helmet right away for racing in smaller events in the US, Canada and other countries depending whether their federations and organizers follow ISMF rules to the letter or are a bit more "accommodating" for the sake of growing the local skimo scene.
As for US and Canadian races, we received confirmation from both federations that they won't be enforcing this rule in the current season, and will only start to do so from 2017/18. This is because many of the new helmets won't even make it to North American market this year.
Buying your new certified skimo racing helmet
When buying your new lid you want to make absolutely sure that it has the above specified double-certification. Check for those little "EN" stickers or tags inside the helmet or on manufacturer's website as not all store employees will know the correct answer.
Ventilation
We are curious to see how the new helmets will ventilate. While safety is a priority, in skimo we spend majority of time climbing, with the surface of our heads being one of the most important areas through which the body cools. On most ski-rated helmets, vents are conspicuously absent – likely because they are primarily designed for descending, and therefore warmth.
Road cycling also went through this "ventilation" debate but the speeds reached on a bicycle while climbing are much higher than while skinning and the helmets don't need to meet the mountaineering standard; therefore, cooling is much easier. It will probably take a few years before a happy medium is found and a manufacturer can develop a new skim0-specific design.
Currently compliant helmets on the market under 500g
According to our own research (mainly based on manufacturers' websites) here is a list of helmets that comply with the new ISMF rule and are currently on the market.
However,many of these won't be available in North American stores just yet.
Alpina Snow Tour – 330g
Camp Pulse – around 360g (must be used with winter kit for double certification)
Cebe Trilogy – around 360g
Dynafit Daymaker – 320g
Dynafit DNA – 290g
Dynafit ST – 320g
Kong Kosmos – 390g (also certified for cycling)
Mammut Alpine Rider – 430g
Salewa Vert FSM – 400g
Salomon MTN Lab – 300g – Read our review!
Ski Trab Casco Gara/Race – 280g
Ski Trab Casco Maximo – 280g
Uvex P.8000 Tour – 310g
Non-compliant but popular "ski mountaineering" helmets
Note that some of these helmets might meet the EN 1077 standard for skiing in the future but they first need to be tested for it, thus, as of now they don't comply:
Black Diamond Vapor
Black Diamond Vector
Camp Speed 2.0
Dynafit Radical
Edelrid Shield Lite
Kong Leef
La Sportiva Mulaz (same as Crazy Idea Crazy NRG)
La Sportiva RSR (same as Crazy Idea Crazy Carbon)
Petzl Scirocco
Petzl Meteor
Ski Trab Attivo (same helmet as Kong Leef)