Since the country-wide coronavirus lockdown ended here in Italy the conditions have be great for spring ski mountaineering… and so another alluring peak was ticked off my never ending wish list.
Proudly towering above its surrounding valleys, Gran Zebrù creates an instant feeling of respect and admiration. It truly is a grand mountain that moves you.
With a beautiful summit ridge, big east face and a couloir at the bottom, Gran Zebrù offers an amazing ski mountaineering experience on its south-east route.
Location and Access
To start your day, drive about 20min east of Bormio (Valtellina, Italy) to Santa Caterina di Valfurva and take a left fork to reach parking at Rifugio Forni (2100m) about 15min further. This area for ski touring is generally known as "Forni" and this parking lot is a starting point for many tours in the area.
Then follow trail signs to Rifugio Pizzini (2706m) either on skis or hiking – this can take 1,5-2h depending on conditions. This valley is south facing so you will likely need to hike majority of the trail/road by late May but usually it's possible to skin up from the bottom until late April.
The whole ascent from parking lot to the top of the mountain is just under 1700m, so doable in a day, but given the east exposure of Gran Zebru's upper big face and south exposure for the bottom couloir you should strive to summit by around 9-10am.
Also, consider that in spring conditions you will be climbing up with crampons and an ice axe for about 700m so the progress will be slower. With that, I recommend to stay at the Rifugio Pizzini at still start around 5-6am to cover the 1100m to the top.
The ascent and skiing on Gran Zebrù (Königspitze)
There are multiple routes you can choose from to ascend this mountain but for skiing the traditional south-east route is most appropriate as it is without much technical climbing or skiing. Still, majority of skiing will be on slopes around 40 degrees, with 45 only at the very top.
You will be skinning up gentle slopes the first hour (about 400m) beyond the hut, only steepening as you approach the bottom of the couloir. From there we put on boot crampons and kept them all the way to the summit, however, it's possible that conditions might allow you to skin up some of the big east face, perhaps February to April.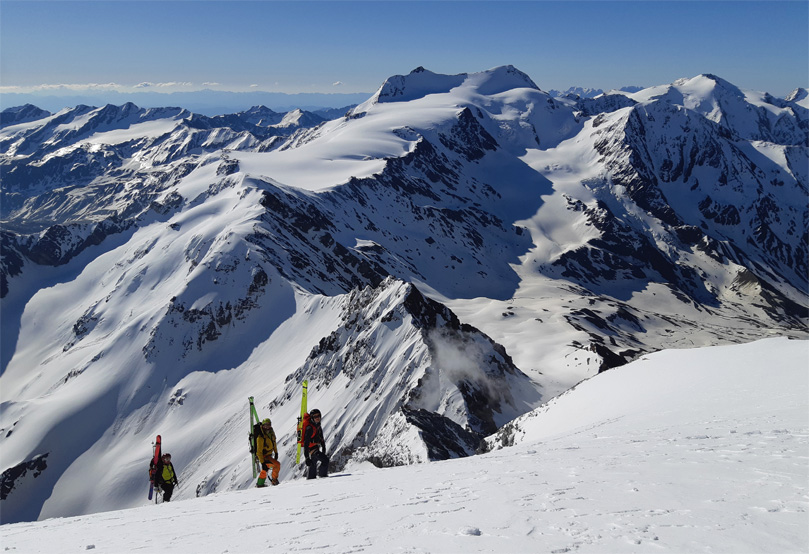 As you can see on the photo above, there is a big wide convexity on the big slopes of the east glacier so observe the snow conditions carefully as it is an easy spot for the wind to load.
The next photo is from a mountain guide, Eraldo Meraldi, and the dashed line shows an ascent via west couloir (around 450m and 50 degrees) if you want to do a loop. The solid line shows our way. The small photo shows two variations at the top – we went up the left way and skied down the right on that follows the ridge longer. On the big glacier we went up and skied more in the centre than his line shows.
When you are in the area in the spring then definitely consider Gran Zebrù as on of your more challenging objectives. For less mountaineering and more ski touring you can go up Punta San Mateo or Tresero, starting at the same parking lot.