Known for his performances in the mountains and race tracks, Kilian Jornet can be probably best described as an adventurous "chameleon" – blending various skills that were gained over long time and putting them in use for marvelous feats that are often a result of a simple human curiosity.
We were curious as well, mainly to dig deeper into his thoughts after one can hardly imagine what is next for this extraordinary athlete…
Q: Congratulations Kilian! How does it feel to be a father?
Thanks, it is not an easy feeling to describe. I am so much grateful and fulfilled, and at the same time there is scariness of the responsibility for this little one.
Q: This spring, you skied a long steep line on Troll Wall in Norway – the highest vertical rock face in Europe. The whole descent looked very extreme in your video. Do you feel like this descent pushed you to your limits as a skier?
Not my technical limits. The descent has 3 different sections. The first one is very technical, one abseil, some very steep skiing, another abseil and a very steep section to the couloir. That last section is about 400m, and the steepness is like Sjøboltind diagonal, a bit more than Cordier at Verte, but more exposed.
After that the couloir is OK, maybe a 55 degrees average, and after a short climb the last section of 800m is less steep maybe 45 degrees with some short very steep and icy sections.
So in general, in terms of technical, I would say it is like an Autrichiens without abseiling followed by a Cordier, and a last section more like exposed easier skiing with some ice ski down-climbing.
The difficulty is about finding good conditions all the way and the exposure and concentration for such a long time.
» For a full story about Kilian's Troll Wall ski descent visit his blog.
» For a video of this descent see the end of the interview.
Q: Now that you are a father, do you see yourself continuing to ski more steep lines, or do you think you will reconsider adventures that require such a high concentration?
I'm not a fearless person, I have never been, but the opposite. When I do something it is because I feel I have under control all the things I can have under control. When I go it is because the equation of skills, difficulties and conditions is positive, so I don't think it will change.
Of course, going to the mountains every day means more time to be exposed to danger and risk, but being in the mountains is also what defines me and makes me a happy person.
Q: You didn't race much over the last year or so. Will we see you on top of the skimo and running again in the future? Do you have any specific racing goals in the next 1-2 years or you will take it freely?
This winter I have not race a lot, only in Norway. I wanted to be home for the baby coming.
Also, after 15 seasons doing the world cup and seeing where this sport is going in terms of races I was not motivated at all, and so I preferred to do more training and climbing around home.
When we race a lot we are never home and we are more resting than training.
This summer, I want to do some races, not like the last 10 years doing 10-15 per season, but doing some great races and doing some mountain projects.
Q: In February, you set a new world record for the most vertical skied and climbed on skis in 24 hours – you up the bar to amazing 23,486 metres! In fact, you conquered Lars Erik Skjervheim record from 2018 by a massive 2500 metres!
When did you start thinking about trying it one day? Did you do any specific preparation or you just trained by doing long days in the mountains?
Firstly, we can't say a record. A record is something done in specific conditions and with equal rules for everybody. In athletics, a record is done in a stadium with a wind limitation for instance, in the mountains everybody does things in their own way, style, assistance and conditions.
In the 24 hour effort, even if we can compare some things, the places are different – steepness, length of slopes… so talking about record is incorrect.
With that said, I think that since 2011, when Florent Perrier did 18,255 m, I was interested to try it myself.
The 24-hour is interesting from different points – how to pace, how to manage energy (eating, drinking…), etc. As this year I wasn't racing the World Cup I decided it could be a good moment to try it.
Preparation was as always and with no racing it was more consistent. Usually, my general training block (weeks of more than 20,000 m) normally stops at middle of December but now I could do it for longer, so I had many days of more than 5,000 m.
» For a full story about Kilian's 24 hour effort visit his blog.
Q: You have done many wild and fast adventures. What is your next one? Or is it something else that is inspiring you right now?
I like being a number of things and combining skills.
In the expedition to Everest, I learned a lot about altitude and acclimatization and I would like to do more things in altitude. Adventures like I did around my home last June (a ridge loop of 160 km) are very interesting – combining climbing where you can solo for long distances.
Q: How do you see skimo racing evolving if it becomes an Olympic sport?
For sure, the sport would benefit massively with more money coming in, but do you feel like the sport might suffer by becoming less "adventurous" as the courses might need to become more "filming friendly" for easier TV broadcasting?
When I started skimo in 2000, and people were already talking about it becoming in the Olympics, I thought it would be great! Who wouldn't want to imagine and be excited to be an Olympic champion?
But for different reasons now, I think the opposite.
Firstly, for where this Olympic dream is taking the sport. It is no longer an endurance and a mountain sport. Races are shorter, on piste… it is making for an uninteresting sport for the non-elite athletes.
When somebody thinks about ski mountaineering they imagines climbing a summit, or several, with wild tracks, steep descents… and when the amateurs (usual ski mountaineers and ski tourers) go for a tour they go to do that.
The image of Pierra Menta, Mezzalama or some short races as a recent one in Madona di Campiglio are just that – what anybody would call "that was a great day out in the mountains".
I don't see any benefit or like to imagine doing a 50 m loop that takes 2 minutes on ski runs with many transitions and then going home. It is alienating the sport between amateurs and professionals.
Also, Olympics were a model of the last century – the nationalism, the big budgets, the corruption… we see that there are not many cities that want to hold Olympic Games anymore because it is very expensive, and it is not clear whether the Olympic values are just a fake slogan.
For many countries it is not attractive anymore. We see that it is more like a washing machine for non-transparent countries that want to hide their problems by putting the focus on Olympics.
I think Olympics need to rebuild their foundation.
Q: How much were you involved in designing of both Salomon X-Alp and Minim skis? They seem very different one from the other.
Yes, they are very different. One is for racing, to go down fast and straight while the other is designed to provide easy skiing in all conditions in the mountains.
It is great that how close is the relation between athletes and designers for gear development within Salomon. It starts from the absolute beginning – from the idea to the test of many prototypes, until the final testing and changes.
Q: Have you been thinking what you might like to do after your athletic career?
Perhaps, do you see yourself working for some outdoor company or even start your own? For example, gear design and development, or something completely different?
I have no idea, I like to keep doors open.
I like gear, also photography and also physiology and training. It is some of the things I can see myself doing, but for the moment I want to focus on racing and adventures.
Q: How did your values and priorities shaped over time in regards to mountain sports and life?
You always went after your long-term athletic goals but perhaps the way you approached or executed them was different from when you planned them years before?
Since being a teenager I have been looking for performance. It is a long way and to build up you need to be in a bubble of training hard and taking anything else away for a decade or two to have a correct base.
Since then of course the goals have been changing. One reason was that the results arrived faster than I expected. If I wouldn't achieved the results I had, I would probably still be 100% focus on racing.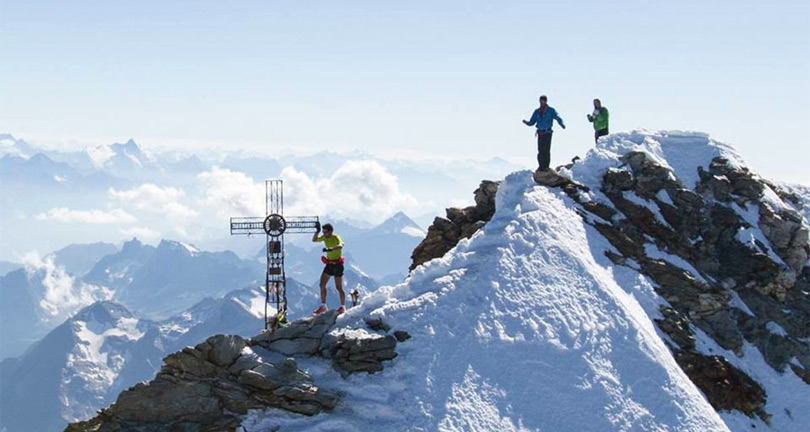 Perhaps, the influence of my coaches – Jordi Canals and Maite Hernandez – was big as they were preparing me to compete with the fastest but both are alpinists (Maite has several expeditions to Everest and Shisha Pangma in all women teams) and Jordi was in many first Catalan Himalayan expeditions (Everest north and west ridge in the 80's) so I was also inspired by that.
Then one of my idols, Stephane Brosse (one of the legends of ski mountaineering racing), did a lot of steep skiing and fast mountaineering when he retired from competition in 2006. He introduce me to steep skiing and after that the roles of Vivian Bruchez, Seb Montaz, or people like Marino Giacometti, Bruno Brunod showed me the way on how to use my racing skills in the mountains.
But I would say that until 2012 my vision was more like taking the racing to the mountains. Then Jordi Tosas and Jordi Corominas took me to the Himalayas in February with skis. We went very light and we climbed and went very far with not much, and since then mostly the style has been much more important to me than the performance, even if I want to perform the best I can.
Now racing is still interesting in the way that it is a good way to keep motivated for hard training. It is also the best way to test my shape but the excitement I had from my first Zeggama or Pierra Menta victories I will never feel again. Probably, my excitement today comes more from having ideas in the mountains and thinking if they are possible.
Q: How is life in Norway? Will that be your base with Emily and your baby?
It is a great place. There are a lot of mountains, not very high but technical. The winters are long and there are not many people. It's perfect for us.
Q: Can you summarize for us your recently published book "Res és impossible"? What is the message you hope to pass onto the readers?
Well it is a book about the feelings of an expedition – why do I climb and on my approach to risk and preparation.
I also wrote about what is training for me, the geek I am, and what I have been learning from all the races and experiences in the mountains. The great moments but also the dark ones.
Probably, it is a book where I am opening myself the most about my feelings and regards. I hope the English version will be out very soon!
Q: As the last question, I want to ask you what books do you think everyone should read?
I love Alessandro Barico's "Silk" and "Oceano Mare".
The books of Milan Kundera, Camus and Saramago are great about human personality.
Sampedro and Mishima are great to understand different views. Kafka and Agota Kristof are great to look inside us.
From mountain books, I love reading a lot, to understand the personalities – the how and why people do what they do…
Video: Troll Wall Ski Descent by Kilian Jornet