I like to mix mountain adventures with cultural experiences and so without too much planning and speaking only few Spanish words was enough to inspire me for a trip to Mexico in early November last year.
The highlight was going to be the whole trip but I needed a specific excuse… Pico de Orizaba (Citlaltépetl), a 5636m volcano, seemed good enough.
With flights booked only ten days apart, I was slightly nervous if my wish list wasn't too ambitious – visit Mexico City and Puebla, climb two volcanoes, and hopefully manage it all by normal bus transportation.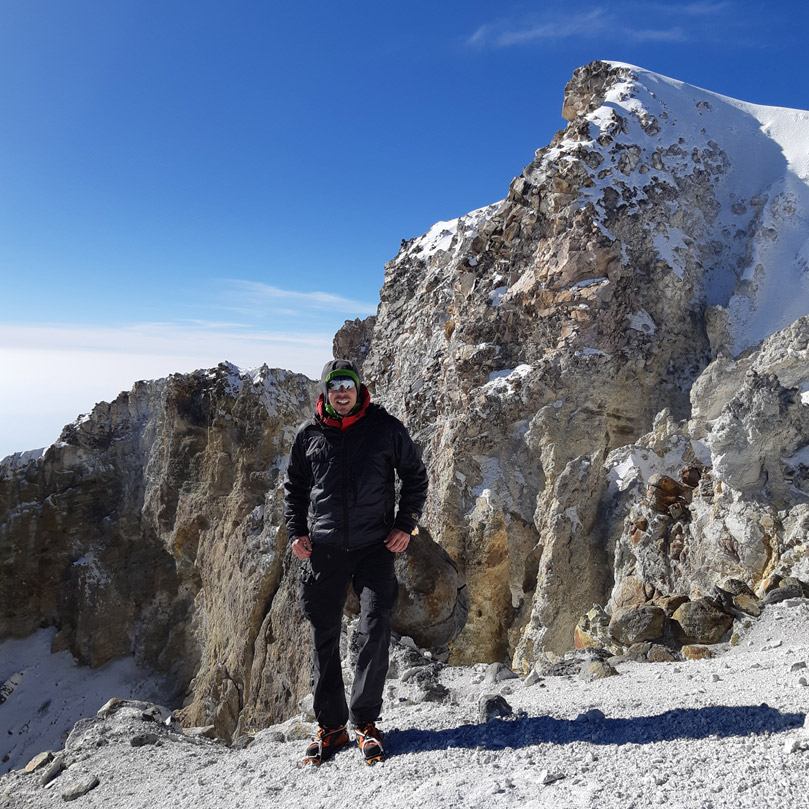 While as a third highest mountain in North America, after Denali in Alaska and Mount Logan in Yukon, it doesn't present a technically difficult challenge it's still high enough to not be underestimated. Eventually, I was lured to Orizaba by flying over on Google Earth and realizing an adventurous traverse of this peak might be possible.
Itinerary and Logistics: If you want to learn only facts about my itinerary and logistics then scroll past all story below until you reach a section titled "Transportation, Accommodation, Food, My Itinerary, Acclimatization".
Keeping the Backpack Light
If I wanted to traverse Pico de Orizaba it meant that I would have to carry everything I would bring to Mexico over the tall volcano, plus, water for two days as there is none on the mountain.
I forgot to weigh it but I think I left the house with about 14kg on my back. This included the 60L backpacking pack, thin $50 sleeping bag, mountaineering boots, light crampons and axe, and some old clothes so I wouldn't stand out too much… if at all possible being about 20 cm (or half-foot) taller than most Mexicans.
Acclimatization on La Malinche
After arriving from Whistler, BC, the plan of climbing a 5600m mountain in a couple of days was the biggest physical challenge of the trip as my body had to adjust to the 5000m difference quickly. The good thing is that Mexico City sits at 2200m in the Central Mexican Plateau, high enough to start acclimatizing immediately, yet not too high to suffer any dangerous altitude side effects.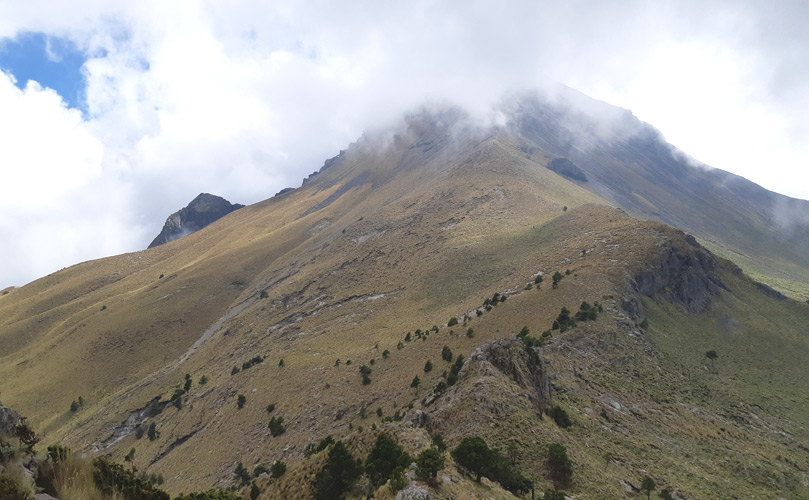 With Pico de Orizaba about 6h bus ride east of Mexico City, the perfect mountain for acclimatization, in my mind, was La Malinche volcano at 4461m and located about half way.
I ascended the volcano, also known as Matlalcueye or Malintzin, on the third day and loosely wandered above the 4000m mark for a couple of hours to help with acclimatization. I slept in a rental tent in a dead empty campground at Resort IMSS Malinzti (Centro Vacacional IMSS Malintzi). Starting there, at 3000m, I reached the summit in about 3h.
Visiting Tlaxcala and Staying With Locals in Huamantla
Maybe because of the summit fog, La Malinche didn't capture my senses as much as the town of Tlaxcala the day before. Tlaxcala is the capital of the Tlaxcala state, the smallest in Mexico, and features many beautiful historical sites within a small area. Eating tacos from food stands with locals at a central park is another highlight as it offers a much cozier feel than in the big cities.
With my weak Spanish, I was unable to find a bus in Tlaxcala that would get me to the foot of La Malinche so I bet my chips on striking a deal with a young local taxi driver, Victor. Common musical tastes and Google Translate app made the one hour drive pass quickly. We also made a fast stop to drink pulque, an alcoholic drink made from fermented sap of agave plant and a local specialty for millennia.
Our friendship continued the next day and Victor picked me up after I came down from La Malinche and we headed off to Huamantla. This small town is one of only two that are known for a festival called La Noche Que Nadie Durme , or " the night when no one sleeps", occurring every August 14th, during which several kilometres of its streets are covered with colourful carpets made of painted saw dust flowers and other materials.
Traversing Pico de Orizaba from North to South
The next day, I hopped on a bus to Puebla as there is no meaningful bus connection between Huamantla and Tlachichuca, the last proper village before one departs for Orizaba.
In Tlachichuca, I had the privilege to stay at Servimont, a hostel type of place but designed as an amazing museum that breaths mountaineering history and tells the story of a century old soap factory rebuilt as a mountain lodge.
The owner and a former local mountain guide, Gerardo Reyes, and his staff were very friendly. He was somewhat skeptical about my idea to traverse Orizaba alone as its south side is basically one big rolling stones scree. I knew it could be dangerous but I also thought it's probably not worse than on any peak in the Canadian Rocky Mountains.
The next day, I caught a ride with Servimont's driver up to a hut Refugio Piedra Grande that sits at 4200m on the north side of Orizaba. My plan was to hike up to about 4900m for further acclimatization, and drop some gear and food so I wouldn't have to carry it all when I start the traverse.
On my way up, I noticed there was a rescue going on as three climbers fell down the Jamapa Glacier. Two were in fairly good condition but the third one suffered a broken femur and pelvis. Shortly after I dropped my things I ran into four people carrying the victim. Naturally, I offered my help. For the next 6h we took turns on loose rocky trails, and well into the dark, carrying the person down to the hut.
The rescue was a good reminder that in Mexico you can't rely on a swift helicopter rescue, pretty much like in Canada, and so the local mountain guides are usually the ones that end up on these heroic missions, even if it doesn't involve their own clients. The same day, another climber died on the south side after being hit with a falling rock.
After the rescue, I decided to postpone my attempt by a day as there was no way I would wake up at 3am and go back up again. The food was running short so I thought twice before eating something.
I departed at 3.30am the next night along with other two people. We made good progress and reached the summit easily by 9am. I was told that most parties usually take about 7-8h.
On the way up, to my surprise, when picking up the food at the base of the glacier, two smiling mice ran out of my food bag! As that was all the food I had I was biting carefully around the mice teeth marks as the sunrise was unraveling.
The Jamapa Glacier was very firm so crampons and ice axe came handy. We didn't rope up between the three of us as we were all planning to climb solo, and obviously no one brought a rope. As for crevasses, I saw one decent size hole about 100m below the summit. If you can see and follow the guides' path you should be fine, however, you are definitely on a glacier so make your own judgement about not roping up.
Once rolling down the dry south side scree I made a quick descent to Refugio Fausto Gonzalez at 4600m, reaching it just before noon. My original plan was to spend one night there, however, after seeing and smelling the inside I couldn't help but run away.
Surprisingly, the south side of the mountain was very quiet and I didn't meet anyone on my 20km walk until I reached the nearest town of Santa Cruz Texmalaquilla.
In the little town, thanks to my weak Spanish, I befriended a local school janitor who took me under his wing when I pestered him with questions about buses, after I spotted him sweeping the classroom floor through wide open doors. Half hour later, we walked down the village together while he thought me Spanish words for all animals alongside of the road before we caught a taxi…
Visiting Puebla and Mexico City
My next destination was the Puebla city after my new friend put me on small bus called "directivo" on the outskirts of Esperanza. We arrived in about one hour and I was plunged into an evening busyness of civilization.
Puebla is incredible and a must visit for anyone attempting Pico de Orizaba. In fact, I happily decided to stay and explore for almost two days as I somehow managed to end up with an extra day in my fast itinerary.
I spent my last day before an early morning flight exploring Mexico City, another worthwhile destination with miles of historical sites and the most museums in the world.
Transportation, Accommodation, Food, My Itinerary, Acclimatization…
Here are some useful information to help you with your travels in case you were inspired by my trip.
Transportation:
You can travel almost everywhere in Mexico City using the subway system. I always felt safe and it's very cheap – only 5 pesos, or 30 cents Canadian, per ride to any destination! You can also use it to go to the airport. Occasionally, you might use a taxi which are fairly inexpensive by western world standards.
Between cities, it's best to use buses. TAPO is the main station in Mexico City while in Puebla it is CAPU. Again, the costs are very reasonable for a westerner.
You might consider hiring a taxi occasionally once in smaller towns if you want to save time, however, it's definitely more interesting to use the public transportation as you will experience more of the local life.
For getting to Refugio Piedra Grande, it's worthwhile to contact Servimont. I considered walking there until I realized it's about 20km and how much water I needed to bring.
I used a tour bus for getting around in Puebla one day. I never do this yet it was cheaper than using taxis, and I got to see many interesting parts of the city in a country where language presented some barrier for me.
Accommodation:
I didn't book anything before leaving for the trip, and I didn't use AirBnB at all.
To stay at Servimont in Tlachichuka, it's best to email them few weeks before as they could be very busy. I was lucky and they had plenty of space when I emailed them only 4 days before I showed up.
I stayed in lower budget hotels and hostels in Puebla (Hotel Star Express near bus station) and in Mexico City (Casa San Ildefonso near the historical city centre).
There are no fees to stay at Refugio Piedra Grande or Fasto Gonzalez, however, expect only very simple and potentially messy shelters.
Bring your own stove, water and food.
Usually, there are various options for accommodation in smaller towns but hostels could be very low in standard and cleanliness while hotels will be much better but might start at around $40 per night.
Food:
I bought a fuel gas canister for my Jetboil close to the centre in Mexico City, I forgot exactly where.
I ate mostly from street vendors or low cost restaurants without any stomach problems. It was always quite delicious and a nice experience as they appreciated my presence and trust.
Overall, food is quite cheap and buying groceries is fairly easy even in small villages.
For water, to avoid potential health issues, perhaps it's best to buy bottled water or treat the one from the tap.
My Itinerary by Day:
5am landing. Morning in Mexico City and riding a bus to Tlaxcala.
Exploring Tlaxcala. Staying at the Malintzi resort overnight.
Climbing La Malinche. Night in Huamantla.
Riding buses from Huamantla to Puebla and then to Tlachichuka. Overnight at Servimont.
Ride up to Refugio Piedra Grande, and acclimatization hike and rescue in the afternoon.
Relaxing around the refugio.
Traverse of Pico de Orizaba – long day:
3.30am start > 9am summit with 1h there > 11.30am Refugio Fausto Gonzalez > 3.30pm Texmalaquilla village > 7pm in Puebla
Visiting Puebla.
Morning in Puebla and riding a bus to Mexico City in the afternoon.
Visiting Mexico City.
5am departure from the airport.
Acclimatization:
I highly recommend to use proper acclimatization practices for any summit above 4000m if you live below 2000m because 4000m is already high enough to suffer major health issues (even dying) if you push your body too much too soon.
For Pico de Orizaba, and other Mexican volcanoes above 4500m, I definitely recommend climbing to around 3600-4200m prior to your summit attempt and having 1-2 days of rest in between. There are plenty of suitable and beautiful volcanoes close to Mexico City or Pueble to do this.
My acclimatization went well despite living only at 600m, however, I climbed up to 7500m before and so I know my body well. Also, my ability to adapt is probably better than an average active person thanks to years of training for ski mountaineering races.
Great thing about Mexico City, Puebla and the surrounding area is that it all lays above 2000m which forces your body to start adapting as soon as you land.
People coming from Colorado, or living above 2500m, might be deal with even 5000m much better but it really depends on their fitness and health.
Mountain Gear:
While I also brought a light harness, few carabiners, slings and some other gear, I am only listing what got used:
Ice axe: CAMP Corsa Nanotech
Crampons: Petzl Leopard FL

Boots: Rebel Lite OD shoe

Pack: Gregory 60-65L
Stove: old Jetboil
Sleeping bag: cheap $50 synthetic sleeping bag for +12
Sleeping pad: Thermarest Prolite Plus