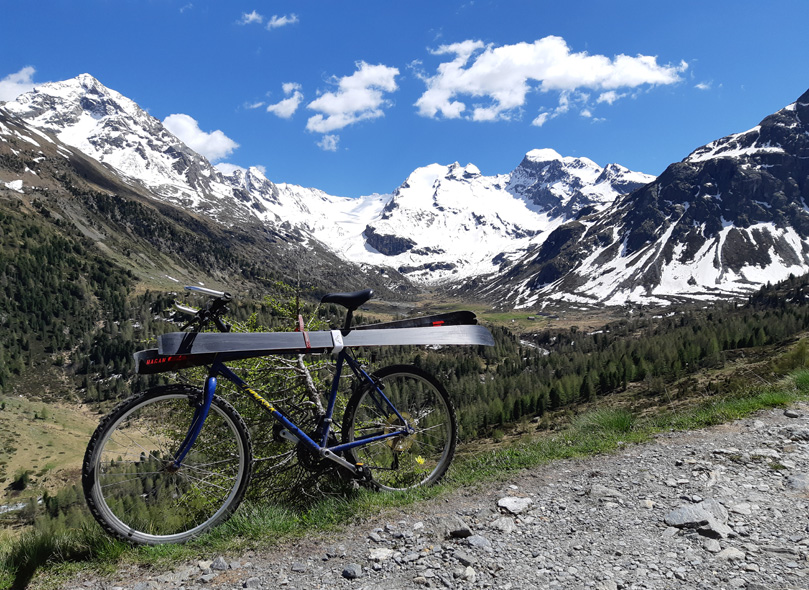 There are many excellent ski touring places in Italy but to find four such beautiful peaks, each with 1000m descent, in one small valley makes Val Cantone di Dosde literally a ski mountaineer's paradise… I found it this May!
The four peaks a skier should be interested in are Pizzo Dosde, Cima Lago Spalmo, Cima Viola, Cima Saoseo – all just around 3300m in altitude. The valley floor is at about 2100m.
Location and Access
To start your day, drive about 25min west of Bormio, on the road to Livigno, and park at Arnoga at 1850m – see map below.
Approach to Val Cantone di Dosde leads through a more famous Val Viola valley that offers hikers, bikers and skiers a variety of options and amazing views in every season.
There are seasonal restrictions when you can drive in Val Viola and in the winter the approach on skis will be quite long. However, by May the restrictions are lifted and so your can drive further with a permit or you can hike or bike the first 7-8km before you turn south (or left) to Val Cantone di Dosde. Elevation gain for this approach is only about 250m.
An interesting point is that a hut in this valley – Rifugio Federico Dosde – is operated by Adriano Greco, the famous ski mountaineering racing legend. I had the pleasure to me him during on of my days. However, as all other huts it is closed usually from October to March.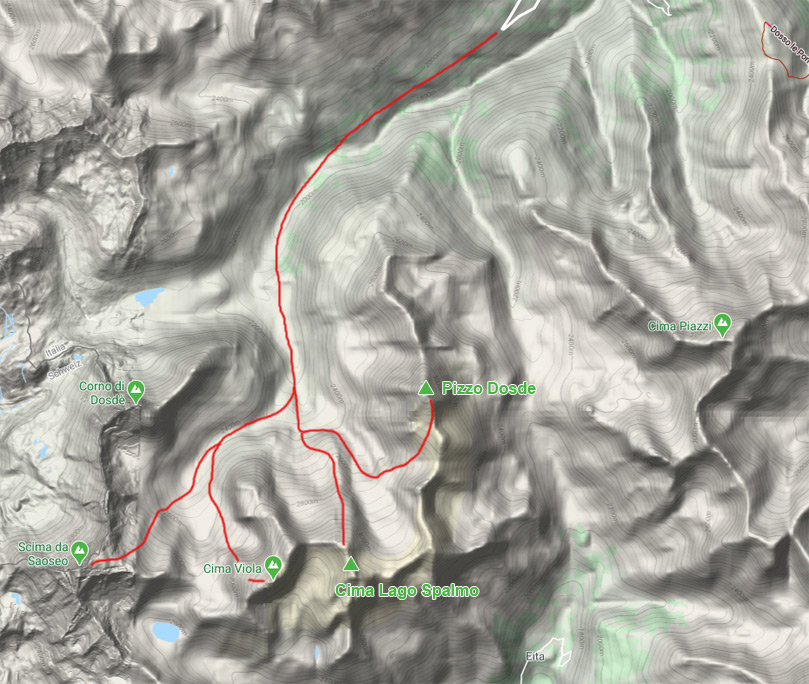 Pizzo Dosde, 3280m – South Slopes
This peak offers excellent panoramic views as it stands alone. The upper south slopes ski well in spring snow and most likely also mid-winter.
The ascent is not difficult or steep, and possible to do all on skis, however, you will need to pay attention to slopes above and also read the terrain well to find the safest and an efficient route.
I went up and down the same way but I didn't ski all the way to the valley as I continued onto another excellent peak, Cima Lago Spalmo.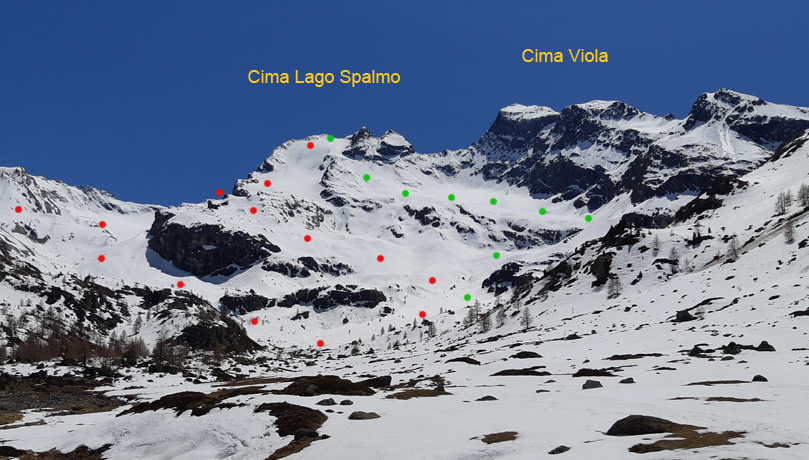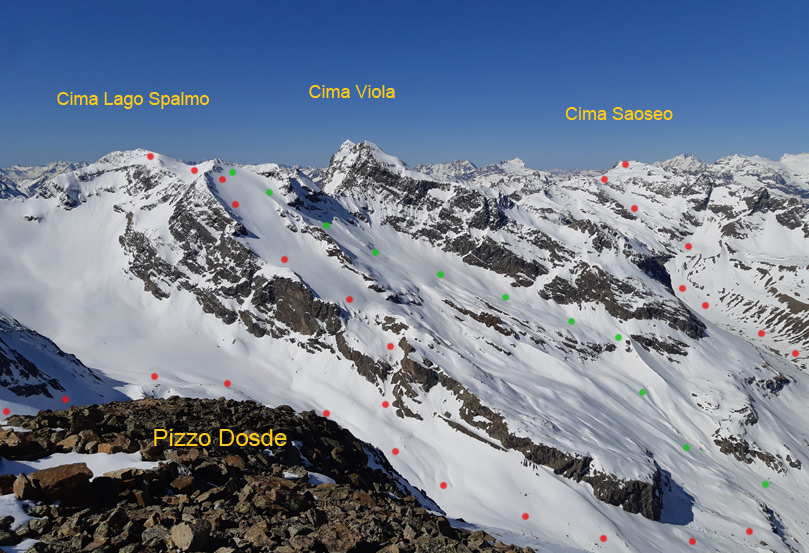 Cima Lago Spalmo, 3291m – Skiing North Glacier
While this peak also offers great views skiing its north slopes and glacier are its biggest attraction! The true peak is hidden further behind a small pyramid that you will see from the valley as you approach.
Repeating the photos from above for reference…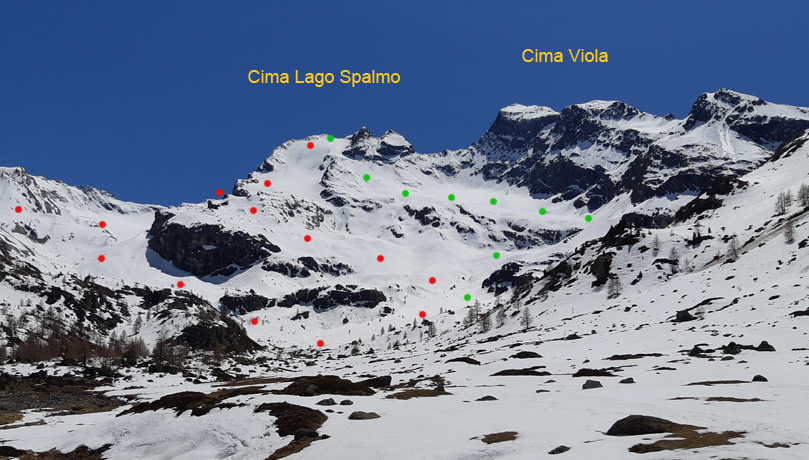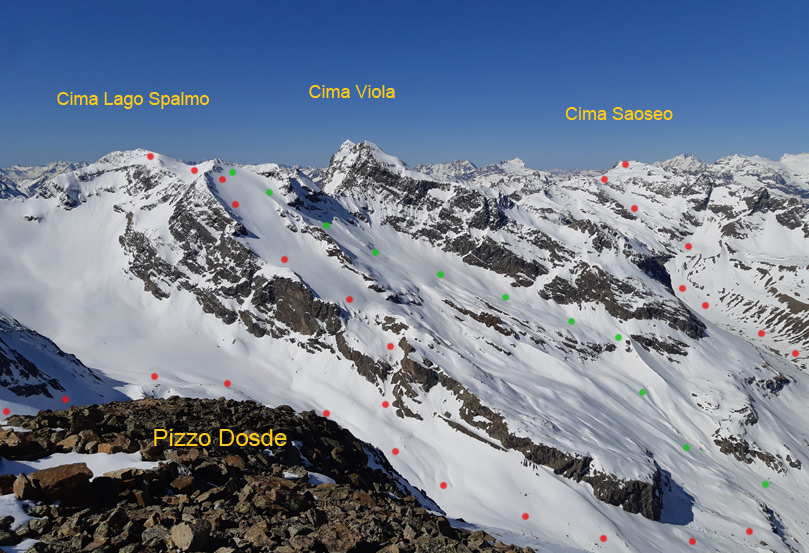 As you can see, the ascent is up fairly steep and on big slopes on a glacier, however, I was able to skin up most of the way. Crevasses were well covered even in this low snow year (north aspect and high elevation).
There are a variety of high quality descent options, just choose appropriately for the current conditions and time of day.
Cima Saoseo, 3264m – East and North Slopes
Once atop, you will be standing on the Italian-Swiss border. Thankfully, there are no customs officers, just amazing views to the west!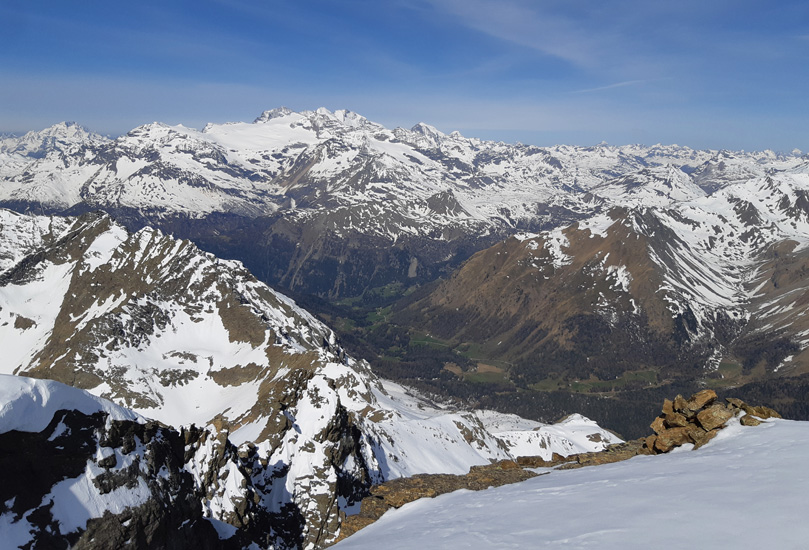 To ascent this peak you will make a sharp right below the slopes of Cima Lago Spalmo and continue up a long flat valley before you begin the true ascent. There is no glacier on this peak.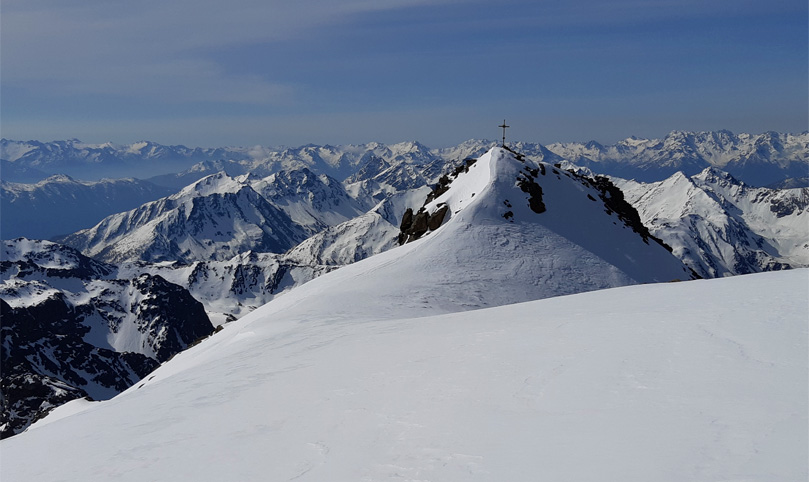 Cima Viola, 3374m – North-West Glacier and Slopes
The highest peak of the four and also the one with most descent options, non of them easy and some fairly extreme.
Cima Viola is also the most complex of the four mountains due to route finding and overall hazards. My photos of the peak from Saoseo helped me choose the best option couple of days later.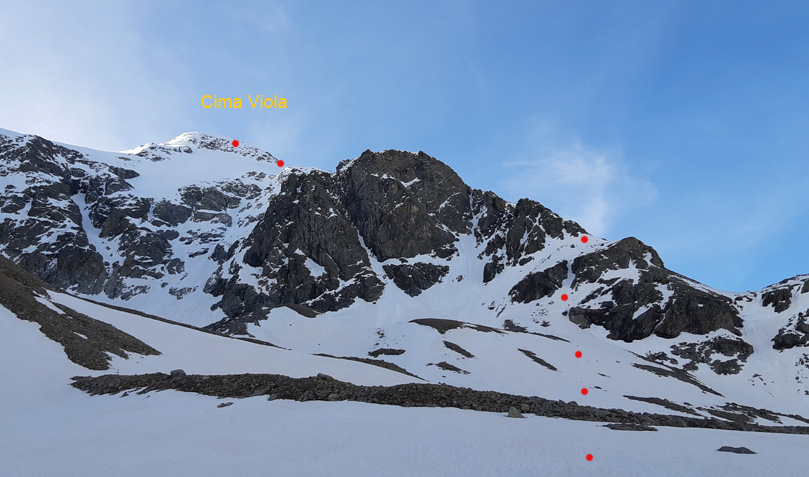 When to Ski Here
While I skied in this valley only in May I believe the snow must be excellent all winter!
The terrain is complex but also open enough, and with many options, that an intermediate experienced ski tourer should be able to find great turns and stay safe at any time of the year.
If you have questions, send me a message via SkinTrack's Facebook page.