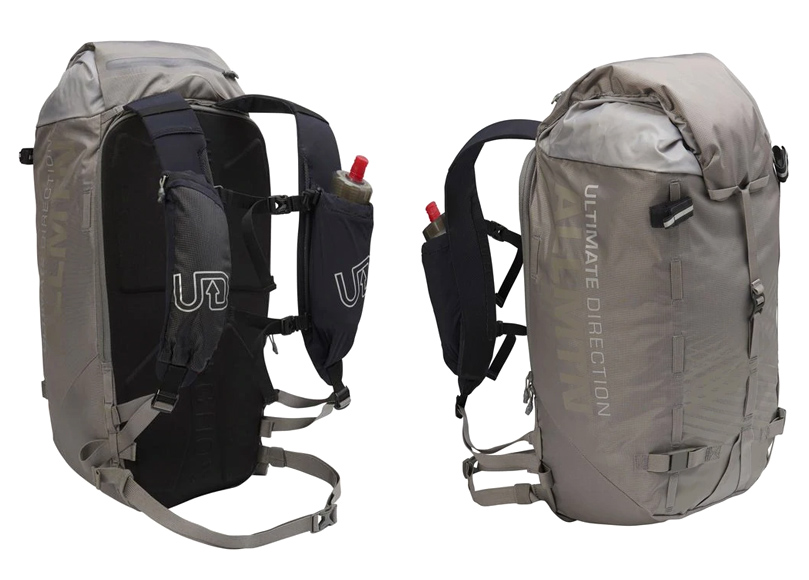 Overview
Suitability: climbing and mountaineering rather than ski mountaineering and ski touring
Usual price: around $165 USD
Weight: 590g (size S/M)
Ice axe carry: 2 with quick access
Pros: light weight, durability, fit
Cons: lacks 1-2 separate pockets to be a better ski pack
Bottom Line
As an "all mountain" pack it works quite well for ski mountaineering and touring, however, it takes some time to adjust to its lack of dedicated pockets or compartments that we all like on specialized ski packs.
Review
Truth be told, this pack has never been designed as a true ski mountaineering or touring pack. It has been only my decision to push its limits as a ski pack because that's my main passion, and I am on a search which single pack would "do it all" the best. You can read the packs full description on the UD website.
I have used the Ultimate Direction All Mountain pack for skiing for about 20 days in total over the last couple of months. It has been a "learning curve" the first few times out as the pack has only 1 big compartment and 1 very small pocket on the top lid.
I shuffled my gear inside a lot to find what works best because it was quickly obvious that transitions will take longer as things will kind of disappear inside.
However, after my "trial period" I came up with a pretty good system and started to appreciate the pack much more. Probably the feature I like the most on this Ultimate Direction pack is the easy access through its back panel that has a zipper all around. Without it I wouldn't use it as often.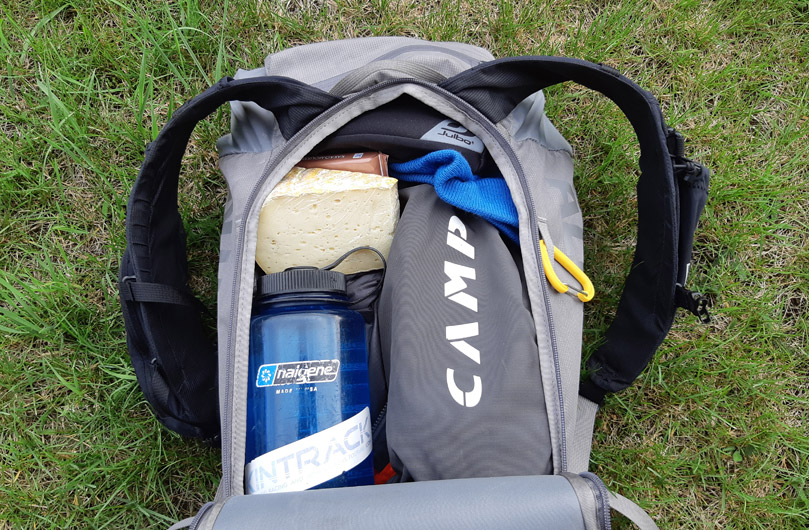 This pack also comes with a removable, diagonal, quick ski carry system that is based on skimo race packs which is a great to have when your main activity is skiing.
The pack fits very well and feels secure at all times thanks to its simple hip-belt and two chest straps – I have been using only one as I like easy access to my jacket's zipper.
The shoulder straps have a clean design while still providing some storage. The left one has a pocket for a flask or a small bottle – sometimes I use for my phone so its handy for photos. The right shoulder strap has water-proof, zippered pocket that will accommodate most smartphones – I usually use it for a knife, lip cream and few small items.
There are attachments for two ice axes that have quick-access buckles – meaning, that you can take an axe out without taking the pack off your back. This is a great feature, however, the bottom quick-access straps could use extra 1-2 cm (1/2 inch) slack as it's little cumbersome to buckle in the ice axe shaft in place when the pack is fully stuffed.
So far, the pack is proving to have great durability. This is likely thanks to its construction simplicity and the use of Nylon ACE RIP fabric that is light yet strong.
The webbing on the outside of the pack is very useful for hanging extra gear.
The shortcomings of this pack for skiing, in my opinion, are its lack of compartments (or pockets) as these would make a life of a ski mountaineer much easier. Right now, all your gear plunges into one main compartment – shovel, probe, jacket, pants, food, water, first aid, googles:
At minimum, a dedicated zippered crampons pouch at the bottom would allow for more efficient gear organization, especially when you don't bring crampons along. This pouch could have zippered roof so if you if need the one big compartment then you can easily create it.
Ideally, the pack would have another floating pouch at the top of its main compartment to store google, glasses, camera or sandwich so they can be protected by being always on top of all the other things.
What We Think Could Be Improved
As mentioned above, the lack of compartments hinder this pack to be much more suitable for ski mountaineering, without necessarily becoming worse for anything else, I believe.
Then using distinctive colours for the belts, or at least the buckles, would improve usability of this pack as one could quickly see where these elements are without much attention.
As my last point, I think the pack could have 2-3 litres of more capacity.