Welcome to Skintrack.com – a website dedicated to inspire and to provide you with the best info that will keep you progressing in your rando ski mountaineering racing and adventurous touring.
My name is Stano Faban and I am proud to be part of an excellent group of people – the Canadian National Ski Mountaineering Team. I work to pay the full bill since the membership is pretty much symbolic and I get no expenses covered by any national fund or the Alpine Club of Canada (our governing body). So I make my living as a freelance web designer and, no surprise, I spend most of my free time outdoors.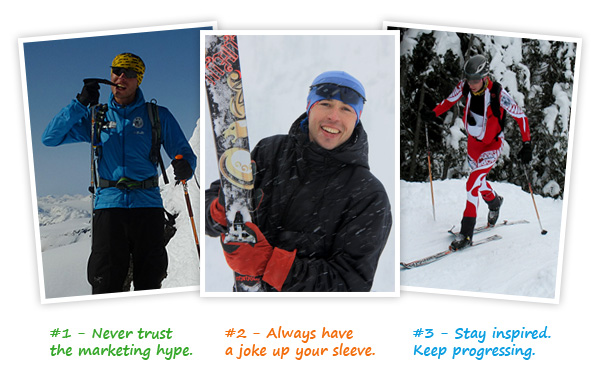 So why Skintrack?
I started Skintrack.com in 2009 after a great skiing and racing season. That winter really inspired me, and I realized a site like this would let me combine my passion for and expertise from ski mountaineering, endurance training, web design, and knowledge sharing.
(Short story – I came up with the name but actually had to buy the domain from a guy from Jackson Hole. I saw it was idle so I made an offer and he sold it to me and wished me all the best.)
Since English is my second language there were some "confidence" hurdles to overcome, especially since I set my standards quite high:
I want Skintrack to deliver as quality and professional information as possible yet I also want it to have a blog-like feel that it doesn't become The New York Times.
Most of the expertise and knowledge shared on Skintrack comes from my personal experience and people that I interview, or submit their articles on occasion.
Like everyone, I am still learning and improving my skills but I like to share what I have learned so far. You are welcome to join me on this journey.
From Swimming to Self-coaching at 16 to Ski Mountaineering
As the main author on Skintrack I should introduce myself more, therefore, you are confident in the information shared here.
I started "skiing" when I was about four years old and started backcountry skiing when I was twelve.
All this was back in Europe (Slovakia) where ski mountaineering has a strong tradition also as a competitive sport.
However, between the age of 8 and 14 I was involved in competitive swimming and then fully transitioned to triathlon due to health issues created by spending too much time in the pool. In both swimming and triathlon I made it as far as becoming a Slovak National Champion.
Since I was 16 I was part of a bold 3 man (boys back then) group that tried to find and validate as much information about endurance training as possible. We trained together and shared lots of info. But essentially, each of us coached himself to some great results. I continue on this self-coaching path since then.
But no wisdom comes only from one man's study. So I want to credit our old coach for planting good seeds of endurance training principles in our young brains. Everything was easier to reason and figure out because of that.
After moving to Canada I was instantly amazed by the vastness and the wilderness of the outdoors yet I went hard at triathlon until 21 while ski mountaineering and cross-country skiing in the winters.
Then after a tough realization that sport probably wouldn't be my bread maker I went to school and backcountry skiing quickly became my #1 passion.
Free off pressure of summer competitions I could explore the outdoors much deeper. Ski traverses, great powder days and steep skiing were only a natural progression.
Then the start of rando ski mountaineering racing in North America presented me with a chance to compete once again. And since 2002 I was always (with a small break) involved in the development of this sport on this continent, whether as a racer or an organizer.
Currently, I am devoting most of my no-work time to preparing for the next winter season in which I want to continue representing Canada internationally.
Dreams of another Pierra Menta and new speed ski traverses are only more gasoline on this fire.
I wish you always happy turns and I promise to do my best so you can enjoy Skintrack any time you visit,
Stano
Achievements and adventures I value the most:
member of the Canadian National Ski Mountaineering Team

competed in 2010 Pierra Menta, and 2010 and 2011 World Skimo Champs
many top 5 placings at various ski mountaineering competitions including one bronze at Canadian Champs (in 2009, couldn't compete there since)

organizer

of Mountain Storm skimo race and helping others to organize as well

Speedy Joffre-Matier-Slalok link-up

(May 19th, 2012 – British Columbia)
vertical: 2520m, length: about 20km
In

5h 58min

from Duffey Lk road at the Ceeris Creek, to top of Mt Joffre, Mt Matier, and Slalok, ending the Lower Joffre Lk.

Speedy "Complete" Spearhead Traverse

(April 6th, 2009 – British Columbia)
vertical: 4230m, length: about 50km
In

8h 11min

from Whistler Village to Horstman Gl, to Blackcomb Gl, the Spreahead Traverse to Singing Pass, over Oboe and Flute, behind Piccolo to Whistler Pk, back to Village via Whistler Bowl.

Speedy "Classic" Spearhead Traverse

(April, 2006 – British Columbia)
vertical: about 2000m, length: about 25km
In

3h 35min

the classic traverse – from Blackcomb Gl to Singing Pass.
multi-day ski traverses and adventures:

Bostock Creek to Revelstoke – Selkirk Mountains
Misty Icefield traverse – Coast Mountains
Bugaboos to Rogers Pass – Selkirk Mountains (unfinished business)
couple of other 2-4 day mini-traverses

Avalanche Professional Level 1 certification
certified International Judge for Ski Mountaineering Competitions

former member of British Columbia and Slovak triathlon teams

2012 Stanley Park Tennis Open winner at 3.5 category
Top 3-photo credits: left Tomas Cernicka, middle Linda Bily, my cousin.