Overview:
Suitability:

Akasha – long distance trail and mountain running (lots of cushioning)
Bushido – technical mountain running and scrambling
Helios SR – trail racing and fast & light missions

Usual full price:

Akasha – around $130 USD
Bushido  – around $120 USD
Helios SR – around $120 USD

Weight (single shoe):

Akasha – 330g
Bushido – 298g
Helios SR – 230g

Colours vary between men's and women's models
Bottom line:
Despite few irritations, I like all these La Sportiva shoes a lot, with Bushido being my favourite. While each model was designed with different purpose in mind they all excel in an area that matters to me the most – exceptional grip in dry and wet conditions.
Review and Comparison – La Sportiva Akasha vs Bushido vs Helios SR:
As I mentioned in my previous review, I have switched between a couple of trail/mountain running brands over the last decade. After some time, I figured out that grip matters to me the most – the shoe must stick to dry and wet rock very well – because I like to visit technical trails and terrain the most.
How I tested them?
La Sportiva Akasha:
With about 20 runs (mostly between 1-2.5h) in Akashas over the last couple of months I used them on a variety of trails – smooth, rocks, roots. I have not taken them into the alpine for scrambling yet because 1) I use Bushido for that, and 2) the bigger lugs on Akashas (or any similar shoe) aren't really suitable for that.
La Sportiva Bushido:
Being on my second pair, since I picked them up first two-and-half years ago, they have been my favourite model of all and I don't even remember how many runs and adventures I took them out for. I put them through everything, especially, I literally abused the first pair – lots of alpine rock and technical terrain in any weather and ran them for two over 50km runs through high mountains. Once they were done, I had to buy a second pair because I enjoyed them so much.
La Sportiva Helios SR:
I exclusively bought them for trail running races and shorter fast training runs. I ran them about 15 times for a maximum of 2h (including 5 races) on a variety of trails in wet and dry over the last year. Since they are built very light I don't use them too often and have never taken them out for an alpine/scrambling mission. While I don't want to destroy them, as they are my racing shoes, they have been abused quite well during the races.
Grip/Stickiness comparison
Out of the three, the Bushido has the best grip in wet and dry on any surface except in lots of mud or dusty/gravel trails where the Akasha shoes perform better due to their lugs. For me, Bushido's grip on rock and in the alpine is so reliable that I wear them even for overnight hiking with a big backpack. As for Helios SR, they grip well anywhere except mud (as they don't really have any lugs) and I have no problem racing them on wet rocks and roots even after weeks of not using them at all.
Bottom line here is that all three have amazing overall grip/stickiness but each is superior in their specific application.
It shouldn't be a surprise that La Sportiva makes such grippy running shoes given their history in climbing shoes and boots manufacturing. In my experience with grip, and for my type of running, these three models excel over any other shoes. The only close challenger being the Adidas Skychaser.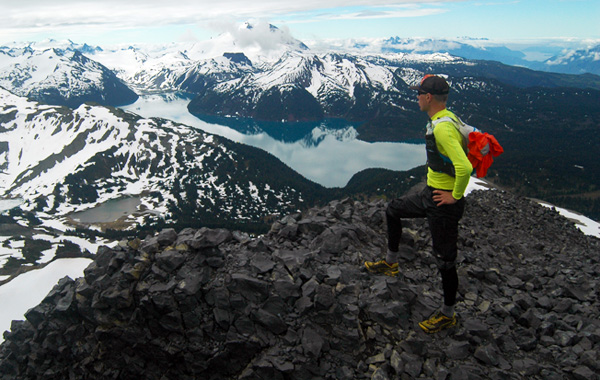 Fit & Comfort comparison
Fit and comfort is somewhat difficult to compare since we all have different feet and the three models are intended for different uses.
For me, the snug fit (but not too tight) and the rock-plate feature of the Bushidos provide the most comfort even after many hours of exercise. The shoe is very low profile, and the heal and lacing holds the foot inside very securely. Also, I like the design of the Bushido's toe box protection which saved my thumbs many times.
The Akasha fits sligthly bigger/looser than the Bushido but still quite securely. Such fit design is no surprise as they are intended for longer runs and ultra-marathons during which our feet might swell. Overall, I find them comfortable and the sole being nicely soft. The lacing can be improved though, perhaps La Sportiva just needs to use the same lace holes/loops like on the Bushido. Although, not as stiff as on Bushidos, the Akashas have a great toe box protection as well.
Now, onto the Helios SR. I have to say they have a bit of a "funny" built, thus, they don't fit me perfectly yet they are very comfortable on majority of trails. I think the toe box (or the very tip of the shoe) sticks out too much for no good reason. The lacing system is well designed and keeps the foot secure. Overall, the thick foam in the sole makes them very soft (or buttery-feel like), thus, very comfortable unless the trail is full of small sharp rocks – then the wave sole lets in some painful pokes.
Induced differences in running technique
Switching between the 3 shoes often in the last couple of months let me feel subtle differences in how they "make" me run:
Akasha – with a 6mm drop but a thicker sole than I am used to (heel: 26mm, toe: 20mm) I could feel I am higher above ground and that the shoe is easier to heel-strike than the other two. For me, as more of a neutral foot striker, this is fine on downhills but somewhat "gets" in the way on flat. It usually takes me couple of minutes to adjust my technique to strike them neutral-to-forefoot. I would prefer if the heel was slightly smaller and the sole there a bit thinner.
Bushido – with the same 6mm drop as Akasha but a fairly low-profile sole (heel: 19mm, toe: 13mm), they feel easier to run neutrally or front-foot for me. Also, due to their stiffer sole, they feel more like "road-racing flats".
Helios SR – according to La Sportiva, there is only a 2mm drop (heel: 21mm, toe: 19mm) and they do feel quite flat. However, due to the very soft sole they definitely feel like having less cushioning than the Bushido. With all that, plus the extreme flexibility of the sole (which comes at a cost discussed further down), it is easy to run them any way you like.
Built quality comparison
Since all three models are designed and built for different purposes it is understandable their durability will differ as well.
I have yet to see really any wear & tear on my Akashas. The uppers look still almost like new while there are only superficial signs of wear on the soles.
The Helios SR is built for pure speed, thus, very light materials and design solutions were used. Everything is lasting well for me except the sticky black sole which seems to be shedding away rather quickly. That's why I am using them mostly for racing only.
The two pairs of Bushidos I own (one is no retired) have been lasting well for me given the amount of abuse, although, they showed some weakness.With the sole being constructed of couple of layers and pieces I observed there were small separations appearing after about ten runs.
Initially, this scared me but with each pair the shoes kept that state from there on. It seems like that there is tension and forces between the glued layers/sections and the first couple of runs stress the shoe enough to release it. While it takes a bit of charm from the shoes it won't stop me from getting another pair now that I know this does not affect the long-term performance and durability of the shoes.
Which one to choose?
By now, it should be quite obvious which model(s) you should choose given your objectives but lets recap:
Choose Akasha for regular training and high mileage on variety of trails, and long races. They are a work horse.

Choose Bushido if you do lots of technical running and even scrambling in the alpine. They are also great for technical races that feature lots of rocks/boulders.
Choose Helios SR for racing and light & fast speed missions in the mountains.
What can be improved about these shoes:
From my experience, there are two things I would ask La Sportiva to improve:
Adopt the Bushido lacing system/solution for Akasha.
Either insert a rock plate under the front-foot or cover the whole front-foot area on Helios SR with rubber sole instead of just certain sections like now. This would improve protection from small sharp rocks yet should still keep the weight low.
Stores that sell these La Sportiva shoes: